Andrew Luck Contract: Colts Must Sign QB Immediately to Accelerate Development
June 6, 2012

Joe Robbins/Getty Images
Andrew Luck's mind is almost always on football, but the No. 1 overall pick in the 2012 NFL draft missed OTA's with his new team while finishing his degree in architectural design at Stanford this spring.
Now, with the Indianapolis Colts' mini-camp less than a week away, it is imperative that Luck and the Colts agree to a deal.
Club owner Jim Irsay made headlines (as always) a few days ago tweeting:
Talks with A Luck's agent,Will Wilson(the brother of Andrew's mother) have been productive. Team Counsel Dan Emerson n Will r getting close!

— Jim Irsay (@JimIrsay) June 2, 2012
The Indianapolis Star reports that Luck's deal should be around $24 million with a signing bonus around $16 million under the rookie salary scale. In comparison, Cam Newton signed a $22 million guaranteed deal with a $14.5 million signing bonus as the No. 1 pick of last year's draft.
All Newton went on to do was set the rookie record for passing yards and an all-time record for rushing touchdowns in a season by a quarterback.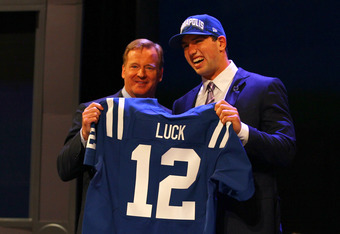 Al Bello/Getty Images
While it is far from a competition, the bar is set extremely high for Luck and the cards are already stacked against him.
Indianapolis' offense is a shell of its former self. The rookie QB is fortunate to have Reggie Wayne returning, but the team doesn't boast much else in terms of offensive firepower. We can be sure Luck will lean on collegiate teammate and second-round pick Coby Fleener as a security blanket often this season.
Luck orchestrated a predominantly run-heavy offense at Stanford, and was exceptionally good at capitalizing on play-action passes. The Colts, however, have little-to-no run game to speak of.
They severed ties with former first round pick Joseph Addai this offseason leaving another former first-round pick, Donald Brown, as the projected starter despite underwhelming to this point in his career. 
Brown has the potential to do everything—run, catch and block—but he's struggled to stay healthy and struggled to perform when put on the field.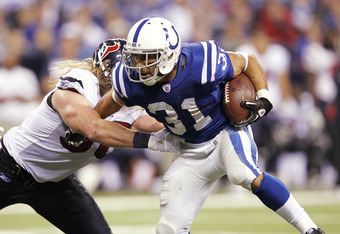 Joe Robbins/Getty Images
Second-year man Delone Carter will certainly see some carries, they signed Deji Karim and drafted Vick Ballard this offseason and also have 2011 undrafted back Darren Evans in-house as well.
But can Luck count on any of them? That remains to be seen.
GM Ryan Grigson did the right thing by going out and finding veteran offensive linemen to help ease Luck's transition. Last year's first-round pick Anthony Castonzo should return as the start at left tackle, but the Colts should see former Eagles Winston Justice and Mike McGlynn, whom they acquired this offseason, take up starting spots at right tackle and right guard respectively. 
Veteran center Jeff Saturday left for Green Bay, so newly-signed Samson Satele, who has started 74 games in his NFL career, should start at center and Joe Reitz, who started nine games at left guard a year ago, will should hold on to that spot.
What was once a huge weakness for Indianapolis two seasons ago has now become their actual strength offensively, at least in terms of experience and potential production. Although the Colts boast no superstars on their offensive line, they do have competent players with NFL experience and that is invaluable with a rookie quarterback under center.
Now all they need is for said signal-caller to join the mix.
Luck's a fast learner and is widely considered the most NFL-ready quarterback since Peyton Manning. Should he live up to that billing, the one thing that nobody can fake is familiarity with teammates. Thus, Luck's presence in camp as the new leader of this team is the most important thing for the Indianapolis Colts.
When things get started on June 12th, this organization better make sure they have everyone there.
You can find me throwing seven different kinds of smoke on Twitter too.