NHL Trade Rumors: 8 Players the New York Rangers Should Trade for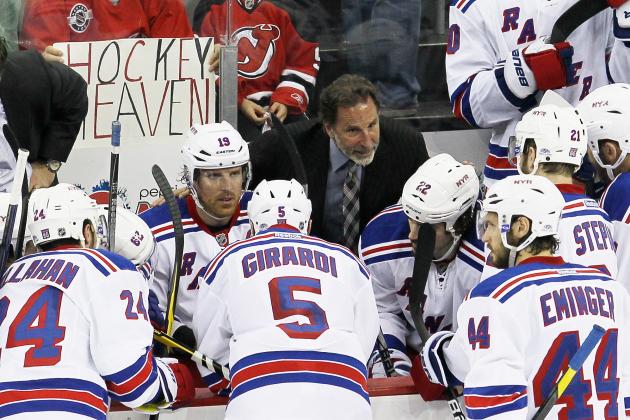 Jim McIsaac/Getty Images

The New York Rangers had a phenomenal season. Preseason last year, many believed the Rangers were going to fight for a bottom seed in the playoffs.
But their stellar play of two-way hockey shortly catapulted them to Stanley Cup favorites at playoff time, finishing atop the Eastern Conference.
The Rangers still have their needs. Lack of scoring, once again, is an issue. Defensive depth is another. There are plenty of guys on the free-agency market who could fill these roles. Most likely, these guys will be costly.
Some of these issues could be answered from their farm club, others via free agency. A couple of trades could possibly cap off this team and bring a Stanley Cup Championship back to Broadway.
Begin Slideshow

»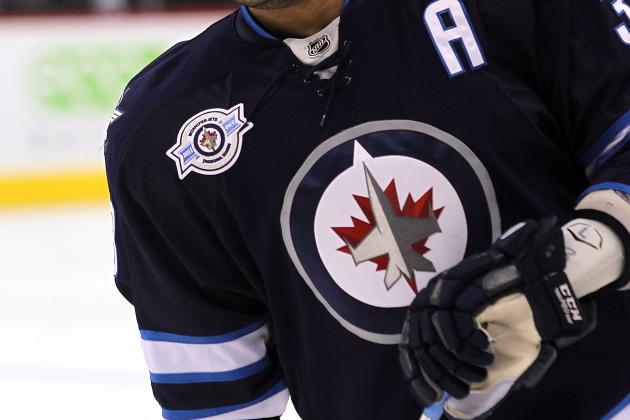 Marianne Helm/Getty Images

During the postseason, the defensive depth for the Rangers was exposed a bit. At times, the Rangers relied on Stu Bickel to man the blueline.
Now, as the Rangers are looking for scoring, Dustin Byfuglien could be their guy.
Byfuglien is Stu Bickel with so much more up side. He can play the power forward spot and is experienced as a defenseman. An offensive defenseman who will take some chances, he tallied 19 points on the power play.
Byfuglien was a major part in the success in the Blackhawks Stanley Cup year. He would come up with big-time plays at key moments that year. Byfuglien isn't going to be the answer when it comes to goal scoring, but he can bring something to this team while elevating the rest of the lineup.
A downfall of Byfuglien is his cap hit of $5.2 million. That is fairly high for this type of guy, but his versatility could make up for it.
Chris Trotman/Getty Images

Jordan Staal plays a Rangers style of hockey.
He is a blue collar player. He is big with good puck-handling skills. Staal is strong on the puck and plays a solid two-way game. He has proven time in and time out he can kill penalties, and like Prust, he could be dangerous on the man disadvantage.
The Penguins aren't afraid to put him on the ice in critical moments of the game.
Now Staal might not be the answer when it comes to replacing Marian Gaborik's goals, but he would definitely add to the Rangers secondary scoring. Jordan is the type of player who will put up 20-25 hard-fought goals a season.
Staal is set to be an unrestricted free agent this season and has a cap hit of $4 million. The Rangers have room to take Staal, who might be a better option then some free agents on the market.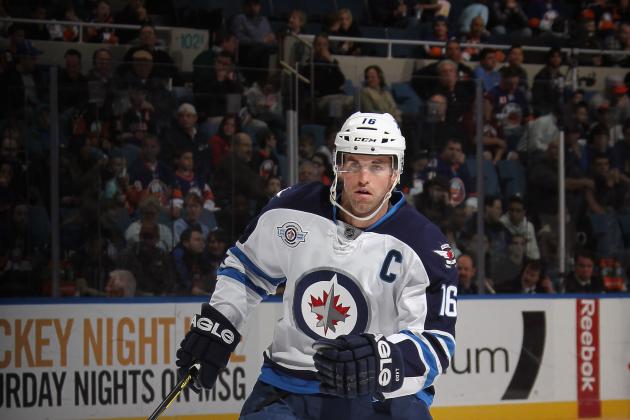 Bruce Bennett/Getty Images

Andrew Ladd, much like Byfuglien, was a pivotal component of the Stanley Cup Champion Chicago Blackhawks.
He is a power forward capable of scoring 20 to 30 goals. He does all of the little things right, making him a valuable two-way player.
Ladd is a potential 30-goal scorer. He has taken a leadership position in Winnipeg and was named their captain. This leadership could help develop some of the younger core of the Rangers.
Ladd is signed through the 2015-16 season at a reasonable $4.4 million cap hit. That cap hit could be worth taking, if he could repeat his playoff magic.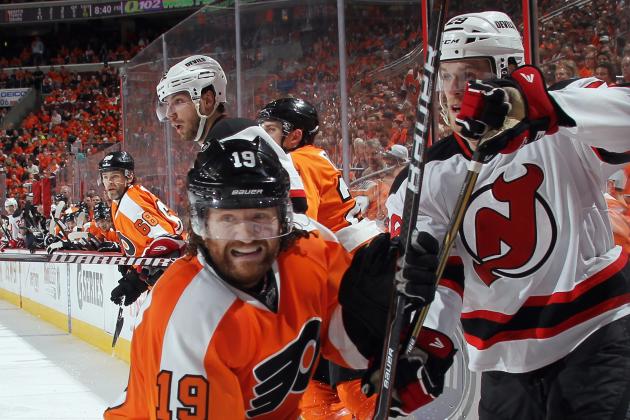 Bruce Bennett/Getty Images

As we learned last year, the Flyers aren't afraid to shake up their roster.
At this point, it is clear the Philadelphia Flyers will part ways with some of their better players. Mike Richards and Jeff Carter were both traded last season and are currently playing in the Finals, while the Flyers watch from home.
Scott Hartnell plays a style similar to the New York Rangers, but he has a bit of scorer's touch. Hartnell has watched his game elevate over the last couple of seasons.
In his five seasons with the Flyers, Hartnell has scored 129 goals and 263 points. Forty-four of those have come on the power play. Hartnell saw his best career year last year.
Hartnell has one year left on his contract before becoming an unrestricted free agent. Currently, he has a cap hit of $4.2 million, which is a reasonable contract for the Rangers to handle.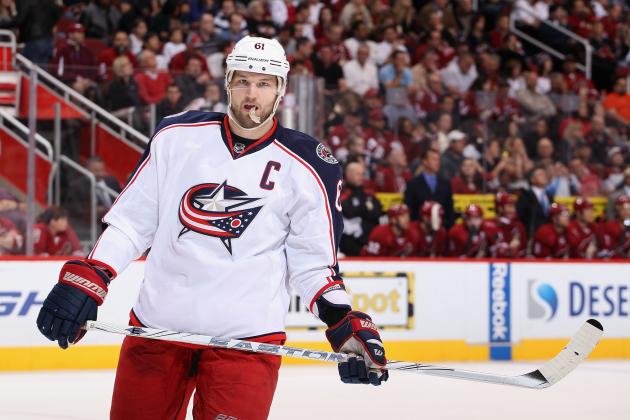 Christian Petersen/Getty Images

Rick Nash is a pure goal scorer, and many teams would love his services.
Nash is very capable of putting up 30 to 40 goals a year. Of the 55-65 points he typically puts up, 15-20 come on the power play. This would immediately make him an asset to the Rangers club.
With Rick Nash's offensive skill comes some concerns. Rick Nash has a cap hit of $7.8 million a year. That $7.8 million cap hit won't come off the books until 2018-19 season, which is when Nash is scheduled to become an unrestricted free agent.
Along with this, Nash isn't known for his two-way play. He is offense first, and most of the time, offense only.
The Rangers should only jump the gun if the price is reasonable. Reasonable would look like Dubinsky, MDZ and a first-rounder. This trade should only be considered if the Rangers have locked up a defenseman capable of replacing a young Michael Del Zotto.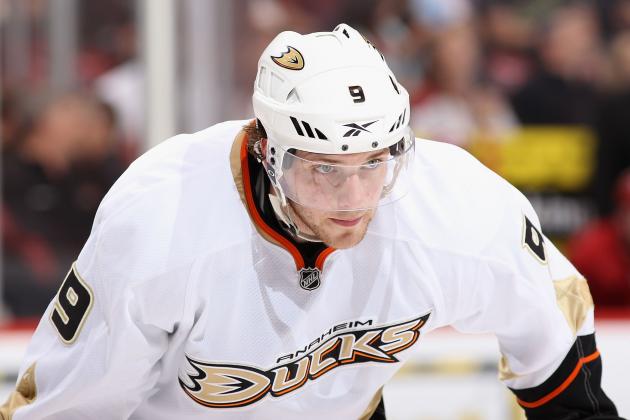 Christian Petersen/Getty Images

Bobby Ryan was discussed in some trade rumors last year and may be a better option than Rick Nash.
Both produce offensively, but Ryan is a young guy who has put up 30-plus goals in the last four years. The Rangers are looking for scorers, and this 25-year-old is very capable of doing so. Like Nash, he should score in the realm of 70 points.
Bobby Ryan has a cap hit that may be more attractive to the Rangers. His cap hit of $5.1 million will still allow the Rangers to address any other issue they might feel important.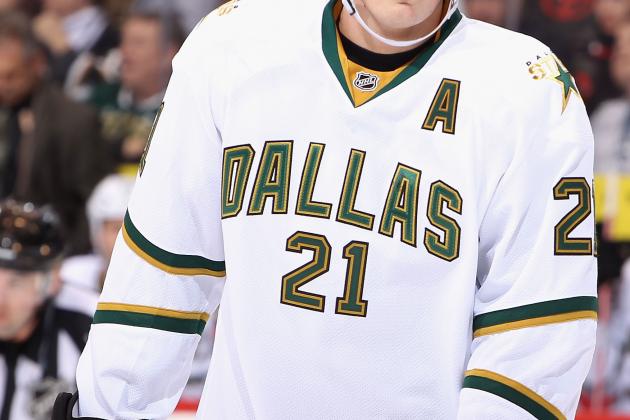 Christian Petersen/Getty Images

Loui Eriksson could be the best trade the Rangers could make. Eriksson has chemistry with Brad Richards, something the Rangers tried desperately to find at the beginning of last season.
This Sweden native has put up 70-plus point in his last three years. Eriksson also has the ability to be a 30-plus goal scorer in this league.
Eriksson can boost the Rangers dismal power play. Loui should be able to put up at least 15 power-play points. He has the ability to fill in for some of the goals that will be missed to Gaborik's injury.
Eriksson already has spent a couple of successful seasons with New York Rangers center Brad Richards. During the offseason, he returns home to Sweden and practices with King Henrik.
Eriksson is a player who could come in and immediately gel with this New York Rangers team.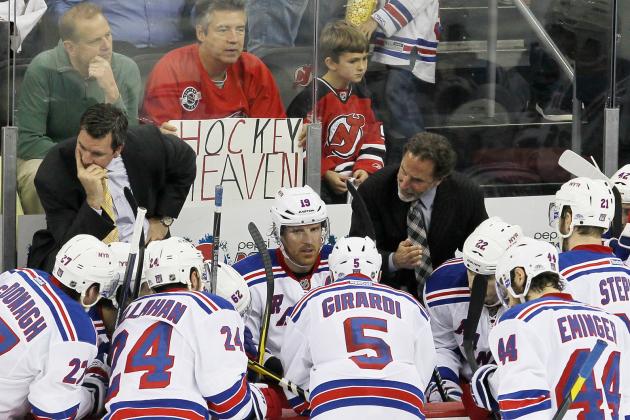 Jim McIsaac/Getty Images

The Rangers have a difficult task of defending the Eastern Conference.
The Marian Gaborik injury has hindered them, but with a couple of right moves, the Rangers could very easily find themselves in the Stanley Cup finals.
Instead of trying to obtain one key guy to answer their scoring troubles, the Rangers could take a page out of the Los Angeles Kings playbook and score by committee.
Addressing some of their needs by shipping out some young talent to get several guys might push this team over the top. There are guys on other teams rosters who could set the Rangers up for another lengthy playoff run next year.