Frank Mir Does TRT, Nate Marquardt Doesn't...Anymore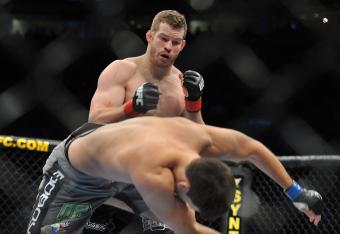 Jon Kopaloff/Getty Images
In the confused world of TRT and PEDs and T/E ratios, we've discovered in the last week that Frank Mir is injecting testosterone because his own is so low, while Nate Marquardt no longer engages in this practice, seemingly so essential to his health, because he doesn't want to deal with the commission and all the headaches.
As reported on MMA Junkie:
The Nevada State Athletic Commission approved Frank Mir for testosterone-replacement therapy [TRT] in advance of his title fight with heavyweight champ Junior Dos Santos at UFC 146.

Mir is the fourth athlete to get a therapeutic-use exemption, NSAC Executive Director Keith Kizer today told MMAjunkie.com.
The world of steroids, especially in mixed martial arts, is riddled with obfuscation, half-truths, media manipulation and outright lies.
First of all, TRT is the legal use of steroids. If your body is producing below the lower end of testosterone as taken by a sample of "average" men, then you can go through the process of applying for a testosterone-use exemption (TUE) up to what you need to get back within range.
Of course, there's the technicality that the athletics commissions only test the night before and after the fight, so you can be out of range for your whole eight-week training camp, cycle off, be back within range on fight night and you're home free.
That's what caught Marquardt. He had a TUE, but by the time his fight with Rick Story rolled around, he still had super-human levels of testosterone in his body, having failed to get them back to normal by fight night, despite having been given extra time to do so.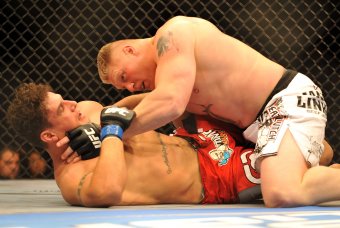 Jon Kopaloff/Getty Images
(Okay, little side note: Did the commission's discovery that he was using too much testosterone before the fight, and then giving him a chance to get back to normal on fight night, mean that it endorses cheating during the training period?)
Cue a long sojourn in the wilderness for Marquardt before redemption—a new contract with Strikeforce and a welterweight title fight against Tyron Woodley. And now, having crawled his way back under the Zuffa umbrella, Marquardt curiously no longer needs normal levels of testosterone to compete as an athlete. As he told Ariel Helwani on the MMA Hour:
I didn't know if I was going to be able to fulfill my dreams going [the TRT] route. I just feel it was so much of a hassle and stress with the commissions and all that, I guess, that the right thing for me to do right now is to choose not to do it.
So much of a hassle with the commissions... right. Forgive me for my cynicism, but if Marquardt really did need TRT, then he should be on for life. Otherwise he's being extremely reckless with his health.
I'll generously extend that cynicism to veteran heavyweight Mir, who was curiously one of the few MMA athletes to defend Alistair Overeem after he was popped earlier in the year (the other—surprise, surprise—was Chael Sonnen). Mir said (h/t 5th round):
I'm very much on the point of innocent until proven guilty. If he has a hearing and he comes in and speaks, I wanna hear what he has to say and what's going on. … Give the man a chance to speak about it.
This whole TRT thing, its just legalised cheating innit?
And after the hearing, Mir was still at it, believing "The Reem" should be allowed to redeem himself. From mmaconvert.com:
I believe he should get a second chance. Everyone makes mistakes. We all do things we're not proud of. If he follows all the stringent testing, and jumps through the hoops the Nevada State Athletic Commission tells him to, yeah, he should come back. He's a fierce competitor. I think he deserves to be in the Octagon.
Perhaps a guilty conscience, Frank? At the time I certainly thought so. I had suspicions that he was on something, along with the rest of the internet fanboy fraternity, after he reportedly gained 20-25 lbs of muscles in the four-five month window. That window was between his loss against Brock Lesnar at UFC 100 and win over Cheick Kongo at UFC 107.
Overeem, remember, was accused of far worse after he gained 50 lbs in two years.
What I find curious about the Mir case is that despite receiving a TUE before his fight with Dos Santos, he still pissed a 1:1 T/E ratio after the pre-UFC 146 press conference.
To quickly clue you up on T/E ratios, in the spirit of Sonnen's valiant efforts in this regard, the T/E ratio is not an indicator of how much testosterone you have in your body. It's simply the ratio between the testosterone and epitestosterone—the natural by-product of testosterone everyone produces. In a normal person, every time you produce one molecule of testosterone, you also produce one molecule of epitestosterone, which means the ratio is usually 1:1.
If, however, you use synthetic testosterone, because the testosterone is coming from the outside, your natural test is suppressed, and so too is your epi-test. This means a ratio of 14:1 could be within normal range for the amount of testosterone molecules (as long as silly amounts of steroids aren't being used) but could be caused by the suppression of the benign substance epitestosterone.
A skewed T/E ratio, therefore, is the first sign that synthetic steroids have been used. If you have a TUE, then a high T/E ratio is allowed as long as the overall testosterone in your body is within the normal range.
Mir's 1:1 ratio tells me his epitestosterone was not surpressed, therefore his natural testosterone wasn't surpressed either(you can't have more epi than test, as far as i'm aware).
So either he hadn't started TRT when he got tested at the press conference, which is fair enough. Or he had just come off it and got his natural testosterone working, which begs the question, if he's coming off TRT for the fight, why does he need it in the first place?
Or there's the third option, that he hadn't received his TUE at the time of the test, and he was injecting himself with fake epitestosterone to make the ratio come out as 1:1.
This article is
What is the duplicate article?
Why is this article offensive?
Where is this article plagiarized from?
Why is this article poorly edited?