1 Underrated Player from Each NFL Team Who Will Produce in 2012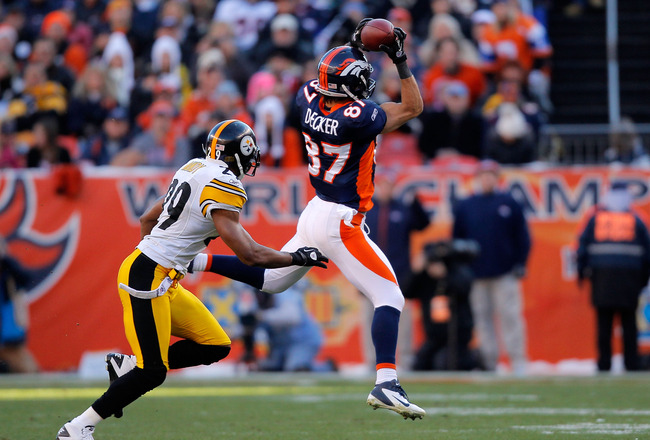 Justin Edmonds/Getty Images
There are 1696 active players in the NFL each season. Of that number, only a mere handful are household names. The rest spend their NFL days toiling in relative obscurity.
Everyone knows the big numbers are put up by the Calvin Johnsons, the Peyton Mannings and the Ray Rices of the league, but that doesn't diminish the contributions of their lesser-known teammates.
The myriad underrated or under-scrutinized players in the league put up their performances quietly each and every year.
Here is one player from each team poised to surprise with some solid numbers.
Denver Bronocs: Eric Decker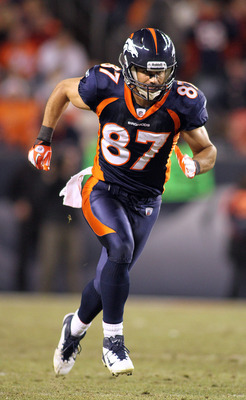 Marc Piscotty/Getty Images
Eric Decker had a fairly productive season in 2011 considering his circumstances. 44 catches for 612 yards and 8 touchdowns is impressive for a no-name receiver whose quarterbacks were a struggling Kyle Orton and Tim Tebow operating a run-heavy offense.
The yards themselves were not highly impressive, but his 13.9 YPC certainly speaks to some big-play ability.
With Peyton Manning now under center in Denver, the offensive philosophy should shift more towards passing. With Demaryius Thomas, Jacob Tamme and Joel Dreessen joining him to draw coverage, Decker should see a lot more looks this year.
He has already put in significant workout time with Manning, and seems poised for a breakout season.
Look for numbers in excess of 1,000 yards and north of 60 catches in 2012.
San Diego Chargers: Ryan Matthews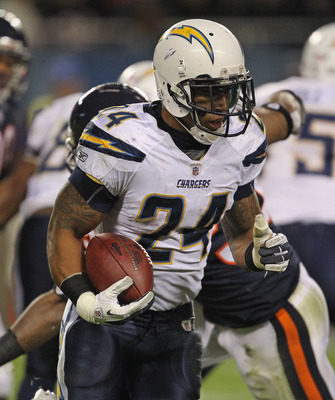 Jonathan Daniel/Getty Images
Ryan Matthews is an electric running back with enormous potential. The Chargers have not yet experienced the full benefits of his skills, because his first two seasons have been mired by injury.
With San Diego in the midst of a postseason drought, expectations will be on Matthews to prove his 2011 numbers were not a fluke, and can be sustained over a 16 game campaign.
Matthews is poised to put up monster numbers, so look for him to go well over 1,000 yards on the ground and a few hundred more through the air, establishing himself as one of the league's top all-purpose backs.
Kansas City Chiefs: Matt Cassel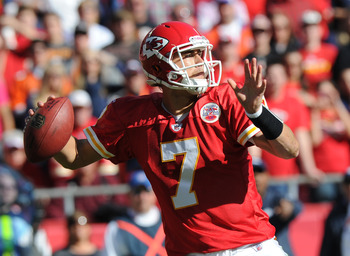 Peter Aiken/Getty Images
Despite signing a lucrative deal with the Kansas City Chiefs following his 11-5 relief campaign for the injured Tom Brady back in 2008, Matt Cassel has not gotten much respect as a quarterback.
His lack of breathtaking statistics has caused the negative perception of his ability as a quarterback, despite his consistently solid play.
Kevin Boss, second year receiver Jonathan Baldwin and the blossoming Dexter McCluster will round out a supporting cast centered around Jamaal Charles and Dwayne Bowe.
Simply by virtue of his weapons, Cassel is headed for a career year in 2012. With two dangerous pass-catching backs on top of his receiving corps, look for Cassel to at least come very close to breaking that 4,000 yard barrier this season.
Oakland Raiders: Darrius Heyward-Bey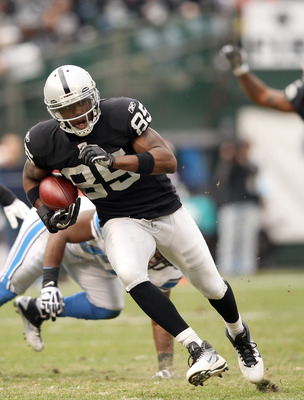 Ezra Shaw/Getty Images
Darrius Heyward-Bey became infamous the very moment Al Davis drafted him 7th overall over Michael Crabtree.
Since then, trying to figure out exactly why the Raiders were so high on him has not yielded results. For a guy who is supposed to be his team's top receiving target, Heyward-Bey has posted underwhelming numbers.
Still, the potential has always been there. With Carson Palmer now set to have a full offseason in Oakland, he may finally have a competent quarterback who can get him the ball.
Look for Heyward-Bey to eclipse the 1,000-yard mark handily this season with Palmer tossing him the ball.
Houston Texans: Ben Tate
Thomas B. Shea/Getty Images
Arian Foster's incredible ascent has set the bar rather high for running backs around the league, and Houston Texans players in particular.
Ben Tate may be the backup to Foster, but in some ways he might be the better pure runner. He hits the holes well, runs with power, and could easily start for more than one NFL team.
Between injuries and offensive overhauls, Tate should see an increase in touches this season, and he is poised to do well with them. After averaging 5.4 yards per carry in 2012, Tate has earned his chance to see more snaps.
The Texans should have two 1,000 yard rushers this season.
Indianapolis Colts: Robert Mathis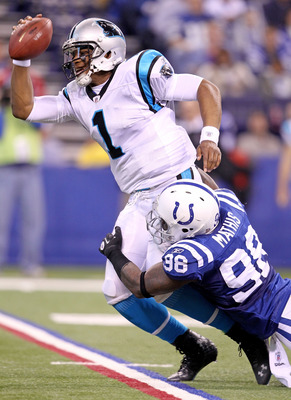 Andy Lyons/Getty Images
Before you freak out, obviously Robert Mathis is not actually underrated. He has been one of the league's most productive pass-rushing defensive ends throughout his career, a fact that is well-acknowledged.
However, the Colts are preparing to switch to a 3-4 defense, which would place Mathis at outside linebacker—a position he has never played.
There are some doubts as to whether Mathis will be able to play rush linebacker. Rest assured, he will be able to. As an undersized 4-3 end, he has the ideal size to play the spot.
With Chuck Pagano scheming the defense, look for double-digit sacks from Mathis.
Tennessee Titans: Kenny Britt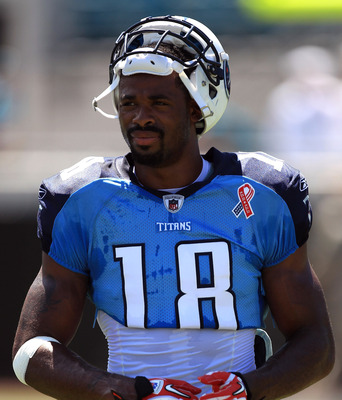 Streeter Lecka/Getty Images
Due to injuries and a lack of targets, Kenny Britt has never dazzled with his end-of-season numbers.
However, the most important statistic of all stands out:
Britt is averaging a whopping 17.5 yards per catch for his career thus far. With a full season of health, he should bloom this year playing with Jake Locker.
Jacksonville Jaguars: Nobody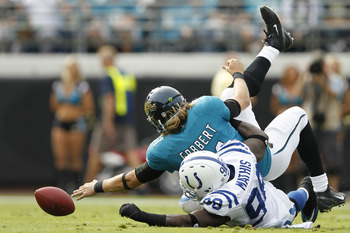 Joe Robbins/Getty Images
The Jaguars have some real work to do. The players who are actually good on this team—you know who they are.
Nobody is going to surprise for Jacksonville's ball club just yet.
Cleveland Browns: Brandon Weeden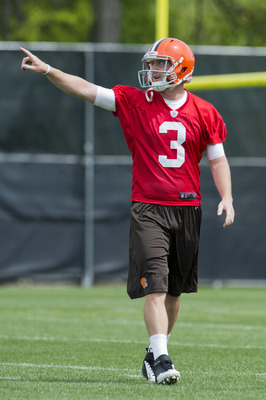 Jason Miller/Getty Images
The Cleveland Browns have faced significant criticism for drafting Brandon Weeden 22nd overall in the 2012 NFL draft.
Weeden's age has been cited as a reason why he won't cut it in the NFL.
On the contrary, his age will allow him to be mentally ready long before most rookies are, and he has the talent to succeed. Had he been 22, Weeden conceivably has the talent of a top 10 pick.
He has already defeated Robert Griffin III, Andrew Luck and Ryan Tannehill, the three guys drafted before him at quarterback.
He has the size, the arm, and the maturity.
Expect good things from the Browns' new franchise guy despite his 'advanced age.'
Cincinnati Bengals: BenJarvus Green-Ellis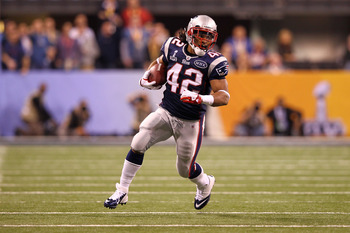 Al Bello/Getty Images
BenJarvus Green-Ellis probably gets a bad rap partially for his ridiculous name. More than that, it is easy to say that his production is a product of playing in the New England Patriots' system.
Now on the Cincinnati Bengals, the Law Firm has something to prove. Luckily for him, the Bengals have new guard Kevin Zeitler to help clear the way, as well as A.J Green and Andy Dalton, who will command significant respect from opposing defenses.
This will be another solid year from Green-Ellis, but this time there will be no Tom Brady to give all his credit to.
Baltimore Ravens: Vonta Leach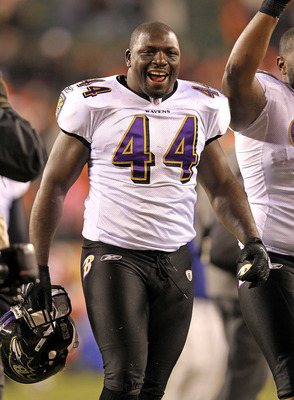 Andy Lyons/Getty Images
Vonta Leach is not a numbers guy; he plays fullback on a team that doesn't use it's fullback. Still, Leach is one of the more under-appreciated players in the NFL.
His addition in 2011 was a major reason that Ray Rice led the league in yards from scrimmage, and he will likely continue to help Rice stay atop the league.
Leach will never stuff the stat sheet; he just helps everyone else do it instead.
Pittsburgh Steelers: Antonio Brown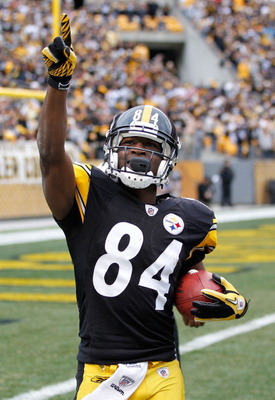 Gregory Shamus/Getty Images
The Pittsburgh Steelers are spending this entire offseason embroiled in the Mike Wallace fiasco.
The fact lost in all of this is that even IF Wallace was worth the money he is demanding (he's not), Antonio Brown is more than capable of being the number one guy.
Brown has an uncanny ability to convert monster third-and-long plays. He is an electric playmaker, and the attention heaped on Wallace is a slight against Brown in every way.
With Todd Haley coming in to run the Steelers offense, expect another 1,000-plus yard season from the former sixth-round pick.
New York Jets: Stephen Hill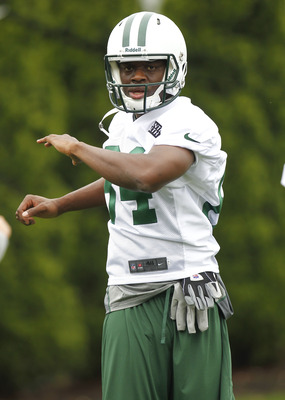 Jeff Zelevansky/Getty Images
Stephen Hill has been described as a raw talent, bursting with athletic potential but lacking NFL-ready skills.
While Hill did come from an option offense with the Georgia Tech Yellow Jackets, he clearly has the ability to be great at the next level.
His lack of touches compared to other major receiver prospects is in line with the offense of his college, and is not a knock against his abilities.
With Santonio Holmes and Dustin Keller drawing coverage, Mark Sanchez will surely want to take advantage of his new 6'4'' target. Expect big time rookie numbers, especially in the touchdowns category.
Buffalo Bills: C.J Spiller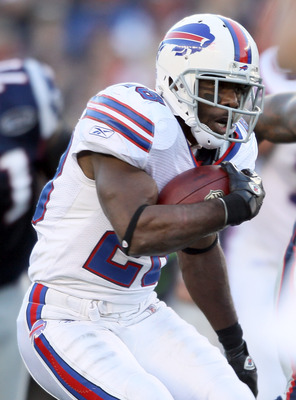 Elsa/Getty Images
C.J Spiller was that guy Buffalo Bills' fans never wanted. Drafted at No. 9 overall despite the presence of Marshawn Lynch and Fred Jackson, Spiller was more of a nuisance than a contributor early on.
Now, he has become an invaluable piece of the Buffalo offense. He averaged 5.2 yards per carry in 2011, and managed to carry the ground game (pun intended) after Jackson went down with a broken leg.
This season, they can expect to split the carries more evenly, and the Bills will likely want to take advantage of Spiller's dynamic playmaking ability.
He has fresh legs, having been used only sparingly in his career thus far. The Bills also acquired offensive linemen Cordy Glenn and Zebrie Sanders, steals who could have gone far higher than where the Bills got them, setting their run game up for 2012 success.
Look for him to get closer to that 1,000 yard plateau.
Miami Dolphins: Reggie Bush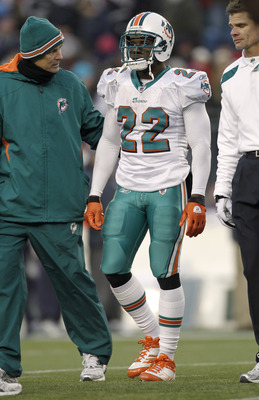 Winslow Townson/Getty Images
Ah, Reggie Bush. The much-maligned running back out of USC has finally found something that works for him with the Miami Dolphins.
After finally recording a 1,000 yard season, Bush needs to prove to the world that it wasn't an accident.
With the quarterback situation in flux, Bush can expect to see more touches both on the ground and in the air this season.
He'll follow up a career-best season in 2012 and outdo himself, going well over 1,000 yards while racking up a few hundred reception yards.
New England Patriots: Jerod Mayo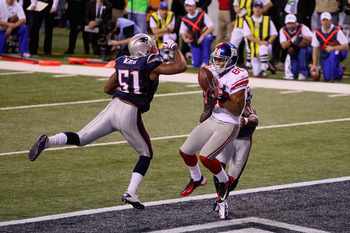 Jeff Gross/Getty Images
How often do you hear Jerod Mayo's name? Probably not very.
He has quietly and consistently been one of the league's most productive middle linebackers every year of his career thus far, and hardly a soul talks about him.
With the addition of Dont'a Hightower, Mayo's tackling numbers should only increase.
Chicago Bears: Michael Bush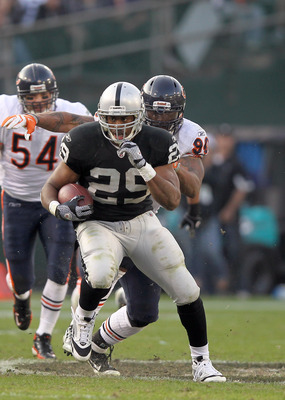 Ezra Shaw/Getty Images
Michael Bush seems cursed to forever be a backup to the NFL's top running backs. Luckily for him, he has the bruising style and frame to make himself useful as a goal line carrier, which is especially beneficial to a team like Chicago, whose featured back is on the smaller side.
Bush will have a lot of goal line opportunities in 2012, and should have a good chance to put up big numbers should Matt Forte go down again.
Look for at least double-digit touchdowns.
Detroit Lions: Nick Fairley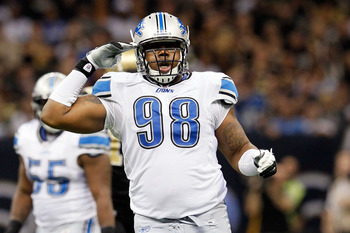 Kevin C. Cox/Getty Images
Nick Fairley was kind of the odd man out in the Detroit Lions defensive line rotation last season. Between Ndamukong Suh, Cliff Avril, Kyle Vanden Bosch and an injury bug, there wasn't a whole lot for the first round pick to do.
For a guy whose character was called into question before he was even drafted, Fairley hasn't given a good showing of himself in this offseason either.
He's got the talent, but he's also got a ton to prove. He'll have to produce this season, simply out of necessity.
How can he not alongside his line-mates?
Green Bay Packers: Nobody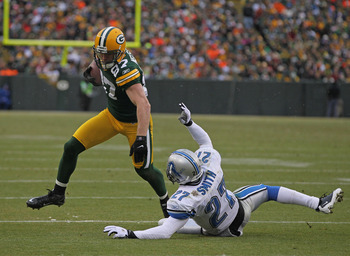 Jonathan Daniel/Getty Images
The Green Bay Packers are a rather polarizing team. Their 2011 offense was one of the greatest ever; it would be difficult to find someone there to underrate. Jordy Nelson would be the closest thing they have, and he is not exactly underrated.
Conversely, their defense was statistically the worst in NFL history, so it would be hard to say anyone on that squad is underrated; all of the weak links in that unit deserve their labels.
Minnesota Vikings: John Carlson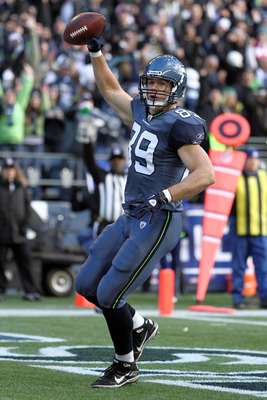 Otto Greule Jr/Getty Images
John Carlson has transitioned over the past couple of years to more of a blocking tight end, but the rookie who caught 55 balls for 627 yards and five touchdowns is still in there somewhere.
After missing 2011 with a torn shoulder labrum, he will spend his 2012 campaign playing safety valve for embattled sophomore Christian Ponder. Expect good things from him.
Arizona Cardinals: Kevin Kolb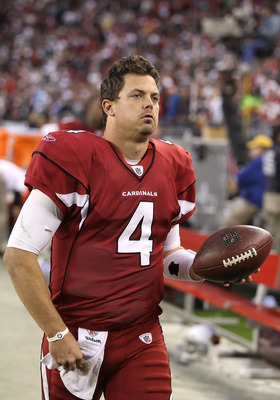 Christian Petersen/Getty Images
The Arizona Cardinals gave up an awful lot to get Kevin Kolb: a good second round pick and an excellent young corner in Dominique Rodgers-Cromartie, not to mention a monster contract.
He didn't pay dividends in his first season; plagued by injuries and a lack of weapons, Kolb has cast doubt into the minds of the Cardinals, allowing John Skelton to enter an open competition for the starting job.
Kolb will win the starting gig, and 2012 will be his coming-out party. With Michael Floyd now opposite Larry Fitzgerald, Kolb will have the tools he needs to succeed.
St. Louis Rams: Danny Amendola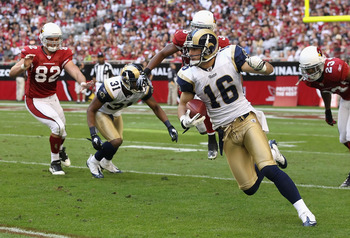 Christian Petersen/Getty Images
Danny Amendola is one of the league's best slot receivers. You need only look at his 85 receptions during Sam Bradford's rookie season to know he can be relied upon down after down.
He played only one game in 2011, meaning the what-have-you-done-lately nature of the NFL has obscured his previous achievements.
Expect a big bounce-back year from both him and Bradford, who is coming off of a sophomore slump.
San Francisco 49ers: Alex Smith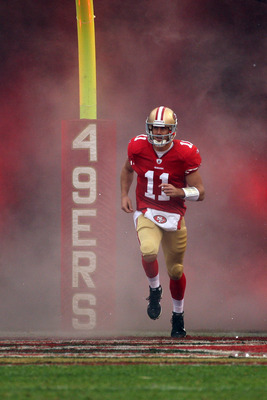 Ezra Shaw/Getty Images
Alex Smith is a former No. 1 overall pick who never lived up to expectations, though his near-bust status was enhanced by a lack of consistency at head coach, offensive coordinator and in his supporting cast.
In 2011, Smith showed that he could lead a team deep into the playoffs with proper coaching and help, and finally will have some consistency for the 2012 season.
On top of coaching consistency, he has a bevvy of incredible weapons; his backfield includes Frank Gore, Brandon Jacobs and LaMichael James, and his receivers include Michael Crabtree, Mario Manningham, Randy Moss and Vernon Davis.
Alex Smith still has to prove he is a franchise quarterback, but even if he isn't, he's poised for some great numbers in 2012.
Seattle Seahawks: Zach Miller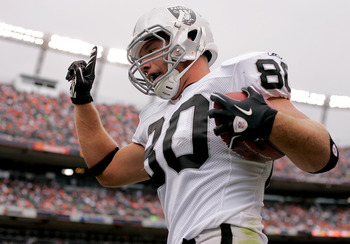 Justin Edmonds/Getty Images
Zach Miller completely fell off the face of the earth after leaving the Oakland Raiders for the Seattle Seahawks.
With a real quarterback under center in Seattle this year, expect a major bounce-back year from Miller.
Tampa Bay Buccaneers: LeGarrette Blount
LeGarrett Blount gave us all a pleasant surprise two years ago when he rushed for 1,000 yards with very limited touches (5.0 yards per carry).
The Buccaneers disappointing 2011 campaign was particularly hard on Blount, whose numbers took a significant dip (781 yards on 4.2 yards per carry, and fewer TDs), while his fumble count rose.
He's been called a one-hit wonder, and the Buccaneers' aggressive first round trade for Doug Martin doesn't exactly impart a feeling that they believe in him.
Blount has a lot to offer the Buccaneers with his incredibly aggressive power running. With the acquisition of true receiver talent, a running mate and one of the NFL's best guards in Carl Nicks, Blount is poised for a comeback.
Look for numbers back up around 5.0 yards per carry.
Atlanta Falcons: Ray Edwards
Kevin C. Cox/Getty Images
Ray Edwards came over to Atlanta as a big time free agent, and was paid good money to upgrade an anemic pass rush.
Instead, he went from consecutive eight-sack seasons to 3.5 sacks in 2011. This has led to a perception of his being a one-hit wonder and his signing being called a bust.
He possesses the talent to adjust and become a true force for the Atlanta defense. Expect a return to high single-digit sacks this season. The addition of Asante Samuel should allow him precious extra seconds on the pass rush.
New Orleans Saints: Mark Ingram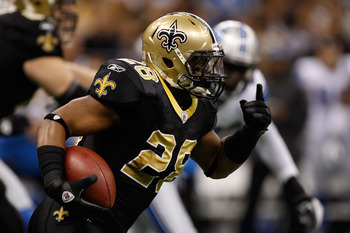 Chris Graythen/Getty Images
Despite being the elder, Heisman winner and the BCS MVP Mark Ingram is living in the shadow of his former running mate Trent Richardson, who has yet to see an NFL snap.
Ingram's propensity to get hurt, along with subpar play on the field, has led to his being somewhat forgotten, especially given that he is part of a three-back rotation.
Barring injury, Ingram will bounce back this season and show why he was the starter at Alabama.
Carolina Panthers: Greg Olsen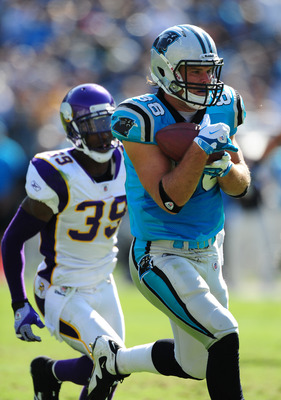 Scott Cunningham/Getty Images
Never spectacular but always solid, you rarely hear about Greg Olsen on the news. The former Chicago Bear is a consistent producer and good blocker, and last year reeled in 45 catches for 540 yards as a safety valve for Cam Newton.
Newton was historically sensational as a rookie, but the dreaded sophomore slump could loom ahead.
Reliance on his safety valve in Olsen will be understandable, and you can expect the tight end to record a career high in yardage, given the new role of NFL tight ends (thank you Jimmy Graham and Rob Gronkowski).
Philadelphia Eagles: Cullen Jenkins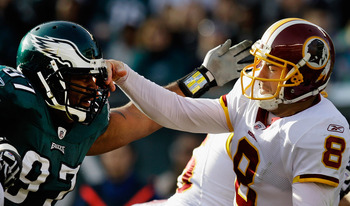 Rob Carr/Getty Images
Cullen Jenkins has spent most of his career playing the inglorious role of defensive end in a 3-4 scheme. Low numbers have kept him under the radar since he came into the league, despite a high talent level.
Having joined the Philadelphia Eagles and their 4-3, Jenkins enjoyed one of his better seasons, albeit without much interior help.
The drafting of Fletcher Cox should do wonders for Jenkins' productivity, as it will give interior offensive linemen something else to focus on besides him.
Wait and see.
Washington Redskins: Pierre Garcon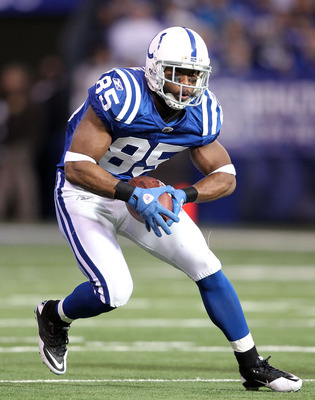 Andy Lyons/Getty Images
Pierre Garcon has been ignored for much of his career. Whether due to a disproportionate number of drops or being overshadowed by his fellow wide receivers, Garcon has never quite gotten the full recognition his talent demands.
The Washington Redskins must see that talent, because they offered him a hefty free-agent deal. Now he must prove he is worth it by being a weapon for rookie Robert Griffin III.
Griffin has the makings of an NFL star, which will only mean good things for Garcon in his new No. 1 receiver role.
Dallas Cowboys: Dez Bryant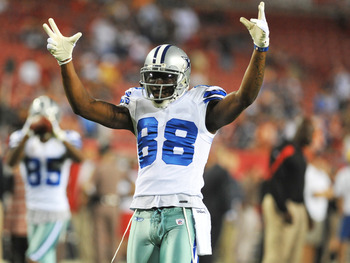 Al Messerschmidt/Getty Images
Nobody is denying Dez Bryant's enormous talent, even if it does often go unrecognized due to a focus on his off-the-field issues.
Bryant has gotten attention in his first two seasons for all of the wrong reasons. However, it is interesting to note that his numbers over those two seasons are eerily similar to rival receiver Hakeem Nicks of the New York Giants. Nicks has budded into a star, so the numbers point to a very positive trend for Bryant.
Nicks had 79 catches for 1,052 yards in his sophomore season with 11 touchdowns.
Bryant had 63 catches for 928 yards and nine touchdowns.
Obviously Nicks is the better receiver, but if the numbers were even would Bryant have even made this list?
New York Giants: Martellus Bennett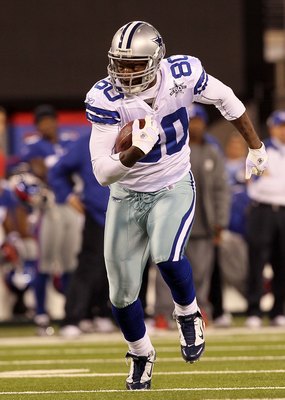 Jim McIsaac/Getty Images
The New York Giants came out of their Super Bowl victory minus two tight ends, thanks to gruesome ACL injuries.
Rather than spend a draft pick on an end, the Giants chose to sign former Cowboy Martellus Bennett to a one-year deal.
Bennett's extremely unproductive reception numbers are a mirage; he has spent his entire career as Jason Witten's backup. That is not a role which will see you demanding an awful lot of looks.
He has a chance to thrive now under Eli Manning, who has shown a clear ability to make those around him better.
Expect top-10 tight end numbers from the mammoth 6'6'' Bennett.
Keep Reading