Could 'Superconferences' Be the Solution to College Football's Playoff Problem?
June 6, 2012

Andy Lyons/Getty Images
There is no regular season in sports that carries more excitement from week to week than that of the Football Bowl Subdivision. From the first week of September into early December, one loss can end any team's championship hopes, making every game important.
College football's postseason system, however, is flawed. The BCS stands for Bowl Championship Series, but could just as easily stand for Broken and Controversial System.
The BCS uses a formula consisting of the coaches' poll, the Harris Poll and an average of five sets of computer-generated rankings. Following the conclusion of the regular season and every conference championship game, the teams who rank No. 1 and No. 2 in the BCS standings play for an NCAA title in the BCS National Championship Game.
This system may be an improvement over the old system, in which conference champions played in bowls based upon conference ties and no matchup between the Top Two teams in the nation was guaranteed to happen. However, while the BCS system generates a clear championship winner, it creates argument and controversy every year over which two teams are actually the nation's best.
A large-scale playoff like college basketball's March Madness is not realistic for college football, but a four-team format requiring two postseason victories for a championship is very reasonable. However, while the four-team playoff structure may be ideal in creating a better system to determine a champion, there are many potential consequences that must be worked out before a new postseason system can be put into place.
The potential creation of four "superconferences" could be the best postseason solution.
The four most prominent conferences in college football are the SEC, Big Ten, Pac-12 and Big 12. These four conferences would become the new superconferences in college football, with the champions of each making up the four-team bracket playing for a national championship.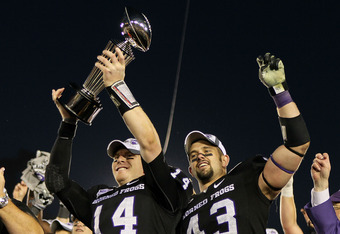 Jeff Gross/Getty Images
Teams from the Big Ten and Pac-12 have traditionally played one another in the Rose Bowl for more than 50 years, and representatives of both conferences have consistently asserted that keeping the Rose Bowl alive is very important to them. Any system that would compromise the standing of the Rose Bowl would be a serious drawback to the potential for a new championship system, but in a superconference system, the Rose Bowl could become an integral part of how a champion is determined.
In May, the SEC and Big 12 announced an agreement that will pit the champions of each conference in a bowl game. This agreement set the stage for a four-conference playoff system where the champion of an SEC-Big 12 bowl game would play the Rose Bowl champion in a national championship game.
The SEC-Big 12 game could end up bringing the Cotton Bowl, which is not among the current BCS bowls, back to the forefront of college football. Since 1999, the Cotton Bowl has featured one team from each conference, and in 2010, the game was moved to the new Cowboys Stadium in Arlington, Texas. This historic bowl, now played in a state-of-the-art stadium, sets a perfect stage to be a national semifinal game opposite the Rose Bowl, which arguably holds more tradition than any other college football bowl game.
In recent years, numerous small-school teams who have gone undefeated have been left out of the championship picture, including the 2010 TCU Horned Frogs, who defeated Wisconsin in the Rose Bowl that season, and the 2009 Boise State Broncos, who won that year's Fiesta Bowl over a Horned Frogs team that was also undefeated at the time. These teams did not receive a fair shot at competing for a championship, even though they did all they could have during the regular season by winning every game.
As a result of these teams' unfair exclusions from the opportunity to play for a championship, I have consistently argued that college football needs a postseason system that includes any team who goes through its regular season undefeated. Of course, an argument against the superconference system is that it would be even more exclusive to teams from smaller conferences who would have no shot at playing for a championship.
In a superconference system, more realignment would occur, as each of the four superconferences would likely grow to 16 teams each.
TCU and West Virginia have already moved to the Big 12, replacing Missouri and Texas A&M, who departed for the SEC. With the ACC being left out of the superconference picture, Florida State, Miami, Virginia Tech, Clemson and Georgia Tech are certainly among the teams who would be realigned into superconferences. Comments made by TCU athletic director Chris Del Conte, according to Chris Level of RedRaiderSports.com, gave the impression that Florida State, Miami and Clemson are all in talks to move into the Big 12.
A superconference system would obviously require Notre Dame to join a conference, as they would not be excluded from the championship picture. It would also most likely include Boise State, Houston, Hawaii and other teams who have previously been left on the outside looking in. But inevitably, a team left out of the superconferences would have an undefeated season before too long and create controversy all over again for being overlooked.
For this reason, superconferences are far from a perfect solution for college football. Unfortunately, there may not be one system that gives every deserving team a fair shot while remaining realistic and preserving the traditional bowl system. I am conflicted on whether superconferences are right for college football, but I believe they could be an upgrade over the BCS.
The SEC has dominated college football in recent years, winning the last six consecutive national championships and placing both teams in last year's BCS National Championship Game. A superconference system would create much more parity among the four major conferences, as the champions of each conference would have an equal shot of reaching the championship game.
This system would preserve the week-to-week excitement of college football's regular season, since winning each and every game would be important for teams to position themselves at the top of their conferences to earn a berth in the Rose Bowl or Cotton Bowl.
Unless another system can be devised that gives teams from every conference a fair shot at winning a championship, while preserving the bowl system and adding no more than one additional game to a team's postseason schedule, a four-superconference system is a logical step forward for college football.
The superconference postseason system would not only preserve the tradition of the bowl system, but enhance its importance while maintaining historical ties between the most prominent programs and conferences in college football.
Follow me on Twitter @Dan_Hope.