Carolina Panthers: Steve Smith's History and Potential Career Year in 2012
June 6, 2012

Jared C. Tilton/Getty Images
Carolina Panthers wide receiver Steve Smith has seen just about every high and low an NFL career has to offer.
He's played in a Super Bowl, gained the Panthers' all-time lead in receiving yards, touchdowns and catches, and has been named All-Pro three times. But he also sat out an entire season with an injury, played for a 1-15 team and been suspended for fighting a teammate—twice. 
"I have a very good memory," Smith told NFL Films a few years back, "[but] I don't let things go sometimes." This inability to abjure the past is what has transformed Smith into what we see today—he's gone from a young, hotheaded receiver into a veteran wideout who wears a "C" on the top right shoulder of his jersey.
Smith entered the NFL back in 2001 as a kick- and punt-return specialist. The very first time he touched a ball, he returned a kick 93 yards for a touchdown. Smith was the only rookie to make the Pro-Bowl that year, but in training camp the following season, the up-and-down theme of his career would begin.
Smith's play has always been described as explosive, physical and mean, but those words began to describe Smith's attitude off the field and after the whistle. In 2001, Smith was suspended one game by Carolina team officials for punching a practice squad player in the face.
In the years to come, Smith continued to release an out-of-control rage that cost his team countless unsportsmanlike and unnecessary roughness penalties, throwing punches and even kicking opponents at times. Nevertheless, Smith was one of the most dominant receivers to play the game. His temper was tolerable so long as he put up league-leading numbers
Standing at 5'9'' Smith's ability to come down with every jump ball quarterbacks throw at him is inexplicable. How many teams do you know that send their shortest receiver down field on fade routes to make leaping catches over the opposing secondary?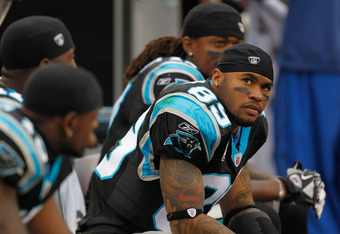 Streeter Lecka/Getty Images
Smith led the Panthers to their first Super Bowl in franchise history in the 2003-2004 season, but the team fell three points short of the New England Patriots on He-Who-Must-Not-Be-Named's 41-yard field goal with four seconds left.
After breaking his leg in 2004, Smith led the league in receiving yards, touchdowns and catches in 2005, winning the NFL's Comeback Player of the Year award. All the preseason drama of 2002 had been forgotten, up until Smith lost control again in 2008.
It was déjà vu all over again for Panthers fans. In training camp, Smith punched starting cornerback Ken Lucas in the face, forcing the team to suspend their best player for the first two games of the season. "I'm a fallen man," Smith told NBC reporters.
Surprisingly, Lucas forgave Smith within a few days, but Smith could not let go of the situation. "It's the first time in my life that I haven't forgiven myself," he said.
Fast-forward to Roman Harper's vicious hit on Smith last season, and you can truly see the impact the past has had on Smith. He's a changed man. The immature Smitty would have likely attacked Harper immediately, but Smith collected himself and celebrated his touchdown with his signature spinning of the football and high-pitched howl to the skies.
At 33 years of age, Smith is a leader now. He is playing alongside guys who are a full decade younger than him. While he used to unleash his anger and excitement on others, he now keeps it to himself, screaming wildly, jumping up and down after he makes a big play.
Why will Steve Smith be a dominant receiver in 2012? Because he has finally learned to combine the fire of his youth with the knowledge of his age. Because he understands what this league is all about.
He finally knows the difference between what is right and what is wrong—what is smart and what is stupid. He knows the influence he has on guys like Cam Newton, Jon Beason and Jonathan Stewart. He continues to learn every year, and that's scary to think he can get any better than he already is.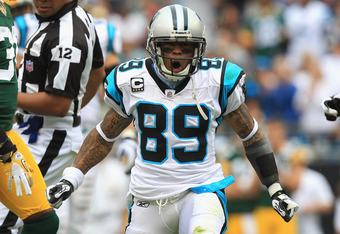 Streeter Lecka/Getty Images
Just like people underestimated him for his height, I'd suggest avoiding the same mistake with the "age argument." 
ESPN writer Jeffri Chadiha still lists Smith as a top-10 wide receiver in the NFL. How can you not agree with him? Smith ranked fifth in yards per game last season (87.1), the third-highest total of his career. 
Cam Newton is the best quarterback to ever throw Steve Smith passes, and if the Panthers can find a solid No. 2 wideout, Carolina will finally relieve Smith of the double-coverage he has grown so accustomed to.
Smith showed no signs of slowing down last season, so why does anyone think he will be unsuccessful in 2012? Smith is one of 36 NFL receivers to have more than 10,000 career receiving yards, so you know he belongs in a category separate from the norm. 
Age means nothing to a guy this driven and this motivated. It will be just as hard to tackle him in the open field, and just as hard to win those jump balls against him.