French Open 2012: Are Roger Federer and Novak Djokovic Lucky to Play Semifinal?
June 6, 2012

Matthew Stockman/Getty Images
Roger Federer and Novak Djokovic have somehow cashed in another winning hand and will be renewing their rivalry for a semifinal match at the 2012 French Open.
For all their angst, inconsistencies and escapes in recent matches, both of them may feel they are playing with house money.
Maybe now the pressure is off, and though neither is weaving a tapestry of exceptional tennis, one of them still has an opportunity to heist the French Open title.
So why not throw everything into the pot and go for broke? There are still high stakes rewards to collect, victory to set on the mantelpiece, and Grand Slam immortality to enhance his legend.
All this can be won with a single victory for a place in Sunday's final and a likely spin at Rafa Roulette.
Bringing Down the House
It would be inaccurate to call Federer and Djokovic lucky. They have continued to grind away on their least favorite surface, putting pressure on opponents who have been unable to close them out.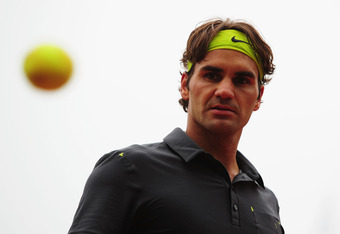 Mike Hewitt/Getty Images
If they are fortunate to be moving on to the semifinals, it is because of faithful adherence to their talent and strategy. They are not saying "hit me" on 19 at the Blackjack table. Rather, they have been unafraid to play out each point where there is no timepiece to save a wilting frontrunner.
"Luck is what happens when preparation meets opportunity," wrote the Roman philosopher Seneca.
Did Federer defeat Juan Martin del Potro in the final three sets because of injury? In part, but it doesn't matter now. Federer fought to the end with fearlessness. He played to win and refused to be denied.
Rounders
Djokovic has also rolled the dice successfully, most famously at the 2011 U.S. Open semifinal against Federer. Facing match point and Federer's serve, Djokovic gambled by stepping into his forehand and delivering a match-turning winner.
It was the kind of shot only a No. 1 player could have pulled off. It required topnotch talent and Bogartian risk-taking.
In the Tuesday quarterfinal versus Jo-Wilfried Tsonga, Djokovic's Novak Slam was on life support. Four times he faced match point, but each time he played it out with all the calculated coolness of Matt Damon's character in Rounders.  
This wasn't a gamble, but a performance by someone who makes his living knowing the odds and how to play them.
Djokovic didn't back into a victory hitting safe shots, hoping for a Tsonga error. He rallied behind his mentality to play for victory.
Casino Royale
Thursday's semifinal showdown will be the kind of match more often seen at Caesar's Palace. Federer and Djokovic will collide once again for another shot at the French Open title.
If their recent history is any indication, the more aggressive player will be the victor. In 2011, Federer defeated Djokovic through a fearless attack. He served bigger, hit forehand winners, came to net and mixed up an intelligent variety of slice and change-of-pace shots.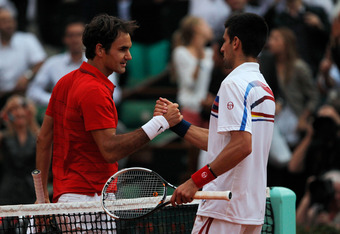 Matthew Stockman/Getty Images
He dominated the first two sets before Djokovic was able to match his intensity. By that time, Federer's full house of French heroics were enough to force Djokovic's hand. He won the match by hitting more winners (48-40) than Djokovic.
Expect the winner to seize victory.
Likewise, there will be plenty of unforced errors. Fans that follow a particular favorite player often will circle the unforced errors as the cause for the player's loss and conclude that he could have won if he was able to play as normal or not have an off-day.
While this might be true against a lesser opponent, the frequency of unforced errors will likely climb against another great player. They will both press to gain the upper hand.
In addition, many of the unforced errors are still set up by the opponent who is playing successfully against the other's weaknesses or tendencies. The truth is the opponent is often the perpetrator of many perceived unforced errors.
In the recent Rome semifinal, Djokovic hit several sideline shots that forced Federer into unforced errors. He attacked the Federer backhand to force many of the ensuing mistakes.
Opportunity Knocks
Which player will play loose, fearless tennis? Will Federer turn back the clock and attack with his exceptional variety, including some chances at net and dropshots? Win or lose, he will not go quietly.
Will Djokovic try to hit with extra pace and tattoo the sidelines? Will he move Federer from side to side and attack the forehand? Will he set aside thoughts of the Novak Slam and play as if there is nothing to lose?
There could be a fortuitous point or two that will define or change the match, but it will be constructed on opportunity. It will be the calculated condition of having a patient but restless mind, and of sacrificing ease for attention to detail. It will require vision, but a willingness to persevere bravely and optimistically through the ebbs and flows of a big match.
But only one of them will play Sunday for the French Open title.
CLICK HERE to review the 2006 French Open final between Federer and Nadal
CLICK HERE to evaluate ten of the most important matches in tennis history