Grading the Strength of Every Positional Unit Heading into Dallas Cowboys Camp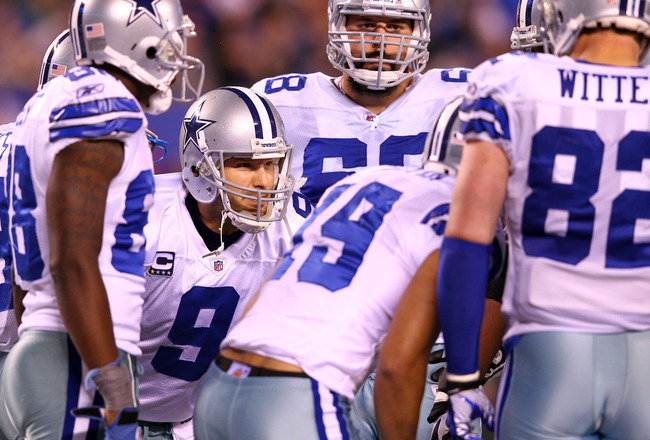 Al Bello/Getty Images
As I've mentioned many times before, the Cowboys have holes. They have some positions that are strengths, but others where they operate from a point of weakness. The Cowboys secondary will be under scrutiny because of their poor play in 2011 and the new pieces that were added.
So while I may view certain positions as a weakness for Jerry's boys, you may view it a little different.
Here are my grades for each Cowboys positional unit.
Quarterbacks, A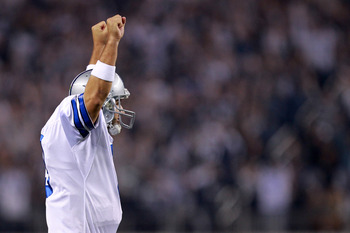 Ronald Martinez/Getty Images
Dallas has the services of one Antonio Ramiro Romo as their starter behind center. He is one of the league's best signal callers and a statistical juggernaut. Romo tossed 31 touchdowns last season and threw for over 4,000 yards.
The Cowboys also employ Kyle Orton, a back-up who provides stability and veteran leadership for Dallas.
Overall, the Cowboys have one of the best quarterback units in the NFL.
Running Backs, B+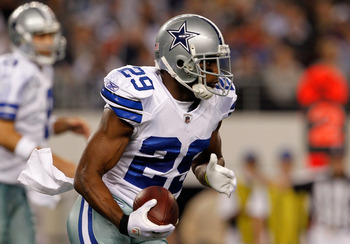 Tom Pennington/Getty Images
DeMarco Murray looks like the real deal. Last season he popped off for 253 yards against the Rams and continued his great play after that game.
He finished the year with almost 900 yards, but it was cut short due to an injury. This season he's full healthy and will have the label of starter to begin the season.
His back-up will be Felix Jones, a runner capable of starting for many NFL teams. He has durability concerns but has homerun ability. Jones did a great job of filling in for Murray during his absence last year and can do the same if Murray is hurt again.
Dallas is in a position of strength, as their running game should be top 10 in 2012.
Wide Receivers, B-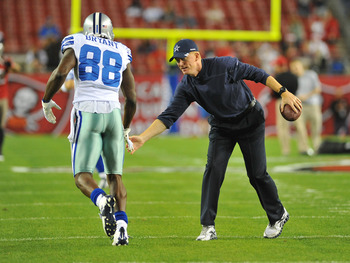 Al Messerschmidt/Getty Images
I'm not sure where to go with this one because Dez Bryant and Miles Austin are two of the league's most talented receivers. Well, Bryant is at least. They both can turn a game around with a big play or big catch—it's just a matter of each being on the same page.
Bryant needs to learn the playbook and Austin has to come into the season in shape and healthy.
The third receiver slot is still up for grabs, as veteran Kevin Ogletree will do battle with a slew of younger receivers looking to take his spot.
As of right now, I would say that the Cowboys have great strength potential when it comes to receiver. We'll see when the season starts.
Tight Ends, B+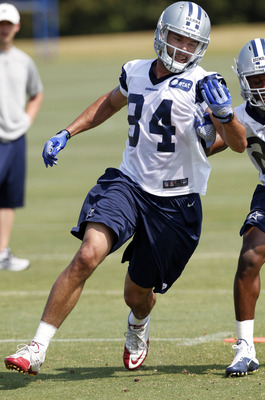 Layne Murdoch/Getty Images
This has the potential to move up to the grade of "A" if James Hanna turns out to be good. Witten is the veteran leader who just so happens to be one of the best tight ends in the NFL. He's great at his craft, durable and is a fail safe for Tony Romo.
John Phillips will more than likely ascend to the back-up tight end role with Hanna playing the role of third. Hanna will have his opportunity to shine, as will Phillips. It is just a matter of which player can bring the most to the table.
Offensive Line, C+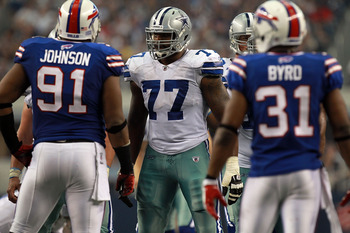 Ronald Martinez/Getty Images
Dallas has two very good linemen playing tackle with Doug Free and Tyron Smith. Smith has the potential to become a great tackle if his time on the left side works well.
Dallas has issues at guard and center, as Phil Costa and Kevin Kowalski battle it out for the starting spot. During the offseason, Dallas signed Nate Livings and Mackenzy Bernadeau to improve their depth up front.
Can this new look provide enough protection for Romo and open holes for Murray and Jones? It may take them awhile to gel, but eventually it should work in their favor.
Defensive Line, D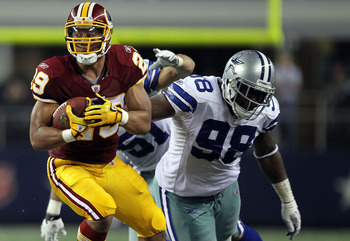 Ronald Martinez/Getty Images
Who says that the Cowboys defensive line was a liability last season? Well, I did. But who says that the Cowboys defensive line can't improve in 2012? Well, I did, depending on who the team signs or drafts.
At any rate, Dallas still has All-Pro nose tackle Jay Ratliff and run stuffing end Marcus Spears. Dallas brought back Clifton Geathers, but it still may not be enough to bring the type of heat needed to opposing quarterbacks.
If Dallas is able to put together a stronger pass rush, then the Cowboys secondary will be a much better unit. Problem with that is Spears isn't a strong pass rusher and Ratliff is easily swallowed up when facing larger centers.
Defensive coordinator Rob Ryan has a lot in front of him to think of ways to bring "new" pressure.
Linebackers, B-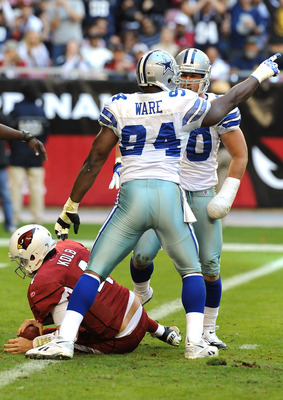 Norm Hall/Getty Images
Any unit that employs DeMarcus Ware and Sean Lee receive an automatic passing grade. It's the people that play behind those players who may bring the unit as a whole down.
Dallas franchised Anthony Spencer and signed Dan Connor in the offseason to compete with second-year player Bruce Carter. If Carter turns into the type of player that the team wants him to be, Dallas may very well have one of the best starting linebacking units in the NFL.
If Spencer finally steps up and brings the heat, then the sky is the limit.
Secondary, C-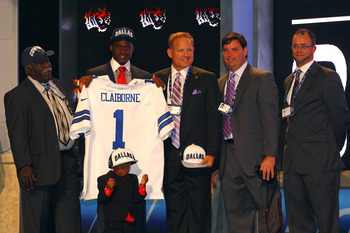 Al Bello/Getty Images
I love the addition of Morris Claiborne and Brandon Carr. Keeping Mike Jenkins is a plus and having him to cover the slot or to rotate with Claiborne will give them needed depth.
My concern is at safety, where newly signed Brodney Pool will probably start at strong safety. Knowing that he's just a stop gap is one thing, but depending on him to make big plays down the field is another.
I think that he may be OK, but Dallas has to find a permanent solution at the position instead of one-year types of guys who only plug holes. Pool is that type of player.
Special Teams, C+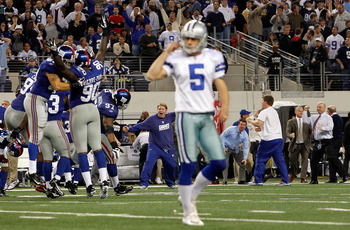 Tom Pennington/Getty Images
The Cowboys have a great young kicker in Dan Bailey. He proved himself as the real deal last season and will be with Dallas as long as he remains consistent.
The punter position isn't one of concern for me, but I have my eye on it. Dallas will probably depend on Chris Jones for the punting duties in 2012, as former Cowboys punter Mat McBriar continues to rehab from a foot injury.
Dez Bryant may return punts in 2012, which is a mistake in my eyes, and Dallas has to fix the issues they had with simply tackling the guy with the ball on punt and kick team coverage last year.
Bailey heads this class as he is the most consistent and stable, but who knows where this may go in 2012.
Keep Reading

Dallas Cowboys: Like this team?