Will Barton: Highlights, Analysis and Pro Projections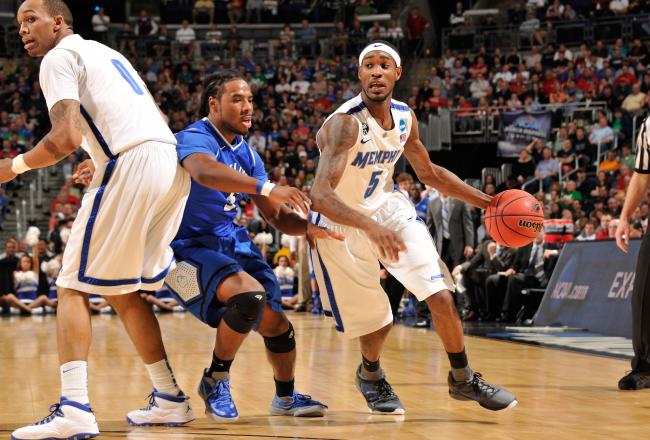 Jamie Sabau/Getty Images
Will Barton is a rail thin guard with a strong scoring mentality. He averaged 18 points per game in his sophomore season for Memphis. Though he made clear strides from his freshman year to last season, there are still a lot of questions surrounding him.
Adam Ganeles of NBADraft.net wrote this about Barton and his slight frame in comparison to other thin players:
Some skinnier players such as Rip Hamilton and Tayshaun Prince have had productive NBA careers but numerous skinny players such as James White have failed to live up to their potential. How much his bad frame (narrow shoulders and hips) and lack of physical strength will inhibit Barton's effectiveness remains to be seen ...
Barton definitely hears and reads the criticism. When he was told where he ranked on Draft Express (they have him as the 38th best player in the draft) he had this response to Rusty Simmons of SFGate.com:
"That shows that I don't get enough credit and my name should be higher," Barton said. "I feel like I should be higher in the draft, and it definitely puts a chip on my shoulder.
Barton is a peculiar case. His lack of strength is definitely troubling, but he has a knack for putting the ball in the basket. It may not always look pretty, but he's a scorer.
Here is a scouting report on Barton highlighting his strengths and weaknesses.
(Height, weight and stats per statsheet.com)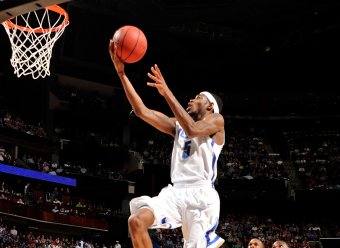 Jamie Sabau/Getty Images
Profile:
Height: 6' 6"
Weight: 175 pounds
School: Memphis
Date of Birth: January 6, 1991
Best NBA Position: Shooting Guard
College Stats: (Key Stats Underlined) 18 PPG, 35.3 MPG, 50.9 FG%, 35.6 3FG%, 74.9 FT%, 2.9 APG, 8 RPG, 0.7 BPG, 1.4 SPG
Skill Grades:
Athleticism - A-
Size - B-
Intangibles - A-
Rebounding - A
Ball Handling - B
Defense - B+-
Shooting - A-
Passing - B
Post Game - C+
Basketball IQ - C+
Upside - B+
Strengths:
Barton has a undeniable scorer's mentality and good athleticism. He has a wide array of mid-range floaters and fall-away shots. He used this toolbox of moves to shoot nearly 51 percent from the field and average 18 points per game.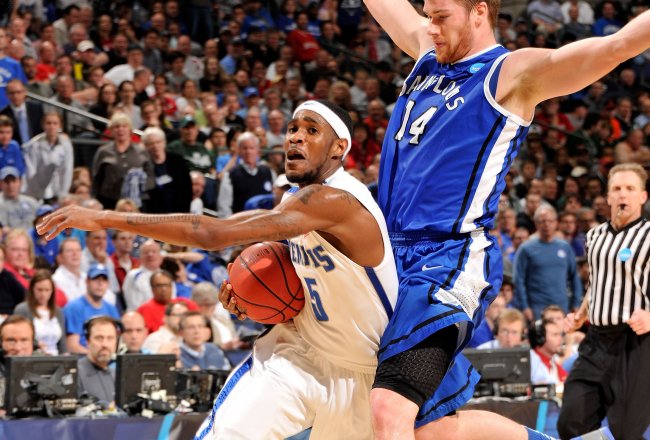 Jamie Sabau/Getty Images
That is very impressive.
He has a killer instinct. And the fact that he has something to prove and seems eager to do just that is encouraging. He was also wise enough to realize that coming out after his freshman season would have been a bad idea.
Barton rebounds at a ridiculously high rate for a guard. He pulled down eight boards per game last season. It's even more impressive when you look at his slight frame.
Barton has some unique qualities and he could be one of the steals of the draft. Check him out in this highlight reel that displays the best of his abilities:
Is Will Barton underrated?
Weaknesses:
Barton is so thin he will have a problem against any powerfully built guard or small forward. He can be thrown off course off the dribble and backed down. There are questions as to whether his frame can even hold extra muscle.
He's too thin to develop any post game, and he must improve his decision making. He can play out of control at times, and it leads to turnovers.
He does have some upside, but it's a bit limited because of his lack of bulk.
NBA Player Comparison: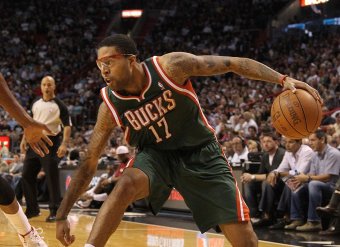 Mike Ehrmann/Getty Images
Skinny Chris Douglas-Roberts
CDR is a pure scorer that had his development in the NBA thrown off by the lockout. He could have signed on with a team this past offseason were it not for the work stoppage. He committed to play overseas and didn't play in the NBA this season.
He is a pure scorer with long arms and a nice array of mid-range shots, much like Barton.
They are both surprisingly good athletes, but Roberts is much stronger and probably outweighs Barton by 25 pounds.
They both stand between 6'6" and 6'7" with the same attacking style in isolation situations. In the three years Roberts spent in the NBA he has averaged 7.7 points per game, but has shown flashes of being a more consistent scorer.
He has never played more than 25 minutes per game. When he did get that level of minutes he scored almost 10 points per game. Barton is a similar player, but he must work hard defensively to earn the minutes.
If he does that, the scoring opportunities will come for him.
Draft Projection:
Early Second Round.
Follow Brian Mazique and Franchiseplay.net for reactions, analysis and news from the world of sports and sports Video Games
This article is
What is the duplicate article?
Why is this article offensive?
Where is this article plagiarized from?
Why is this article poorly edited?