Spain: A Player-by-Player Guide to Their Euro 2012 Squad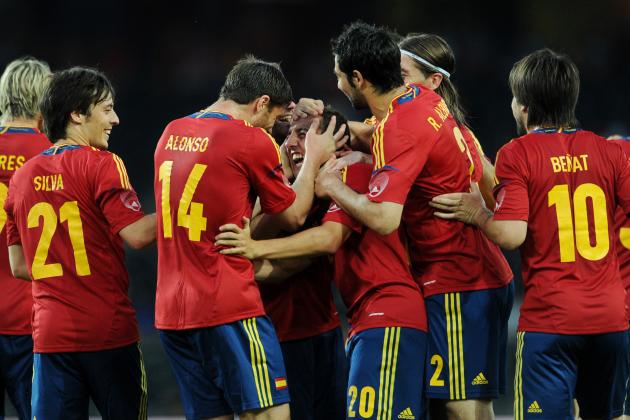 Jasper Juinen/Getty Images

Spain are one of the favourites for the upcoming Euro 2012 tournament, and looking at the players they have selected for the tournament, one can see why.
With a lineup sporting a great mixture of experience and youth, as well as tons of talent, Spain will be looking to defend its European title.
Bleacher Report is taking a look at each player in the Spanish set-up as we get ready for the tournament to begin on Friday.
Here is a player by player guide of the Spanish Euro 2012 team.
Begin Slideshow

»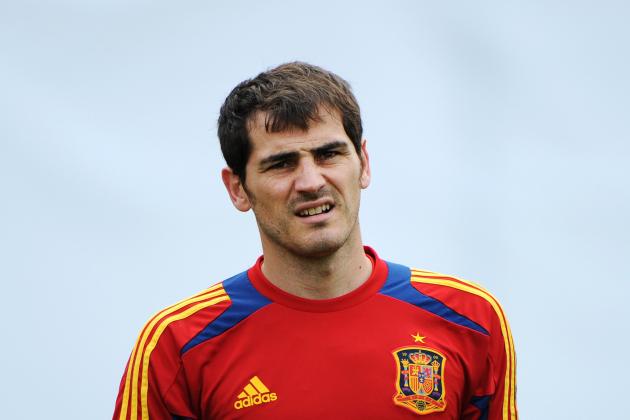 Jasper Juinen/Getty Images

International Caps: 131

Iker Casillas played his part in Real Madrid's La Liga title win this season, and he was part of the second best defense in the league. His 14 clean sheets put him behind Spanish teammate Victor Valdes and Thibaut Courtois.
Casillas has been on the Sanish side since 2000, and has been the captain of the national team since 2008. He is the most capped player in the history of the Spanish team, having recently passed long-time record-holder Andoni Zubizarreta.
The goalkeeper has spent his whole career at Real Mardrid, and has fended off some top quality competition throughout the years. He will be hoping to lead Spain to another success in international football.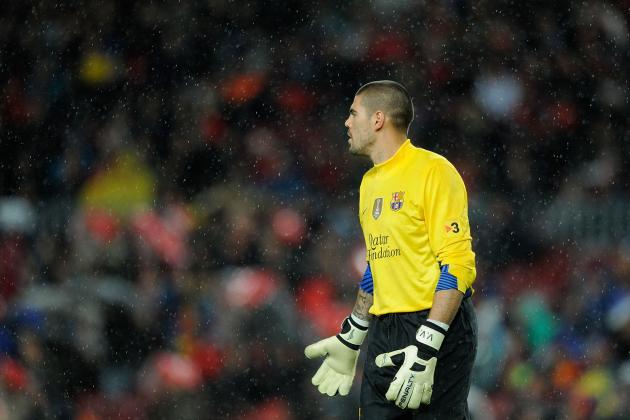 Denis Doyle/Getty Images

International Caps: 8

Victor Valdes retained the Zamora trophy, given to La Liga's top keeper, for the fourth straight time. Valdes led the league with 17 clean sheets, and was part of La Liga's best defense.
Like Casillas, Valdes is a one club man and has shared in some of the brightest moments in the club's history while being the last line of defense.
Though he has made few appearances for the national team, his experience in Europe and Spain would do him well should he ever get a chance in the future.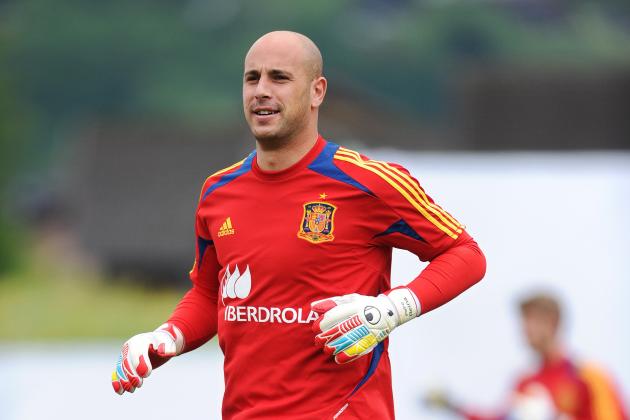 Jasper Juinen/Getty Images

International Caps: 25

Liverpool did not have the greatest season in 2011/12, and that took its toll on Pepe Reina. The usually consistent goalkeeper had a few bad moments, but still managed a respectable 12 clean sheets, only five less than Joe Hart's league-leading 17.
Reina isn't a one club man like his fellow goalkeeping teammates, but found a home in England, and that sets him apart.
The Reds goalkeeper has been in the Spanish setup since 2005, and that is unlikely that to change anytime soon.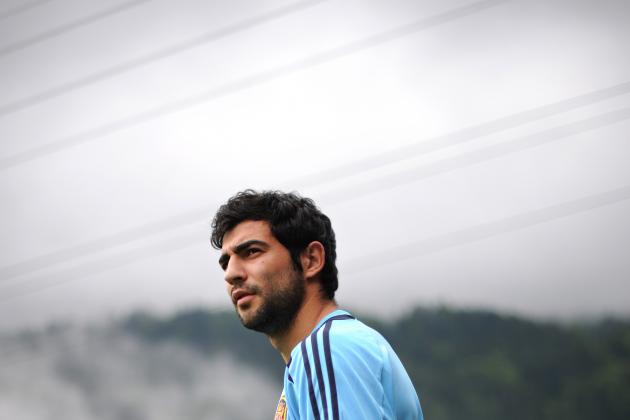 Jasper Juinen/Getty Images

International Caps: 34

Raul Albiol appeared in less than 20 games for Real Madrid this season after averaging over 30 in his first two years at the club.
He showcased his skills at Valencia between 2005 and 2009, attracting the interest of top clubs across Europe. Real Madrid ended up with his signature, but Albiol has seemingly failed to make the grade.
He resumes his back-up role for the Spain squad this summer, and will have a lot to prove if his number is called.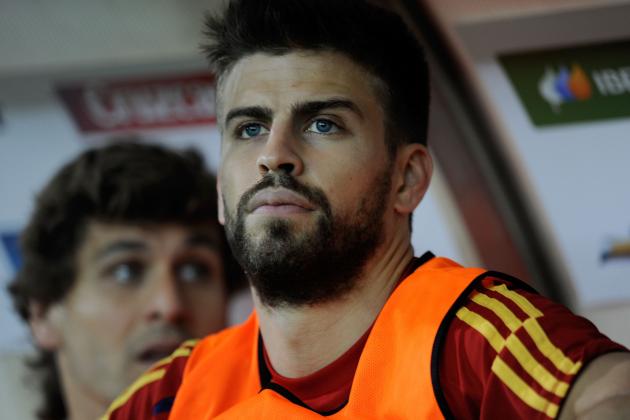 Denis Doyle/Getty Images

International Caps: 39

Gerard Pique struggled with form and fitness during this last campaign. His absence was one of the reasons why Barcelona were unable to retain their La Liga title.
Despite that, Pique enters Euro 2012 as a surefire starter, and will be hoping to regain his form for his nation.
The small number of caps Pique has should not fool anyone, as he has tons of experience at the club level.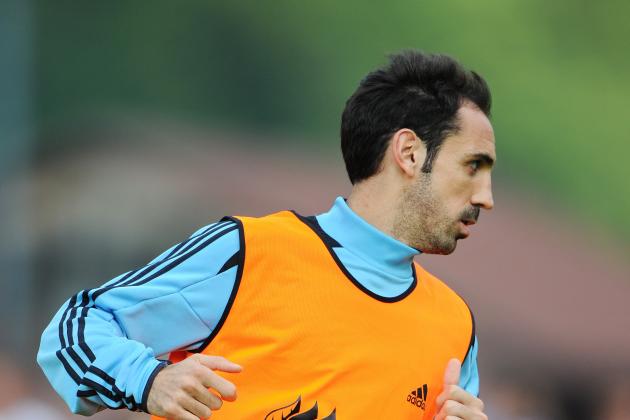 Jasper Juinen/Getty Images

International Caps: 1

Juanfran was a regular at right back for Atletico Madrid this season, and helped lead the club to a Europa League title.
He has played for a number of clubs in Spain, including Real Madrid, and had a good five year spell at Osasuna before his move.
Juanfran is no stranger to Spain's youth setup, having played for the nations U-17 through to U-21 squads. He was brought in as cover for Alvaro Arbeloa, who is likely to be Spain's starting right back.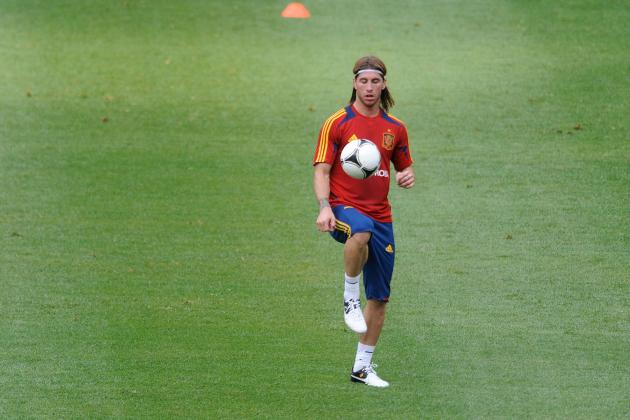 Denis Doyle/Getty Images

International Caps: 86

Sergio Ramos showcased his skills at the center of defense this season with Real Madrid, and still contributed well offensively.
Though he has played mainly as a right-back for both the Spanish squad and Real Madrid, he will get the nod to partner Gerard Pique thanks to his play this season and the absence of Carles Puyol.
Ramos has tons of experience at the club and international level, despite being just 26 years of age.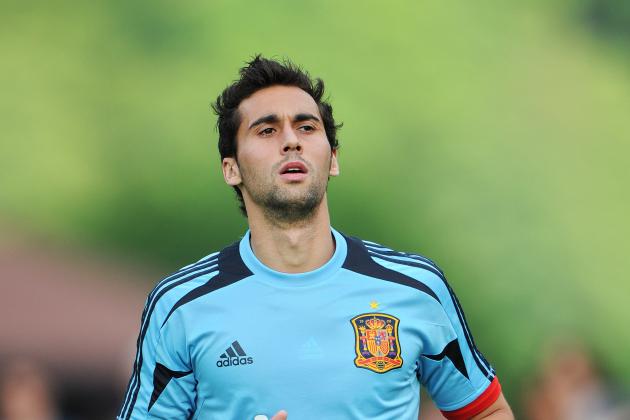 Jasper Juinen/Getty Images

International Caps: 35
With Sergio Ramos moved to the center of Real Madrid's defense, Alvaro Arbeloa saw some significant playing time at right-back.
Arbeloa has been in and out of the Spain squad since 2008, but injuries have given him his chance this tournament. He has been selected for every major tournament since Euro 2008 thanks to his versatility at the back
He is likely to line up with Sergio Ramos beside him, and that familiarity will help the player as he looks to play his first major role for his country in a tournament.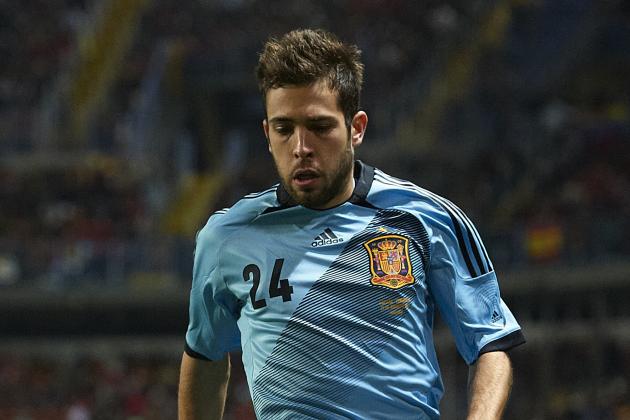 Manuel Queimadelos Alonso/Getty Images

International Caps: 5
Jordi Alba has some big shoes to fill following Joan Capdevila. The Valencia youngster is one of the more recent additions to the Spanish side, and despite his talent, will need the help of his more experienced teammates.
Alba is a youth native to Barcelona, but has been able to make a career for himself in Valencia.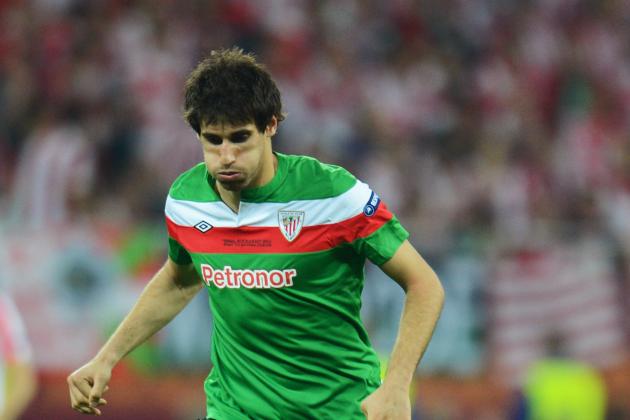 Shaun Botterill/Getty Images

International Caps: 7

Javi Martinez's great season has seen him involved in many transfer rumours concerning Europe's top clubs. He showed his versatility with numerous solid performances at center back during the season.
Martinez captained the Spanish U-21 side and led them to a European triumph last year, and will be hoping to repeat that feat with the senior side this year.
He won't find much playing time during this tournament either, but will be a solid backup in midfield or defense if needed.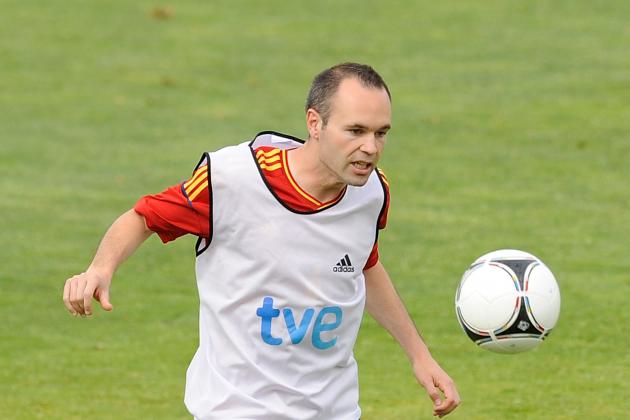 Denis Doyle/Getty Images

International Caps: 65
The Barcelona midfielder had eight goals and 10 assists for his club all season, and that has become his regular tally in recent years.
The last time Andres Iniesta suited up for Spain at a major tournament he was scoring the winning goal in the 2010 World Cup final.
Iniesta has been a key part of the Spain squad for the last few seasons, and if he is on form they will be hard to stop.
Denis Doyle/Getty Images

International Caps:109
Xavi's 109 caps make him the second most capped player on the Spanish side, and third in the history of the national team.
His season with Barcelona was interesting, as while he did not pick up his usual high amount of assists, he picked up in the scoring department with 10 La Liga goals and 13 goals in all competitions.
Xavi is likely to become the vice-captain for the tournament due to the absence of his club teammate Carles Puyol.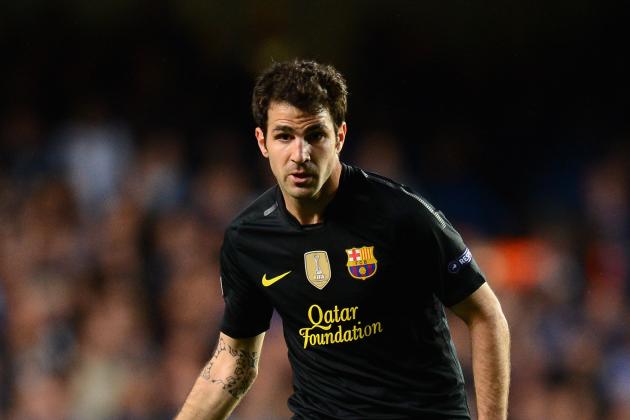 Mike Hewitt/Getty Images

International Caps: 63
The third of four Barcelona midfielders in the squad, Cesc Fabregas has been unlucky on the international stage due to the high caliber of competition he faces for spots.
He has been used in a substitute role for Spain during the past few tournaments, and that may not change during Euro 2012.
He is coming off a solid debut season with Barcelona, having scored 15 goals and contributed 11 assists in all competitions.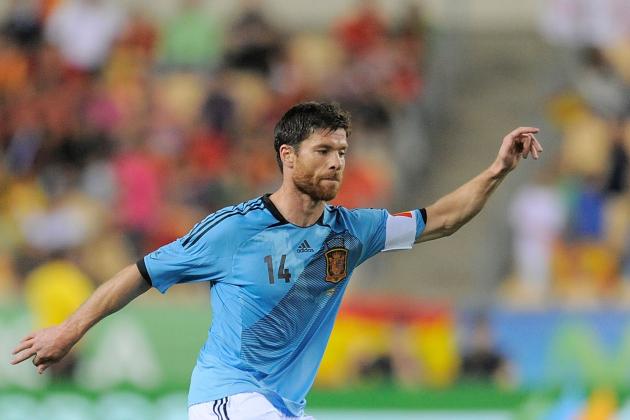 Denis Doyle/Getty Images

International Caps: 96
Xabi Alonso's mixture of offensive and defensive skills make him the perfect player to complement Barcelona's magicians.
He quietly keeps things ticking for Real Madrid and Spain when on the field, and will be glad to have helped his club to its first La Liga trophy in a few years.
Alonso is one of five Real Madrid players on the squad.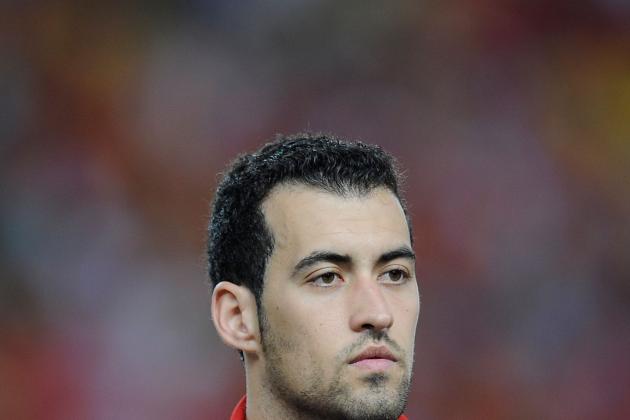 Denis Doyle/Getty Images

International Caps: 39
The last Barcelona midfielder (but not the last Barcelona player by any means), Sergio Busquets will be looking to have another solid tournament for his national side.
Of all the regulars in the Spain setup during the past few years, Busquets is the only player yet to score a goal for his national team. This tournament would be a good time to start.
He was effective, for the most part, for Barcelona this season, and will want to continue his form at Euro 2012.
Denis Doyle/Getty Images

International Caps: 43
Santi Cazorla's versatility make him a great addition to Spain's attack. He can play on the wings, behind the forward, or as a more natural midfielder, and is effective in all three positions.
Like some of the other attacking talent on this list, he is unlucky thanks to the competition he has, but he may see more playing time in this tournament than he has in the past.
Cazorla was Malaga's marquee signing for this past season, and proved his worth by leading the club to the Champions League spot they so coveted.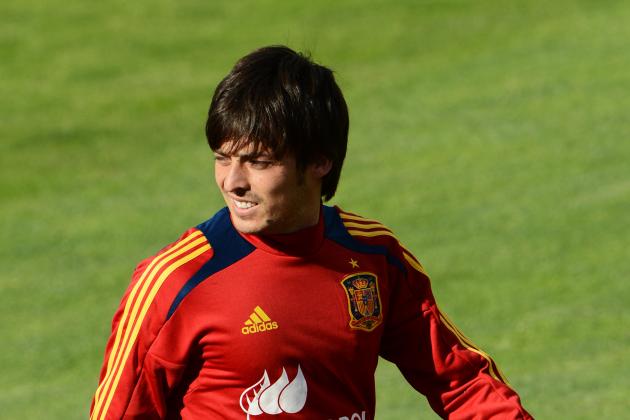 Jasper Juinen/Getty Images

International Caps: 58
David Silva's form in England over the last few seasons has helped him gain a more important role on the Spanish team.
He is definitely in line for a starting spot throughout the tournament, and like Santi Cazorla, he can be used in a number of ways.
Silva led the Premier League in assists last season, and helped Manchester City to its first top division title since 1968.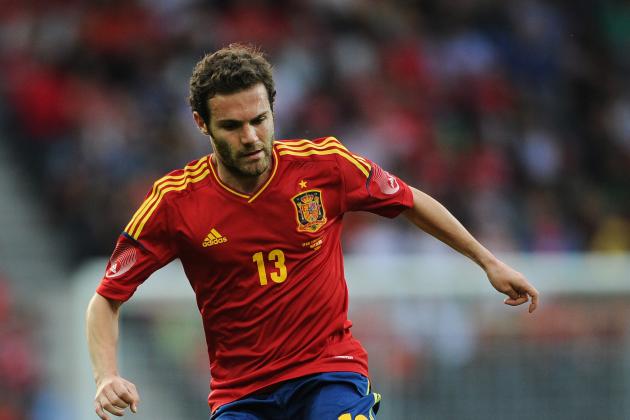 Jasper Juinen/Getty Images

International Caps: 18
The third English-based player on this list who has done some good work for his club this season, Juan Mata could see himself more involved in Spain's plans this summer.
It will be either he or David Silva who starts alongside the Barcelona regular midfielders, Xabi Alonso, Sergio Busquets, Xavi and Andres Iniesta.
Though he may not get the nod, he will certainly be looked at to provide some fresh legs and fresh ideas whenever needed. If he impresses enough, a starting spot could be his.
Denis Doyle/Getty Images

International Caps: 17
Jesus Navas' traditional wing skills give Spain an option off the bench and give him a role he has been used in before.
Sevilla didn't have the best of seasons, and will not be competing in Europe for the first time in a few years, as they actually failed to make it past the qualifying stages for the Europa League this year.
Despite that, Navas still had himself a pretty decent season, with 5 goals and 12 assists in the league.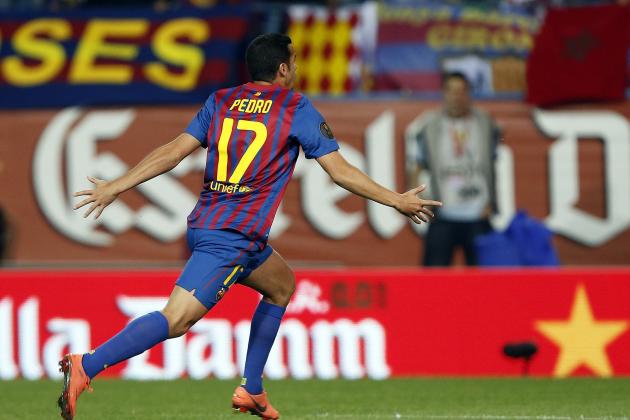 Angel Martinez/Getty Images

International Caps: 15
Pedro Rodriquez beat out Iker Muniain and Adrian Lopez thanks to his experience on the international scene.
He and Gerard Pique are the only two Barcelona players who struggled for form and fitness through the season, and he will be closely watched throughout the tournament.
Depending on what route Vincente Del Bosque takes he is likely to start the tournament on the bench, and he will have to make sure he has an impact when selected.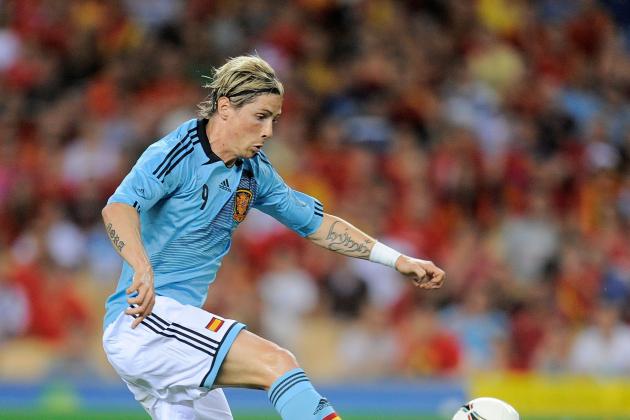 Denis Doyle/Getty Images

International Caps: 93
Fernando Torres's rise in form in the second half of his first full season, along with his goal against South Korea in a recent friendly, gives hope that he may become a pivotal player for the team this summer.
He is the most experienced striker on the squad and the most clinical when on form. Spain has no shortage of players able to supply Torres with chances. It will be up to him to finish them.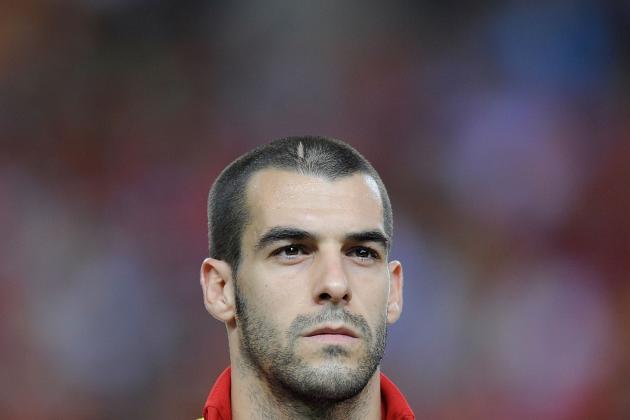 Denis Doyle/Getty Images

International Caps: 10
Alvaro Negredo has six goals in his 10 appearances for the Spainish side, and that is cause for optimism. He only managed 15 goals in 36 appearances as Sevilla's main attacker, however.
Still, like his Sevilla team-mate Jesus Navas, Negredo has qualities that can give Spain a different look if needed, and could prove useful in the tournament.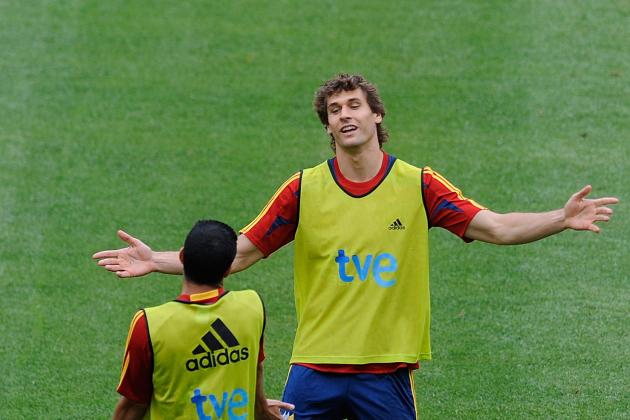 Denis Doyle/Getty Images

International Caps: 20
While Alvaro Negredo is more of a backup, Fernando Llorente could be in line for the starting spot for Spain.
He had the best season of the three forwards, with 29 goals in 53 appearances for Athletic Bilbao, but it depends whether or not Vincente Del Bosque prefers Fernando Torres' experience.
Llorente is a big man like Negredo, but has enough technical skills and mobility to work well with Spain's style of play.