Grading the Strength of Every Positional Unit Heading into Denver Broncos Camp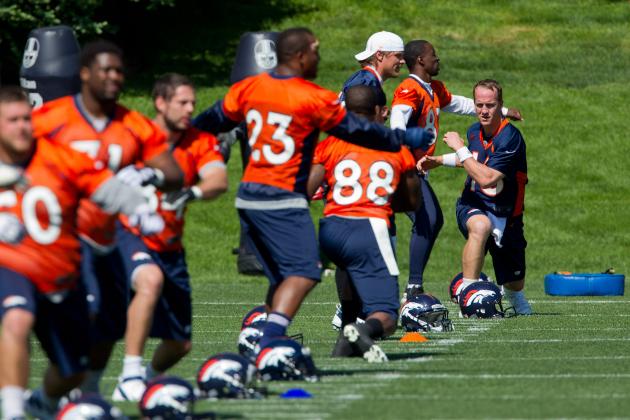 Justin Edmonds/Getty Images

The best teams in the league enter their training camps with high grades at every position as a result of a solid roster and solid scouting efforts, so how do the Denver Broncos grade out at this point?
Are there any groups that can sit at the head of the class and earn an "A" for their efforts?
Conversely, are there any groups that are way behind the curve and dragging down the team's average with an "F"?
John Elway and his staff have tried extremely hard to close the talent gap on the best teams in the league, but that is a process that takes time.
Here are the grades for every positional unit heading into camp for the Denver Broncos.
Begin Slideshow

»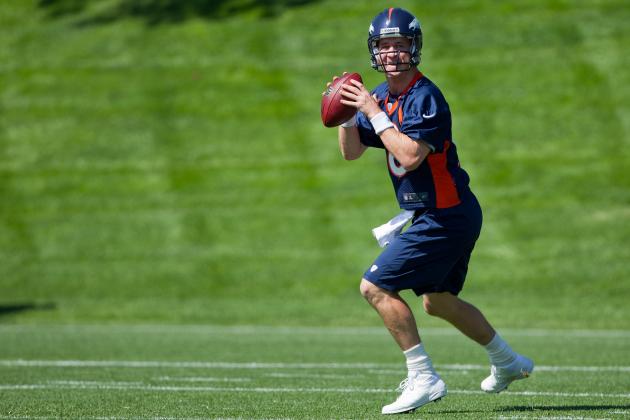 Justin Edmonds/Getty Images

This group of players can easily be ranked as one of the most "top-heavy" depth charts in the league, if not the most amongst all NFL teams.
Behind the sure-fire Hall of Famer Peyton Manning, the Denver Broncos have assembled a crew potentially more inept than the previous set of backups who were exposed in Manning's absence last year in Indianapolis.
Caleb Hanie leads the group with NFL experience, which is frightening since that experience is full of losing and behind him are rookie Brock Osweiler and practice squad member Adam Weber.
If the Broncos lose Manning, they're in more trouble than the Colts found themselves in last year, but considering the plan for Denver (as it was for Indianapolis) is to trot Manning out for every play, their grade still remains higher than most in the league.
Grade: A-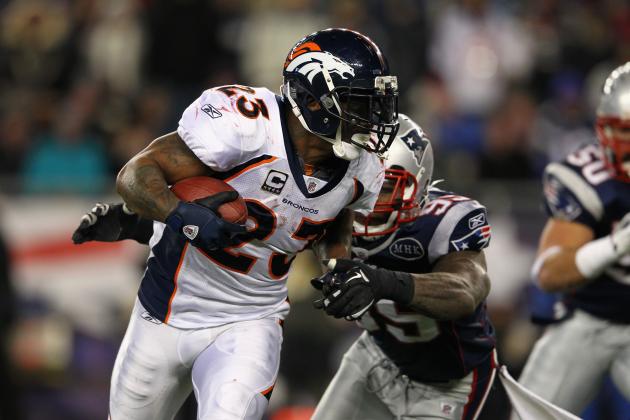 Al Bello/Getty Images

A group that's highlighted by Willis McGahee and Knowshon Moreno is a tough one to rank amongst the NFL's elite. Take into account the fact that the quarterback for Denver will no longer actively contribute to the running numbers, and there might be room for some concern.
Newcomer Ronnie Hillman may be pushed for attention in camp by Mario Fannin who, prior to injury last year, was positioning himself to be an impact rookie. Then, there are names like Lance Ball and Jeremiah Johnson who earned chances last year but may find themselves on the outside looking in this season.
It's hard not to want to rank this group higher because McGahee shone so brightly last season, but the fact is that one season does not make for a consistent group. There are more unproven commodities than proven in this bunch.
Grade: C+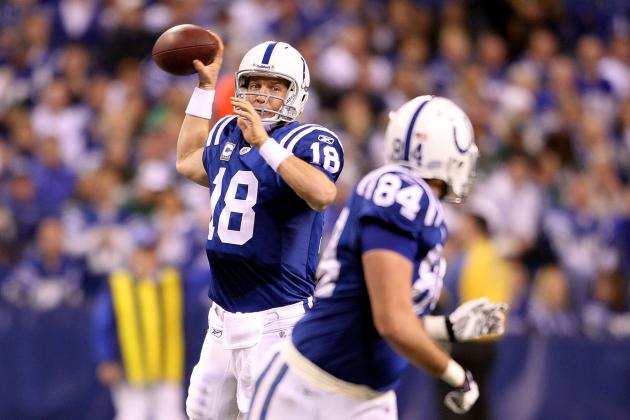 Andy Lyons/Getty Images

If the running back stable is unproven, then it's fair to say that the tight ends are largely "unknown" to most casual Bronco fans.
It's not that players like Joel Dreessen and Jacob Tamme are not talented, but by that same token, they're not Shannon Sharpe either. This group, which includes promising youngsters Julius Thomas and Virgil Green, should benefit immensely from Manning's tutelage.
Still, there's not a name in here that opposing defense are worried about scheming to stop at the moment.
Grade: C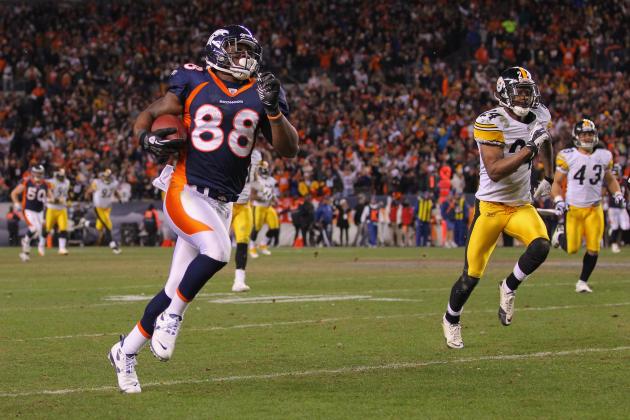 Doug Pensinger/Getty Images

This is the group with a lot of promise and a lot of expectations to go along with it in 2012. Eric Decker and Demaryius Thomas went from fantasy sleepers to fantasy starters in the span of one phone call from Peyton Manning to John Elway.
Older names who are expected to make an impact are Manning's old friend and former Bronco Brandon Stokley, along with Andre Caldwell (who admittedly is nowhere near as seasoned as Stokley).
A mix of youthful experience in Matt Willis and Jason Hill will be clashing with undrafted free agents like Gerell Robinson and Eric Page to see just how many wide receivers the Broncos are willing to keep.
This is one instance where the hype, along with the promise shown, can positively affect the grade regarding Decker and Thomas.
Grade: B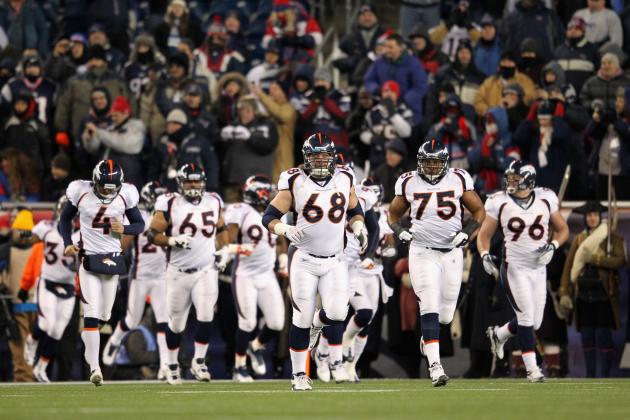 Jim Rogash/Getty Images

The starting five will remain unchanged from last season to this season, despite Denver's attempt to lure Jeff Saturday into Bronco country at center and displace J.D. Walton.
Ryan Clady, although not what he used to be, is the most talented of the bunch, and a healthy Chris Kuper is better than most around the league give him credit for.
Zane Beadles could have so much talent that he's able to play out of position at guard, but that is because he won't displace Clady, and Orlando Franklin cannot handle the interior at the NFL level.
After the starters, the Broncos don't boast much in the way of depth, but names like C.J. Davis, Manny Ramirez and Ryan Harris aren't too bad for emergency situations.
This group did a great job dealing with a lot of things that most offensive lines don't have to last season, and for that, they deserve the benefit of the doubt.
Grade: B-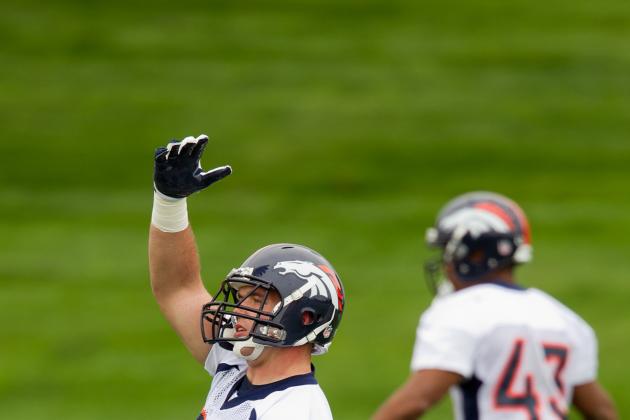 Justin Edmonds/Getty Images

The most maligned group on the field for the Broncos is easily the defensive line, but unfortunately, that's for good reason as the lineup has only one bona fide superstar—Elvis Dumervil at defensive end.
Past "Doom," there are veterans looking for another shot in Justin Bannan and Ty Warren on the inside, along with young players trying to hit their stride on the outside including Robert Ayers and Jason Hunter.
Derek Wolfe, Malik Jackson and Sealver Siliga are newcomers who are expected to do big things, but there isn't much (if any) NFL experience to base that off of.
Grade: D+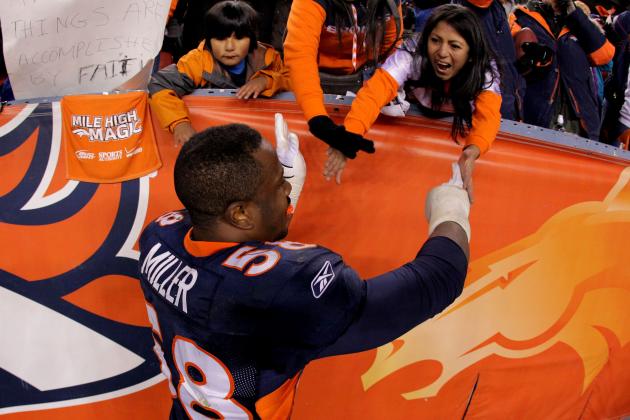 Doug Pensinger/Getty Images

When you boast the reigning NFL Defensive Rookie of the Year at outside linebacker, there's a lot of talent and hope for the future in this group with Von Miller.
Beyond Von, there are more question marks than anything else. D.J. Williams may be gone from the roster for a good part of the season due to suspension, and Joe Mays is not coming off the strongest of seasons in the middle.
Wesley Woodyard is a solid backup, but the team lost dependable veteran Mario Haggan and are now more reliant on sophomores Nate Irving and possibly Mike Mohammed.
Grade: B (With Williams starting) C+ (without Williams)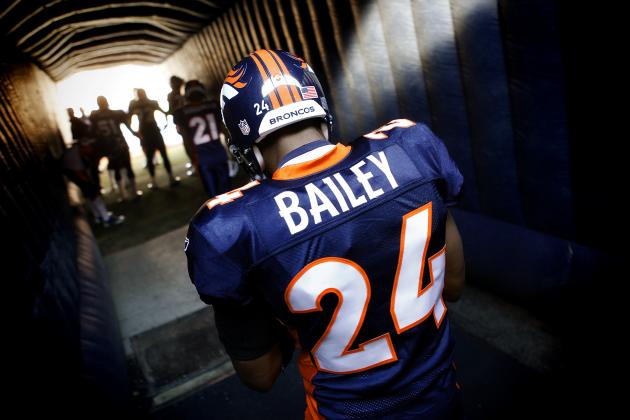 Marc Piscotty/Getty Images

This is a group that John Elway set out to make improvements on from last season, and he succeeded in that endeavor.
Champ Bailey is still as safe a bet to shut down one side of the field as any cover corner in the league. Now, he will be complemented by Tracy Porter, Drayton Florence and the impressive sophomore Chris Harris.
Omar Bolden was a little bit of a gamble coming off missing a season at Arizona State, but Elway believes in his ability, and it will be interesting to see how he competes against names like Tony Carter and Coryell Judie.
With Bailey, this crew will always be above average, but as last year proved, just being above average doesn't always get the job done.
Grade: B+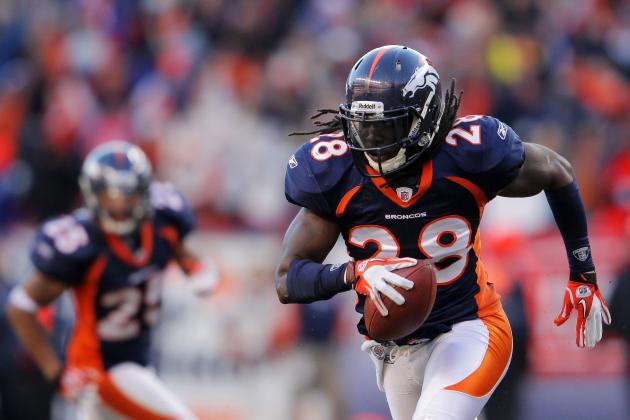 Doug Pensinger/Getty Images

Losing Brian Dawkins means losing credibility in your secondary, and basically, your defense overall.
Rahim Moore and Quinton Carter have a huge task ahead of them, and only time will tell whether they are up to the challenge or not.
Mike Adams has been brought in to help add stability to the group, but he's stepping into some giant shoes. Keep an eye on Rafael Bush and Duke Ihenacho in this group.
Grade: C+