5 Newcomers Who Will Play Biggest Roles for the New Orleans Saints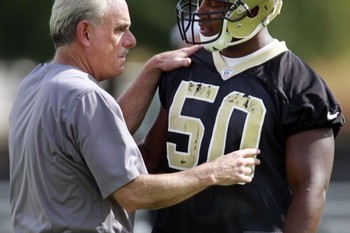 New Saints linebacker Curtis Lofton will step into the role of Mike linebacker (photo courtesy of AP).
The New Orleans Saints finished 13-3 last season, but it's always tough to keep an entire nucleus of talent together from year to year. To make a few improvements and fill in some vacancies, the Saints drafted five players in the 2012 NFL draft and acquired six free agents—not including the undrafted rookie free agents—to bolster the roster.
Included in some of the roster holes are two players—defensive end Will Smith and linebacker Jonathan Vilma—who will miss time because of suspensions.
Five of the newcomers to the New Orleans roster should make an immediate impact.
Keep Reading