Can Elite Players Like Aaron Rodgers, Tom Brady Ever Actually Lose Camp Battles?
June 7, 2012

Jonathan Daniel/Getty Images
It takes a perfect storm of events for an untested rookie to unseat a star and an even more set of bizarre sequences for them to oust an elite football player.
With all of the new specialized positions in today's NFL, a ton of talent gets a chance to see the field and elite stars find a way to keep their job.
Sub-Packages
The complexity of today's NFL is at an insane level.
Defensively, the NFL has evolved into a mesh of different schemes that all require the use of many players.
Nickle cornerbacks, pass-rushing specialists and a host of other specific roles are now being used and it gives many players a great chance to show off their skill set.
In the past few seasons, we have also seen the league evolve into a two-back system.
Even teams like the Saints go four deep at the running back position, and it suits them well. 
With the emphasis lately on the passing game, there are also routinely three or four receivers on the field during a huge portion of the game.
Credibility
Is there any player on the planet who's going to take a job away from Ray Lewis? How about Andre Johnson?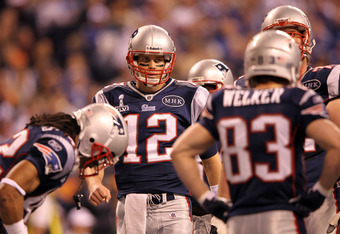 Jamie Squire/Getty Images
The answer is no.
There comes a time when certain players reach and sustain a level of play in their career where the only thing that can take them off the field is an injury or retirement.
The Exception to the Rule
Even before the latest offensive renaissance, quarterback has remained the single most important position in all of football.
For this reason, the job comes with the level of scrutiny. 
Scrutiny from fans, scrutiny from coaches and even scrutiny from fellow teammates.
This was never more evident than in 2001 when Tom Brady took over for an injured Drew Bledsoe and proceeded to lead the Patriots to their first-ever Super Bowl victory.
Bledsoe was the epitome of franchise quarterback during his tenure in New England, and when he got injured, Tom Brady stepped in and never looked back.
Examples like this are the culprit for those highly contested training camp battles that seem to happen every year for many signal-callers. 
The NFL is truly a "what have you done for me lately" league, and that's no more apparent than at the quarterback position.