Chicago Bulls: Why Derrick Rose Needs to Openly Recruit Dwight Howard
June 6, 2012

Sam Greenwood/Getty Images
It's been decidedly evident that Derrick Rose does not like openly recruiting players to the Chicago Bulls.
What's more, he's always been very quick to affirm the team he has.
This aspect of Rose perfectly coincides with his humble nature as well as his driven character that is never prone to make excuses.
But the admirable character of Rose can remain while he advocates for the presence of Dwight Howard. He doesn't need to come out and bash the current Bulls roster, but he would be wise to at least hint at the fact that having "Superman" in the Windy City is a good idea.
There are numerous reasons why he should voice this.
First of all, when Rose returns from his torn ACL, it will likely take him time to return to his former MVP form. Frankly, there's reason to believe this will take a year or two, and some wonder if he'll ever be the same. No matter what, it's safe to say we shouldn't believe Rose will return to MVP form until we see it.
Because of these concerns, Rose should realize his potential limitations on the floor and sanction for a fellow superstar on the roster, namely Howard. Because of the severity of Rose's injury, he should realize he's not going to be able to carry this team to an NBA title, especially with loaded teams like Oklahoma City and Miami in the league.
Howard would give the Bulls another legitimate superstar and the best big man in the game to pair next to Rose. There's every reason to think these two (if healthy) could lead the Bulls to multiple championships, which leads to the next point.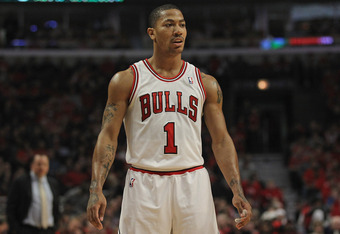 Jonathan Daniel/Getty Images
The second major reason Rose should recruit Howard is simple: winning. Chicago's current core is stellar, but winning in the NBA today typically features multiple superstars. Rose and Howard would give Chicago an elite, championship-caliber duo for years to come. This dynamic duo would create a host of matchup problems for opponents—there's no denying that. 
The last reason why Rose should recruit Howard is their personalities would mesh. Opposites attract, right? Perhaps that only applies to married couples, but Rose's intense drive would likely extract some fire out of the fun-natured Howard. Conversely, Howard's playfulness would potentially help Rose not be so hard on himself. They could very well end up bringing the best out of each other.
These reasons all point to the fact that Rose should change his stance on recruiting, and he only needs to do this for Howard. Howard is such a unique physical specimen, and the opportunity to play with him is something Rose should encourage.
Once again, Rose doesn't need to bash his current team, but communicating the quality of the player Howard is and how enamoring it would be to play with him is something for him to voice. Perhaps this would even soften Dwight's heart and open him up to the possibility of playing in Chicago (a possibility he hasn't adamantly been open to despite reports that indicate some openness).
No matter what, pursuing Howard is something for the Bulls to explore, and it's all the more worth exploring if they have the 2011 MVP vying for Howard's presence in the Windy City.