Keys to Greatness: How Cliff Avril Owned the Minnesota Vikings in Week 14
June 6, 2012
Gregory Shamus/Getty Images
There are many ways a defensive player can take over a game. Tackles, sacks, forced fumbles, fumble recoveries, interceptions.
In Week 14 against the Minnesota Vikings, Lions defensive end Cliff Avril did everything on that list save the interception.
Watching the game again, I can safely say he didn't get the interception because he was spending too much time harassing Christian Ponder in the backfield.
Avril made his presence felt on his very first snap, as he sacked Ponder for a huge loss and caused a fumble, which Stephen Tulloch then recovered in the end zone for a touchdown.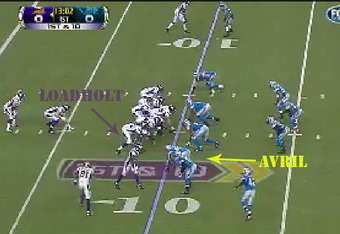 On the screencap, you can see Avril set up across from right tackle Phil Loadholt, which is already a problematic start. Loadholt is a decent right tackle but alone, against Avril?
Well, it goes downhill from there.
On the second screencap, you can see several things happening between Loadholt and Avril (in the yellow circle).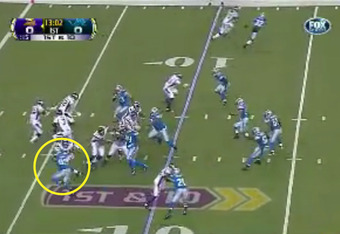 First of all, Avril is already past Loadholt. He's running full speed and has at least a step on the right tackle. This has caused Loadholt to twist his body in order to try to get into a position to shove Avril further outside. It's already too late for that, since, again, Avril is already past him.
A quicker tackle might recover from this, but that's not in the cards for Loadholt.
As you can see in the next cap, the right tackle is unable to control Avril, who heads right toward an unsuspecting Ponder.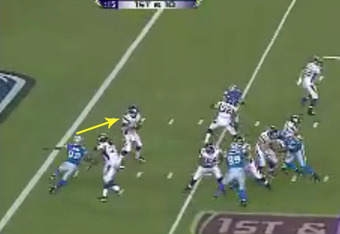 At this point, Loadholt can only pray he's shoved Avril just enough to keep him out of reach of Ponder. As you can see, the angle isn't ideal, but that doesn't matter.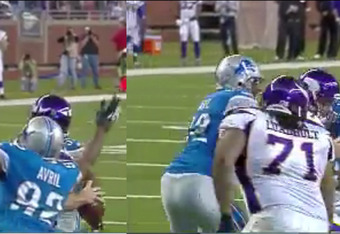 Avril reaches for Ponder's arm and strips the ball away. It skitters towards the end zone, is scooped up by Tulloch and brought into the end zone.
That's as bad a chain of events as you can have on your opening drive if you are the Vikings.
You just learned several things.
The starting defensive end across from your right tackle is fast and quicker than your tackle. That same defensive end reacts more swiftly than your tackle as well.
Finally, you've just learned you might be in for a long day.
The next set of downs goes no better.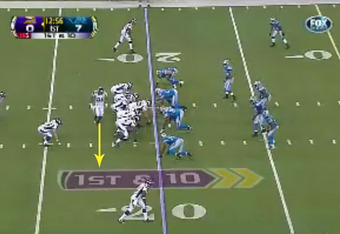 Avril is up across from Loadholt again, but a tight end goes in motion. My initial guess is that the guy is going to help block Avril. It's a run play, to the right side. It makes sense.
However, the tight end immediately runs to the second level and blocks an incoming linebacker.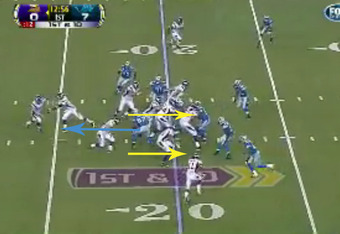 Meanwhile, Loadholt also ignores Avril in favor of a different player (the cap is grainy—dang NFL Rewind, but it looks like Tulloch).
Avril is immediately in the backfield untouched and has his hands on running back Toby Gerhart before he can take more than a pair of steps.
Instead of doubling the guy who already caused a strip-sack, you leave him alone?
Shortly after that, the Vikings wisely run the opposite way and, with a little razzle-dazzle, end up with a Percy Harvin run of 32 yards.
Followed up by an interception. While Avril didn't catch it or directly cause it with pressure on that down, you can be sure that Ponder was well aware of who had been in his backfield frequently thus far.
It was a terrible decision by Ponder, in part because he was nervous about the collapse of the right side of his line.
Avril didn't directly cause that interception, but his previous plays definitely were a factor.
This game got close in the second half, as the Lions offense completely stalled out in the second half, and the Vikings got a few big plays, including a 65-yard touchdown run by Joe Webb after Ponder was yanked.
On that play, Avril got into the backfield and nearly had Webb, but the quarterback sidestepped him and took off. Avril appeared to hurt his leg, but it didn't end his day, and he made some more plays down the stretch.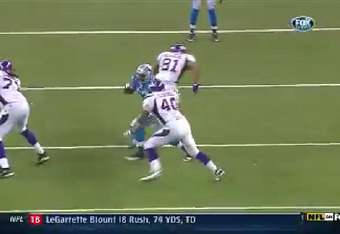 The Vikings did hit upon a solution finally and had tight end Jim Kleinsasser stay in on some plays to block Avril. It helped but was too little, too late.
One part situation (Oh, Loadholt, you lug), one part talent—Cliff Avril had a huge impact on this game and, hopefully, will come to terms with the Lions so he can continue to make right tackles look silly like he did last December.