MLB Trade Rumors: Aaron Harang for Kevin Youkilis Would Make Perfect Sense
June 6, 2012

Doug Pensinger/Getty Images
The Los Angeles Dodgers have been rumored by CBS Sports to be very interested in acquiring Kevin Youkilis.
The Boston Red Sox are shopping the 1B/3B/DH to what some have speculated to be upwards of 10 different teams, including Los Angeles, Arizona and Philadelphia to name a few.
Of all the teams rumored thus far, the Dodgers seem to make the most sense as a landing spot for Youk.
Their starting third baseman, Juan Uribe, is on the DL. Their starting first baseman, James Loney, is a defensive, and offensive, liability, to some regard.
Youkilis could easily transition into the Dodger lineup, especially with Matt Kemp on the shelf, to help bolster the offense. Kemp has missed 19 games for the blue so far this season, which has left a lot of pressure on players like Andre Ethier to produce constantly.
The Dodgers are just 4-6 in their last 10 games, most of which missing Kemp. The addition of Youkilis to that lineup would likely increase the team's odds of winning those close games.
Of the six the Dodgers dropped, three were one-run games and one was a two-run game. I'm not saying Youk guarantees a run scored or RBI per game, but he would increase their odds over Loney or Uribe.
In turn, the Red Sox need pitching. That's pretty obvious.
Daniel Bard has been designated for assignment in Triple-A Pawtucket. Daisuke Matsuzaka took 31 pitches to get out of the first inning of what many believed would be his last rehab start in Pawtucket tonight. Things look somewhat dim in that regard.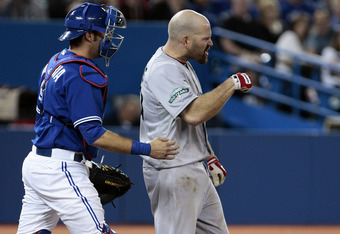 Abelimages/Getty Images
However, the Dodgers have pitching. Plenty of it. Enough so they could comfortably trade one of their starters and not be hurt all that much, if at all, with the depth they possess. 
That is where Aaron Harang comes in.
Harang is 4-3 in 11 games with a 3.90 ERA and a 1.345 WHIP in 64.2 innings of work this year. He has only allowed six home runs this year while striking out 56.
To put that in perspective, he has a more wins than Jon Lester and a better winning percentage than Josh Beckett.
Beckett is the only Red Sox starter with a lower WHIP (1.232), and only Felix Doubront has more strikeouts than Harang.
Moreover, Harang has surrendered less home runs than Doubront, Beckett, Lester or Buchholz.
Red Sox fans will call for Clayton Kershaw. Dodger fans will scoff at that.
Cooler heads will prevail and realize that this could be an ideal situation. The Dodgers get a versatile first baseman that can boost their offense. The Red Sox get pitching they so desperately need.
Everybody wins.