MLB Rumors: Breaking Down News from Around the League
June 5, 2012

Rob Carr/Getty Images
The 2012 baseball season has entered its third month, and that means there are plenty of rumors floating around the league—it's the MLB way of life.
Some trade rumors turn out to be true, while others are so asinine and crazy that only the naïve and/or inebriated would believe them.
Deciphering which are valid and which to discard can be tricky, but as the trade deadline draws nearer, we will begin to see more and more proposals—mostly speculation—out there.
Royals expect early production from first-round pick
Kansas City's starting rotation is bad. As a unit, they own a 5.20 ERA through June 4, ranking them 28th in baseball.
The Royals selected Kyle Zimmer, a right-handed pitcher out of the University of San Francisco, with the No. 5 overall pick on Monday. Now, he is expected to contribute early, says KC scouting director Lonnie Goldberg.
"I think he's got the talent to pitch up here right now, but I think there's a lot of seasoning he's got to get through," Goldberg said. "My guess is his talent and his makeup will allow him to get here when he needs to, but I'd say within two years."
Zimmer went 5-3 with a 2.85 ERA in 13 starts as a junior at USF.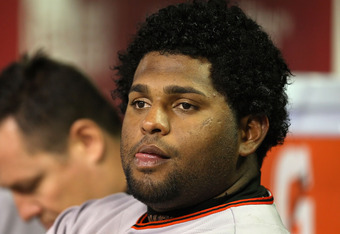 Christian Petersen/Getty Images
Pablo Sandoval out of shape
The Giants' slugging third baseman has been on the DL with a fractured left hamate bone (a broken hand) since early May. During that time he reportedly has gained some weight—a fact that has Manager Bruce Bochy none too pleased.
"He's been told we have enough first basemen," Bochy said. "With that said, hopefully we're not forced to make a change. It's in Pablo's hands. Before he comes up, it's not just hitting, it's going to be how he plays third base."
Make a change? Not to read too much into it, but does that mean the Kung Fu Panda could be on the market? I know of at least five teams who would be just fine with his weight at third base, so long as his bat is still quick.
The inevitable Kevin Youkilis trade talk
As well as the Dodgers, D'backs and Phillies reportedly being interested in Youkilis if and when he becomes officially available, we can now toss the Texas Rangers into that hat.
Danny Knobler, a baseball Insider with CBSSports.com, reported that the Rangers have "checked on him," according to sources. Knobler did not site a specific source.
There doesn't seem to be much room for Youkilis in Arlington, and it is not known how serious the Rangers are about acquiring the 33-year-old. It would work out better if Boston wanted an everyday player in return; however, they will likely ask for a starting pitcher.
That may be a Texas-sized deal-breaker.
D'backs close to recalling two players
On July 20, 2011, D'backs shortstop Stephen Drew broke his ankle during a play at home plate. He has been out ever since. But according to Bob McManaman of AZCentral.com, he will begin a rehab assignment with the Reno Aces—Arizona's Triple-A affiliate—on Thursday.
Manager Kirk Gibson said Drew could be in Reno up to three weeks, longer if need be.
"We'll see how he does," Gibson said. "With extended [spring-training games], he's afforded more latitude…but now he's going to be playing in a real game. He's not going to be leading off every inning. He can't be jogging down on a base hit. He's going to be playing a competitive game."
Also getting close is No. 3 overall pick from 2011, RHP Trevor Bauer.
The long-awaited arrival of the D'backs best prospect seems to be right around the corner. Who would be forced out of the starting rotation? Would Bauer become part of the bullpen at first?
Those questions may soon have answers.