2012 MLB Draft Results: Players Who Won't Live Up to Expectations
June 5, 2012

Deven Marrero will have a hard time living up to his first-round expectations despite his fall to the No. 24 pick. He's not the only one though, there are two others that won't live up to the expectations of a first-round pick. 
We'll start with the aforementioned Marrero.
Deven Marrero, SS, Arizona State
Boston selected Marrero with the No. 24 pick. He is a defensive-first shortstop, which should come as no surprise, because most are.
However, his bat will hold him back at the major league level. You can find defensive-first shortstops much later in the draft so if he does end up being that type of player, he will not live up to first-round expectations. 
Once thought of as a top pick, Marrero will fall well short of expectations.
Gavin Cecchini, SS, Barbe HS
It may seem like I'm picking on shortstops, but most struggle to hit the ball. With that being said, Gavin Cecchini will provide quality defense but his bat will hold him back.
Is that worth the 12th pick in the draft?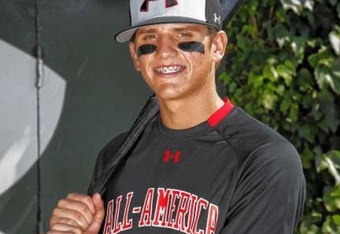 Maybe, and the Mets must have thought so too. However, you can find shortstops who are capable of playing defensive-first baseball in free agency right now.
If the organization plans on moving him to another position, he better be able to hit the ball consistently. He's too much of a risk with that high of a pick.
James Ramsey, OF, Florida State

Work ethic can only get one so far.
Florida State's James Ramsey has a great work ethic, but his skills don't translate to a power-hitting corner outfielder.
He would hit for average, which is fine, but his tools say he could have been drafted later. This was a reach for St. Louis at No. 23, but they are an organization that tends to have positive things happen no matter the circumstance.
But will he live up to first-round potential? I don't see it happening. St. Louis could have gotten him later in the draft.