Tyrann Mathieu and the 10 Best College Football Corners Heading into 2012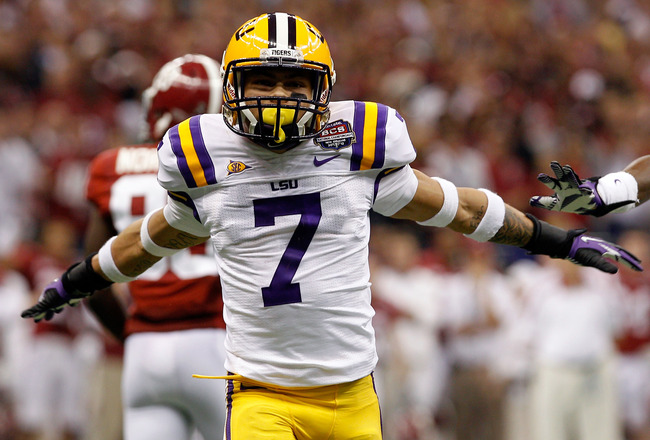 Chris Graythen/Getty Images
The Louisiana State University football program has produced the past two Jim Thorpe Award winners. Morris Claiborne and Patrick Peterson in 2011 and 2010, respectively, were honored as college football's best defensive back.
The Tigers have another superstar defensive back hoping to make it three in a row. Tyrann Mathieu, also known as "Honey Badger," placed fifth in the 2011 Heisman Trophy voting.
Although Mathieu was the only defensive player named a Heisman Trophy finalist in 2011, he was not named a finalist for the Jim Thorpe Award. In other words, Mathieu was considered the best Heisman candidate on defense, but was not considered one of the best defensive backs.
This phenomenon should confuse college football fans.
Nevertheless, a new debate has risen for the 2012 season. Who is college football's top corner right now: Mathieu or David Amerson—who made the Jim Thorpe Award final three in 2011 from North Carolina State University? Or is there someone else flying under the radar?
Let's take a look at 10 of these young men who have a good chance at winning the 2012 Jim Thorpe Award from the cornerback position.
Tyrann Mathieu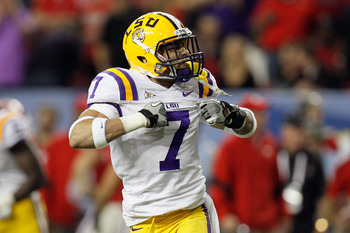 Kevin C. Cox/Getty Images
As stated in the introduction, Tyrann "Honey Badger" Mathieu placed fifth in Heisman Trophy voting in 2011. Although he missed out on the Jim Thorpe Award, Mathieu did win the Chuck Bednarik Award in 2011, which is presented to the nation's best defensive player according to the Maxwell Football Club.
If 2012 goes according to plan, the rising junior should make the final cut for the Jim Thorpe Award without controversy.
With Morris Claiborne and Ron Brooks now in the National Football League, Mathieu will cover the opposition's number one receiver. This season, all eyes will be on No. 7 in the bayou.
In 2011, Mathieu was one of college football's best all-around players. He forced six fumbles, recovered four and scored touchdowns on two. He also ran back two punts for touchdowns. Mathieu tied for the team lead in tackles (76) and tied for second on the team in passes defended (11).
As a punt returner, Mathieu finished second nationally in return yards average (17.2) and third in punt return yardage (429).
LSU hopes "Honey Badger" can lead the 2012 team to a national championship after losing to SEC West rival Alabama, 21-0, in the 2012 BCS National Championship Game in New Orleans.
David Amerson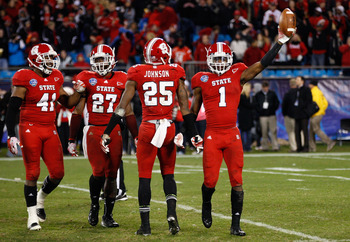 David Amerson (#1)
Streeter Lecka/Getty Images
David Amerson's 2011 performance earned him a spot on the AP All-American Second Team. Additionally, as was mentioned in the introduction, Amerson was named a finalist for the 2011 Jim Thorpe Award.
Amerson surprised the college football world last season, as he was not considered among the elite cornerbacks in his own conference (the ACC).
The rising junior from North Carolina State University led the country in 2011 with 12 interceptions and 206 interception return yards. His 12 interceptions in a season broke the previous NCAA Division I mark of 11 in a season, set by University of Wisconsin-Madison defensive back Jim Leonhard in 2002.
He also tied for the national lead with two interceptions returned for touchdowns.
Phil Steele has placed Amerson on his 2012 preseason All-American First Team, along with Tyrann Mathieu. This Wolfpack corner will not sneak up on anyone this season, except any quarterbacks he picks off.
Johnny Adams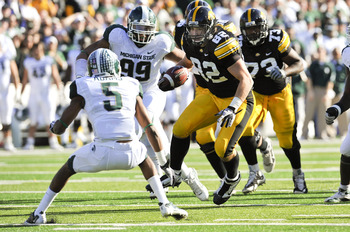 Johnny Adams (#5)
David Purdy/Getty Images
Michigan State University cornerback Johnny Adams was named to the All-Big Ten Conference First Team in 2011. Phil Steele has placed him on his preseason All-American Second Team.
Adams, a rising junior, led the Big Ten in interception return yards (141) in 2011. His efforts helped the Spartans reach the inaugural Big Ten Championship Game, the Outback Bowl and the number 11 ranking in the final AP poll.
A strong 2012 season from Adams should keep him in the running for the Big Ten's Tatum-Woodson Defensive Back of the Year Award.
Johnthan Banks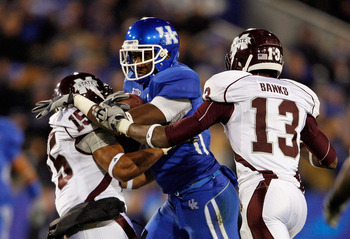 Andy Lyons/Getty Images
Along with Tyrann Mathieu, Mississippi State University's Johnthan Banks looks like one of the Southeastern Conference's top returning cornerbacks.
Phil Steele has placed Banks on his preseason All-American Second Team.
Banks, a rising senior, tied for fifth in the SEC with four interceptions, tied for seventh with three forced fumbles and tied for third with 13 passes defended.
Since most of the cornerbacks who made more headlines from the SEC in 2011 have gone on to the National Football League, Banks should challenge Mathieu for top honors in 2012.
Xavier Rhodes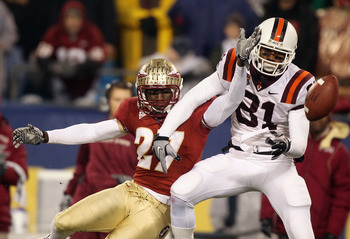 Xavier Rhodes (#27)
Streeter Lecka/Getty Images
Florida State University's Xavier Rhodes has made Phil Steele's preseason All-American Third Team as a cornerback.
Rhodes helped Florida State to the No. 23 ranking in the final AP poll. This season, Athlon Sports predicts a No. 9 overall finish for the Seminoles, who have brought in a lot of elite high school talent under Jimbo Fisher.
There are very high expectations in Tallahassee for 2012, and the redshirt junior Rhodes is the leader of the defensive backfield there.
Demarcus Milliner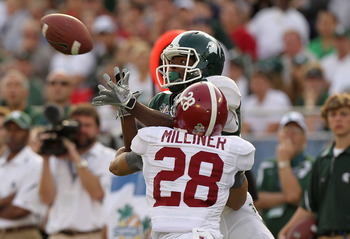 Mike Ehrmann/Getty Images
Following the 2011 season, the University of Alabama Crimson Tide lost stars Mark Barron, Dre Kirkpatrick and Dequan Menzie from the secondary to the National Football League. Barron and Kirkpatrick were first-round selections in the 2012 NFL Draft.
No worries, though, because head coach Nick Saban reloads rather than rebuilds.
Junior Demarcus Milliner should be the next cornerback to continue the defensive dynasty Saban has established in Tuscaloosa.
Milliner actually led the Crimson Tide with three interceptions in 2011. He placed second on the team with 11 passes defended. With secondary guru Saban coaching him up even more this season, no wonder Phil Steele placed Milliner on his preseason All-American Third Team.
Nickell Robey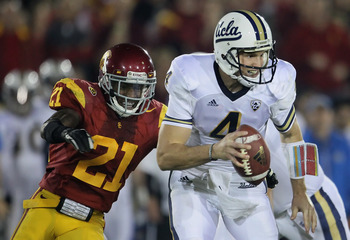 Nickell Robey (#21)
Jeff Gross/Getty Images
Nickell Robey was an All-Pacific 12 Conference First Team selection in 2011. He hopes to earn himself a repeat selection following the 2012 season.
Robey led the University of Southern California football program in passes defended, interception return yardage, return yards per interception and interception return touchdowns. He also made 63 tackles from the cornerback position, good enough for fourth on the team.
The Trojans should get a lot of press this season, now that they are again bowl eligible.
Athlon Sports has also placed USC at the top of its preseason poll.
Robey's performance in 2011 shows his strong skills as a cover corner. Phil Steele has also taken notice, placing Robey, a junior, on his preseason All-American Fourth Team.
Jordan Poyer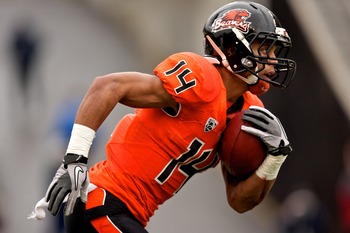 Craig Mitchelldyer/Getty Images
Like Nickell Robey, Jordan Poyer has made Phil Steele's preseason All-American Fourth Team from the Pacific 12 Conference. While Robey earned first team all-conference honors last season, Poyer played well enough to make the All-Pacific 12 Conference Second Team in 2011.
Poyer tied for the conference lead with 4 interceptions and 16 passes defended. He was also Oregon State University's top kick returner in 2011.
It will be interesting to see how the senior Poyer handles receivers in the Pacific 12 Conference in 2012. Such receivers include Robert Woods and Marqise Lee from USC, Keenan Allen from the University of California-Berkeley and Marquess Wilson from Washington State University.
Kyle Fuller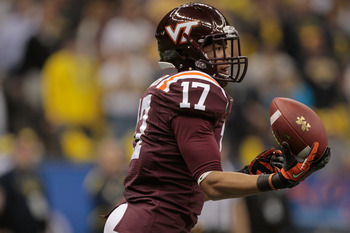 Chris Graythen/Getty Images
Along with David Amerson and Xavier Rhodes, Kyle Fuller should be one of the best corners in the Atlantic Coast Conference in 2012.
Fuller, a junior, earned a spot on the All-ACC Second Team for 2011 along with his Virginia Tech teammate, Jayron Hosley, who now plays in the National Football League. He tied for third in the ACC with 14 tackles for loss.
Fuller helped the Hokies to the No. 21 ranking in the final AP poll and to the Sugar Bowl, where they lost to the University of Michigan.
Brodrick Brown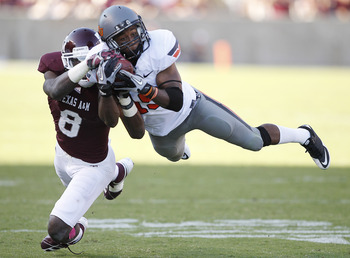 Brodrick Brown (white jersey, grey pants)
Bob Levey/Getty Images
In 2011, Brodrick Brown earned an All-Big 12 First Team selection, and Phil Steele has Brown repeating in 2012.
The Oklahoma State University rising senior finished third in the country with 20 passes defended and tied for 13th nationally with five interceptions.
Athlon Sports lists the Cowboys at No. 19 in its preseason poll. The Cowboys won the Big 12 Conference championship in 2011 and finished with the No. 3 ranking in the 2011 final AP poll.
Brown can help Stillwater overcome the losses of Justin Blackmon and Brandon Weeden to the National Football League in 2012.
Outlook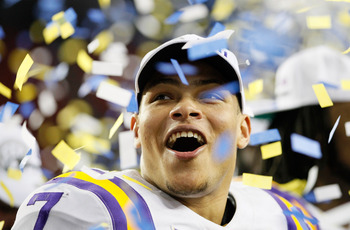 Kevin C. Cox/Getty Images
Tyrann Mathieu should win the 2012 Jim Thorpe Award.
Athlon Sports has ranked LSU No. 2 in the nation heading into 2012. Mathieu is the only cornerback returning from the 2011 AP All-American First Team. Though all these corners played extremely well last season, the college football world regarded "Honey Badger" more highly.
Do not count out these nine other cornerbacks, though. After all, their goal as corners is to sneak up on their opponents and steal the spotlight.
Keep Reading