Pacquiao vs. Bradley: Complete Analysis of Saturday's Super-Fight
June 7, 2012

Stephen Dunn/Getty Images
Manny Pacquiao's zealous religious awakening and Timothy Bradley's questionably arrogant rematch poster aside, Saturday's mega-fight at the MGM Grand in Las Vegas is laced with enough actual in-ring drama to satisfy both the hardcore and casual boxing fan. 
While Bradley is certainly Pacquiao's most obscure opponent in recent memory, boxing purists understand that this could be one of Pacquiao's sternest tests. In Bradley, Pacquiao is facing a prime, two-time unified junior welterweight champion who is undefeated in title fights (and overall).
Bradley's championship-level opposition is respectable, and he has earned the fight with Pacquiao based on his actual performances and skills as opposed to name recognition, which is an increasing anomaly in a current boxing landscape littered with meaningless titles and undeserving mandatory challengers.
Expect Pacquiao-Bradley to be an example of technically proficient, world-class boxing. Both men are also instinctual fighters, and this should lead to several entertaining and hotly contested rounds.
With that said, let's break down what you need to know about both fighters.
The Physical Breakdown
At 5'6.5", Pacquiao—when fighting as a welterweight or junior middleweight—is generally the smaller man. This will not be the case against Bradley. Pacquiao will head into the fight with a half-inch height advantage, and Bradley will be moving up in weight.
Despite moving up in weight, the 5'6" Bradley has fought at welterweight before. In 2010, he moved up and thoroughly outboxed and outclassed the hard-hitting but technically limited Luis Carlos Abregu (31-1, 25 KOs). Given his track record and proficiency against a hard-hitting welterweight, expect Bradley to again deal with the added weight comfortably.
Both men have a comparable reach. Despite being the slightly shorter man, Bradley's reach, at 69", is longer than Pacquiao's 67" arm-length. While these statistics should ultimately negate themselves, Bradley having the slight edge could be significant given the quality of his jab. In order to control the fight's tempo and ring geography, Bradley will need to employ his stiff jab early and with conviction.
At 33, Pacquiao made his professional debut in 1995—almost a decade before the 28-year-old Bradley joined the paid ranks. While Pacquiao didn't look especially sharp in his last controversial majority decision win over Juan Manuel Marquez, it was still a competitive fight, and Pacquiao always enters a bout in optimal shape.
Bradley, despite his compact frame and bulging musculature, has excellent speed and world-class stamina. It will be interesting to see whether the 353 rounds Pacquiao has boxed over his career have started to catch up with him, as Bradley, who has boxed 194 rounds as a pro, will certainly be fresh during the championship rounds.
Bradley's Style 
Bradley is an intelligent and versatile fighter who applies smart pressure. While he isn't in Marquez's league as a counter-puncher, he can fight off his back foot, and his ability to shift from movement-based defense to offensive flurries will be crucial against Pacquiao.
Bradley, despite not being a knockout puncher, possesses a strong straight and overhand right. This is his most effective punch when moving forward or countering. Bradley will have opportunities to land his right hand against Pacquiao given how Manny struggled against Marquez.
In order to establish his strong right hand and create openings, Bradley must effectively utilize his jab. Bradley is capable of doubling his jab as he moves and often uses the punch to freeze opponents as he advances for a flurry. Bradley is adept at setting up combinations with his jab, and he can use the punch to help control the pace of the fight.
Bradley also has a decent left hook in his arsenal, and the blow can be effective in counter-punching situations. Still, the punch has a tendency to be erratic, especially when Bradley gets involved in heated exchanges. In order to be effective against Pacquiao, Bradley will have to ensure that he maintains his punching fundamentals.
Bradley is also an excellent body puncher. He fights well on the inside, and his determination is evident, as he usually wins exchanges when his fights go into the trenches. Part of this has to do with Bradley's superb conditioning, as well as his compact fighting style and tight guard that makes him a maddening target to hit cleanly.
Pacquiao's Style
Pacquiao is perhaps the most gifted offensive fighter in boxing. Punches and combinations aside, what separates Pacquiao from the pack is his feet movement inside the ring. Pacquiao is a master at darting in and out of danger to create punching angles, and his surgical precision and accuracy is indebted to how he finds openings through movement.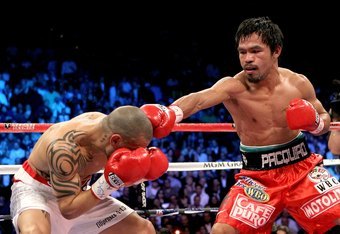 Al Bello/Getty Images
Of course, Pacquiao also possesses blinding hand speed and the ability to throw and land six-plus punch combinations. His power is well documented, and his straight left hand and hook remain his calling card. In working with trainer Freddie Roach, Pacquiao has also developed a strong right hook, which he uses to counter effectively from his southpaw stance.
While Pacquiao isn't known for his jab, he is superb at using feints to bait his opponents into making mistakes. Whether it's faking throwing a punch or using his obscenely fast lateral movement, Pacquiao is able to pick his spots, as his opponents are usually left off-balance.
Pacquiao can also fight off his back foot, and he is capable of picking his opponents apart if they move forward without purpose or intelligent punching. This, combined with Pacquiao's unparalleled ability to attack, makes him one of the most complete and dangerous fighters in boxing.
Pacquiao's Last 5 Opponents
Juan Manuel Marquez (Win: Majority Decision)
Pacquiao struggled mightily in this fight. Marquez was able to consistently tag him with counter right hands, and Pacquiao was reduced to aimlessly stalking Marquez without purpose for much of the fight.
Unable to effectively circle to his right, Pacquiao became an uncharacteristically stationary target on several occasions.
Shane Mosley (Win: Unanimous Decision)
Pacquiao cruised to a virtual shutout decision against an aging Mosley who simply couldn't pull the trigger. Pacquiao scored a clean third-round knockdown, though he seemed to relent and coast later in the fight when he could have perhaps scored a stoppage. While Pacquiao dominated, Mosley was clearly a shadow of his former self.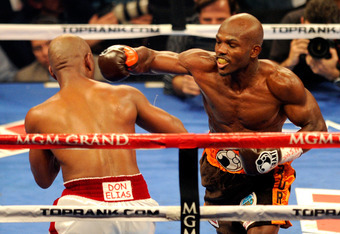 Ethan Miller/Getty Images
Antonio Margarito (Win: Unanimous Decision)
Pacquiao peppered the molasses-slow Margarito, busting up the Mexican's eye in grotesque fashion and breaking his orbital bone. The bout should have been mercifully stopped, but Pacquiao again failed to apply the necessary pressure to force Margarito into submission.
Still, it was a dominant victory, and Pacquiao's superior movement prevented Margarito from consistently cornering him.
Joshua Clottey (Win: Unanimous Decision)
This fight was an unfortunate case of Clottey being in survival mode from the opening bell. Clottey held a tight guard for the fight's duration, which made it difficult for Pacquiao to land devastating blows.
In winning a virtual shutout, Pacquiao was dominant and able to land effective combinations against an opponent who, unfortunately, had no desire to win.
Miguel Cotto (Win: 12th-Round TKO)
Pacquiao was masterful as he battered Miguel Cotto before scoring a stoppage in the final round. Ahead by nearly a shutout on all three judges scorecards going into the 12th, Pacquiao utilized dazzling combinations and ring generalship to deal with Cotto's early forward movement and scored knockdowns with his right hook and left hook/half uppercut. From there, Pacquiao's relentless assaults finished Cotto in a tremendous overall performance.
Bradley's Last 5 Opponents
Joel Casamayor (Win: Eighth-Round TKO)
It is hard to gauge Bradley's most recent form given that he was essentially fighting Joel Casamayor's corpse. At 40, the former champion from Cuba offered Bradley little resistance. Casamayor was deducted a point for holding in Round 4, and Bradley sent him to the canvas in Rounds 5, 6 and 8.
Still, Bradley did what he was supposed to do in annihilating a once-great fighter, and he did show a killer instinct and slick combination punching.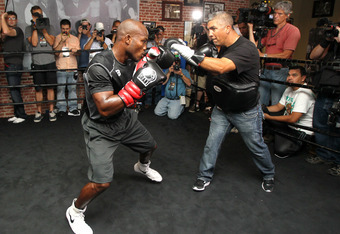 Stephen Dunn/Getty Images
Devon Alexander (Win: Technical Decision after the fight was stopped in Round 10 due to an accidental clash of heads)
This junior welterweight unification fight hardly lived up to the hype. Nevertheless, Bradley deserves credit for his performance, and his dogged determination and pressure essentially forced a steadily wilting Alexander to give up.
While Alexander's cut was certainly unpleasant, Bradley seemed to wear Alexander down and definitely looked the fresher and more assertive of the two fighters. Bradley applied constant pressure and landed solid right hands against his skilled southpaw opponent.
Luis Carlos Abregu (Win: Unanimous Decision)
Bradley moved up to welterweight to take on the hard-punching Abregu of Argentina. The difference in speed and class was evident from the outset, and Bradley boxed circles around Abregu for the fight's duration. Bradley hurt his naturally bigger opponent on several occasions, and he consistently found a home for his right hand and left hook. Bradley worked both the head and body, and his mix of offensive bursts and counter-punching amounted to excellent overall performance.
Lamont Peterson (Win: Unanimous Decision)
This fight had quality action, and despite the fact that Peterson boxed admirably, Bradley was simply the superior fighter. Bradley scored a knockdown in Round 3 and ended up winning by wide margins.
While the scores were lopsided in Bradley's favor, Peterson was competitive, and Bradley deserves credit for being the more precise and powerful boxer in this fight.
Nate Campbell (No Contest: Fight stopped in Round 3 due to a Campbell cut)
The original result of a TKO was eventually ruled a no contest due to an accidental clash of heads causing Campbell's cut. Nevertheless, Bradley was consistently beating Campbell to the punch, and his combinations and movement were effective. Bradley went for the kill in Round 3, and his over-zealousness perhaps caused the clash of heads. Campbell was 37 at the time of the fight, and it seemed that Bradley was cruising before the stoppage.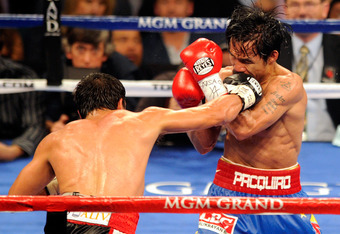 Ethan Miller/Getty Images
Crunching the Numbers 
At 28-0 with 12 knockouts, Bradley's undefeated record has been built against quality opposition since he reached the championship level. More importantly, Bradley is 6-0 with one no contest in world title fights, and he has won most of his championship bouts by clear decision. Bradley is comfortable going 12 rounds, and his poise is evident given his two impressive victories in unification fights.
According to CompuBox, heading into his fight with Devon Alexander, Bradley was averaging 62.1 punches thrown per round with 20 punches landed for a 32.2 connect percentage. This places Bradley slightly above the junior welterweight average, and his ability to sustain his punch output over 12 rounds is a credit to his conditioning.
More impressive than his overall activity is Bradley's accuracy, especially with power punches. Despite launching less than the junior welterweight average of 35.6 power punches thrown per round (Bradley throws 31.5), Bradley still bested the division average of 12.9 connects with 14.1 of his own. A 44.8 connect percentage is devastating, and this precision contributes to Bradley's sustained offense.
At 54-3-2 with 38 knockouts, Manny Pacquiao has fought and defeated the best fighters of his generation (except for someone whose name escapes me…). In amassing his impressive record, Pacquiao has become the first eight-division champion, having won titles all the way from flyweight to junior middleweight.
Pacquiao is no stranger to mega-fights, having disposed of the likes of Oscar De La Hoya, Shane Mosley, Miguel Cotto and Ricky Hatton. More impressive, however, might be the numbers "2" and "3".
Pacquiao has defeated Mexican legend Marco Antonio Barrera twice—the first time by 11th-round TKO and the second triumph via lopsided unanimous decision. In fighting Erik Morales and Juan Manuel Marquez three times apiece, Pacquiao has demonstrated his willingness to tangle with the absolute best. While some of the Marquez decisions have been controversial, Pacquiao emphatically avenged his last official loss to Morales on two brutal occasions.
According to CompuBox, between the second and third Marquez fights, Pacquiao has been an absolute wrecking crew. Before his controversial third win over Marquez, Pacquiao had been riding a 7-0 stretch with four stoppages against an opposition with a combined record of 271-23-2.
More impressively, Pacquiao had out-landed those seven opponents 1,807-766 for an average of 79 punches thrown per round with 27 connects. A connect percentage of 48 on power shots led to an average of 23 connects per round, which nearly doubled the welterweight average of 13.
Pacquiao's opponents only landed 11 total punches per round against him in that stretch, which is significantly lower than the welterweight average 19 connects per round.
Obviously, this changed during the third Marquez bout. Pacquiao was slightly less accurate than Marquez, though he did land 117 of 274 power punches for a connect percentage of 43. Still, Marquez was able to land 32 percent of his overall punches and 39 percent of his power shots, and he often landed the more telling blows.
The question that begs asking is: Will Pacquiao return to his dominant form leading up to the third Marquez fight? If he does, Pacquiao's activity and accuracy could give Bradley problems. Bradley's consistency heading into the Pacquiao fight is encouraging, and the numbers suggest that the fight will be filled with crisp volume punching.
Final Flurry
If you want a preview breaking down who holds the edge in power, speed and ring generalship (among other things) you can check out my other article. Conversely, if you're interested in predicting whether the fight will have cuts, knockdowns or how the championship rounds will unfold, check this piece out.
Lastly, ring generalship will be crucial in this fight. Given that Bradley is an orthodox fighter and Pacquiao is a southpaw, whoever is able to circle toward their lead hand should have the punching advantage (Bradley needs to circle to his left and Pacquiao to his right).
Keep an eye on both fighters' feet. Whoever is able to get their lead foot outside of the other's will shorten punching distance and create gaps for power shots. Pacquiao-Bradley should be a competitive, tactical fight, and I expect some bitterly contested rounds and heated exchanges. While Pacquiao has the edge, Bradley is certainly capable of pulling off the upset.