2012 MLB Draft Prospects: Lucas Giolito and Risks Who Will Pan out
June 5, 2012

The great T.S. Eliot once said, "Only those who will risk going too far can possibly find out how far one can go." The same can be said about the 2012 MLB Draft.
Only those who take risks will find out how great their selection can be. With proper coaching and health management, these three players will reach greatness in the MLB. 
Lucas Giolito, RHP
Washington is doing it right. 
Sure, they were lucky to land Bryce Harper and Stephen Strasburg, but they are searching for star-quality players. They aren't going safe.
Anthony Rendon was the selection last season. He was the best pure hitter (arguably) in the draft class and they took him despite his injury history. 
Now they take Lucas Giolito, a pitcher who can throw 100 mph and has a nice breaking ball. His injury history is a cause for concern, but he has all the tools to become a great starter in the MLB. With the 16th pick, it was a great risk-reward/value pick.
Marcus Stroman, RHP
Toronto took Marcus Stroman with the No. 22 selection in the draft despite his 5'9" size. Good decision, Toronto.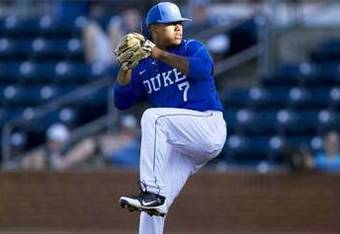 Stroman provides quality command and pitch selection, and he will be on a fast track to the major leagues.
Toronto taking a risk on Stroman will pay off in the long haul. 
Lewis Brinson, OF
Upside.
One word you hear all the time in sports, but especially baseball. Texas was thinking upside when they saw Lewis Brinson on the board with the 29th pick. 
Lewis Brinson's upside is magnificent and well worth the risk of a late first-round selection. He has great speed and athleticism, which makes his glove and defensive abilities big league ready. 
He's raw, but if he can land with the correct coaches, his approach could determine whether or not he will reach his ceiling.