Notre Dame Football: Why Brian Kelly Must Keep His Cool on Sidelines in 2012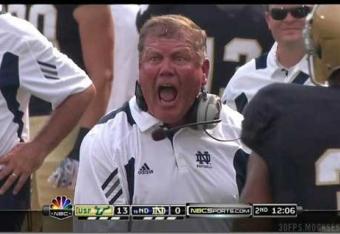 AthlonSports.com

As ridiculous as it may seem, there are a number of similarities between the head football coach at Notre Dame and the President of the United States.
The most common bond between the two is the intense scrutiny each faces from the media.
In Brian Kelly's case, his epic sideline tirades were harped on by media outlets throughout the country for the better part of the 2011 season.
But isn't it par for the course for a head football coach to occasionally yell at his players? Of course it is. But when Brian Kelly's face turned different shades of purple while his team was gift wrapping a victory for South Florida during the first game of the 2011 season, all cameras were centered on the now third-year head coach.
Kelly's purple face was plastered on newspapers and websites across the country the following week, casting Notre Dame in a negative light.
That right there is what sets Notre Dame apart from every major football program in America. Brian Kelly's actions are a direct representation of the university, whether the fans and alumni want to believe it or not.
Kelly's tantrums and tirades only led to negative press, which is the last thing Notre Dame needs on its plate. Remember, since Kelly took over in December of 2009, the program has dealt with the death of two students, two sub-par seasons, a number of recruiting snafus and multiple player arrests.
Sure, every BCS program deals with similar issues, but none of those programs are as constantly scrutinized as Notre Dame.
Will Brian Kelly keep his cool on the sidelines this season?
The lesson to be learned for Brian Kelly is that he needs to be a positive reflection of the university 100 percent of the time. Should he follow that advice, Notre Dame will be on its way to receiving more positive press.
It's a rather precarious situation for Brian Kelly though. If he doesn't yell at his players for making mistakes on the field, he's not doing his job to the best of his ability.
Even revered former head coach Lou Holtz lost his cool on the sidelines from time to time. Tim Ryan, an offensive lineman who played under Holtz from 1987 to 1990, spoke to Lou Somogyi of BlueandGoldIllustrated.com about Kelly's sideline antics.
"If you screw up, you're going to get yelled at. It's not personal, but it's life where you don't get rewarded for everything you do, especially if it's wrong. I don't relate to this everybody has to be coddled or that it would turn recruiting off. If (Joe) Moore yelled at you and saw that you didn't like getting yelled at—he'd just do it more. It was like, 'Take it like a man.' Some people today might call it unorthodox, but I thought it was absolutely necessary and couldn't be more appreciative of the way he did it."
While coaches still behave in similar fashion to what Tim Ryan described, Brian Kelly must find a happy medium between going ballistic and being emotionless on the sideline.
As petty as it may seem, it comes with the territory of being the head coach at Notre Dame. Or even the United States President, for that matter.
This article is
What is the duplicate article?
Why is this article offensive?
Where is this article plagiarized from?
Why is this article poorly edited?

Notre Dame Football: Like this team?