Chelsea Transfer News: Hulk Would Thrive in Blues' Uniform
June 5, 2012

EuroFootball/Getty Images
Hulk would be in beast mode if he were to be signed by Chelsea this summer. 
Aside from having quite possibly the coolest name (or nickname) in sports, his game fits what the Blues are looking for with the loss of strike Didier Drogba.
It would be a perfect relationship if it ever happens. As of now, it hasn't, according to Harry Harris of ESPN. 
But it's close, and if it happens, Chelsea would benefit greatly from the Brazilian forward.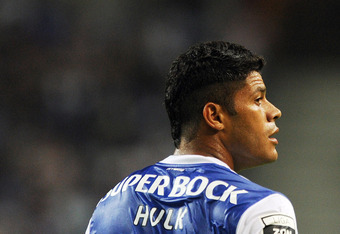 EuroFootball/Getty Images
In 23 Portuguese Liga games played, Hulk scored 16 goals. Frank Lampard and Daniel Sturridge led Chelsea with 11 goals a piece. 
Chelsea needs to not only find goal scoring production, but a guy who can score big-time goals in the best competitions. Hulk can score in a variety ways with his body frame and ball placement.
He probably won't rival what Drogba did, but he's the best option available for the price range. 
Chelsea played well in other competitions but struggled inside the English Premier League. They need to add excitement and a different style of character to the roster.
Hulk would bring both to the party.
Chelsea needs to do whatever it takes to land Hulk. He is the key to puzzle next season if they are able to land him this summer.
Without him, this team will be looking for a forward of lesser quality. With him, this team is capable of competing for the league once again.