Boston Red Sox: Will They Lead the AL East by the All-Star Break?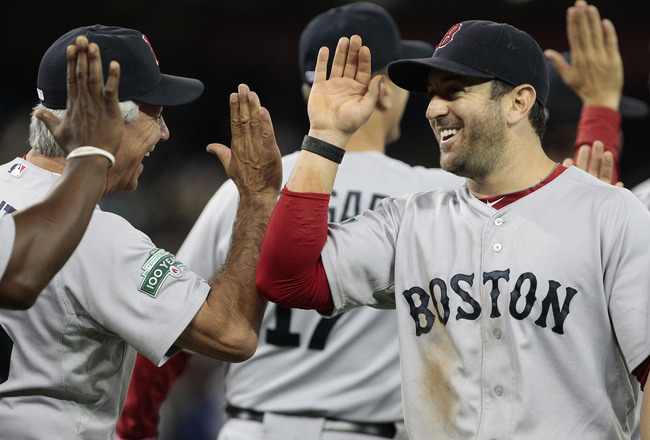 Abelimages/Getty Images
It was unfathomable as recently as three weeks ago.
Yet the Boston Red Sox are threatening the top of the American League East standings, just three games behind the first-place Tampa Bay Rays and Baltimore Orioles.
However, their ascendance does not mean they have solved all of the problems that plagued them early in the season.
Getting to the top of the division—and more important, staying there—is an ongoing process. All that they improved upon during the last three weeks has to be maintained. Everything that they currently lack—such as health and steady starting pitching—they have to get.
It is just over a month until the All-Star break. By that point last year, Boston had overcome an 0–6 start and was 20 games above .500 (55–35) and leading the division.
If the Red Sox want history to repeat itself in that regard, the following five areas of the game will be very important.
Get Healthy
Elsa/Getty Images
It's pretty miraculous that the Red Sox are so close to first place in light of the injuries they've endured.
Closer Andrew Bailey has yet to pitch this season.
The rash of outfield casualties includes MVP runner-up Jacoby Ellsbury as well as Carl Crawford and Cody Ross.
Both Kevin Youkilis and Dustin Pedroia have been banged up at times.
And Daisuke Matsuzaka is trying to come back from Tommy John surgery in the last season of his current six-year contract.
With so many big names on the shelf, Boston's 12-19 start is understandable. Almost all of them are expected back by the All-Star break, at which point they'll be joining a cast of supporting and reserve players that have righted the ship in their absence.
The last time the Sox went through an entire season without dealing with significant injuries was 2007, the same year they last won the World Series. It's much too late to hope for that in 2012, but if all of the Red Sox's key players are patched up for the stretch run, they will contend.
Consistency on Offense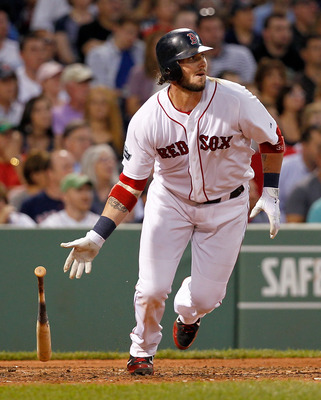 Jim Rogash/Getty Images
Per usual, the Red Sox are among the best-hitting teams in the majors. They're third in batting average (.273) and runs (283).
The issue is that a lot of those runs come in bunches. Boston has scored three runs or fewer in 21 of 55 games. Its record in those games is 2-19.
If it's at all possible to spread runs out over the course of several games instead of exploding on one given night, Boston has been much better at that recently.
Since an 8-3 loss to Cleveland on May 10, the Red Sox have scored double-digit runs only once. But they've still averaged over five runs a game in that stretch, during which time they've gone 16-8.
When a team shuffles the lineup as often as Boston has in response to its litany of injuries, there will be up-and-down performances.
If Ellsbury, Crawford and Ross can swing the bats upon their returns, and Adrian Gonzalez can up his power output (among other "ifs"), Boston's offense will be even more dangerous—and consistent—than it is now.
More Quality Starts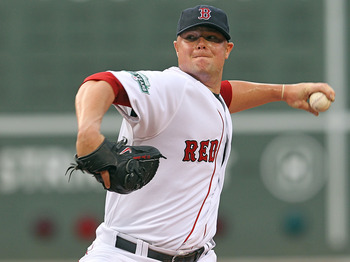 Jim Rogash/Getty Images
Boston's turnaround in the last three weeks of May was due in large part to a leaps-and-bounds improvement by the bullpen.
The starting rotation, on the other hand, still has some work to do.
Felix Doubront—who has surprised everyone by leading the team in wins (six) and strikeouts (66)—is the only member of the five-man rotation with an ERA below 4.00. Their collective ERA is 5.02, and their combined WHIP is 1.47.
Josh Beckett and Clay Buchholz showed signs of turning their seasons around in May, but staff ace Jon Lester has been decidedly pedestrian. Daniel Bard's historically bad outing at Toronto on Sunday (and subsequent demotion) has the team scrambling for solutions.
It would be a great waste if Boston's newly effective bullpen burned out down the stretch as a result of subpar starting pitching. The onus is on the starters to pitch deeper into games and more effectively. Otherwise the Sox will be left behind by their division rivals and their stalwart rotations.
Deep, Consistent Bullpen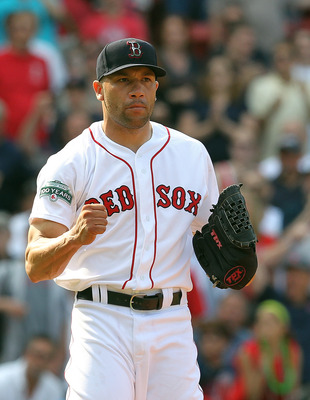 Jim Rogash/Getty Images
Everyone in the Boston bullpen—from lefty specialists like Rich Hill and Andrew Miller to closer Alfredo Aceves—has enjoyed a renaissance over the past three weeks.
With the division lead in sight, now is no time to regress—particularly in light of the inconsistency from the starting rotation.
The likes of Scott Atchison and Franklin Morales have to give the Sox solid innings in long relief in order to save the arms of their bullpen mates (unlike Tuesday night).
Vicente Padilla needs to keep stranding baserunners. If the recently demoted Daniel Bard eventually makes his way to the big-league bullpen, he needs to rediscover his mojo without disrupting the current bullpen's dynamic.
Each member of the relief corps has to know their role and do their jobs when called upon. Easier said than done, but in light of where the bullpen started the season, it's a much more attainable goal now.
Maintain Clubhouse Harmony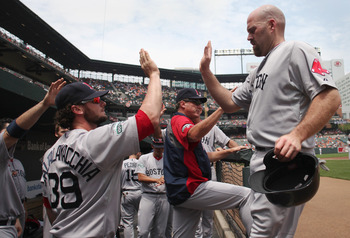 Rob Carr/Getty Images
Starting in September 2011 with the late-season collapse and Beergate, there has been more acrimony in the Red Sox clubhouse than at any point in the past decade.
A supposed disagreement between Bobby Valentine and Mike Aviles during spring training. Reports of Bobby V wanting Kevin Youkilis out from the start. Josh Beckett's off-day golf game and his terse response to fans and the media when he defended it.
When things are settled and there's an absence of in-fighting and player soap operas, the Red Sox win. That's how things have gone since 2003 (save a Manny-being-Manny moment here and there). If the Red Sox want to get back into contention, they'd be wise to put a moratorium on any further bickering.
That means no overreactions to news that the team wants to trade Youkilis. No criticisms of how long it will take for Ellsbury to return.
If the Red Sox settle down and continue to play good baseball, all that unwanted drama will go away.
Keep Reading

Boston Red Sox: Like this team?