USC Football: Trojans Offense Full of Weapons for Matt Barkley
June 5, 2012

Stephen Dunn/Getty Images
For a quarterback, there is nothing better than having plenty of weapons at your disposal and a great offensive line to keep you upright.
For Matt Barkley, the stockpile that USC has put together for him is far more dangerous than many you will see across the nation.
From solid offensive linemen to great tight ends, the potential Heisman candidate has everything a quarterback could ask for on offense.
It all starts up front, where the Trojans return four starters along the offensive line, including Khaled Holmes, who has developed a special chemistry with Barkley since their time as teammates playing for Mater Dei High School in Santa Ana, California.
That offensive line features a solid inside group of Holmes, Marcus Martin and John Martinez.
The offensive line also keeps Kevin Graf and introduces Aundrey Walker into the fold, a big sophomore who has put in hard work and dropped his weight drastically in order to make a push for the starting left tackle spot.
Then it moves to the running backs, where 1,000 yard rusher Curtis "Moody" McNeal is entrenched as the starter and ready to contribute again.
The small but powerful back put on some muscle in the offseason, and is looking to have another big season for the Trojans.
McNeal, along with D.J. Morgan, will hope to use the team's success in the run game to open up the passing game for Barkley and company.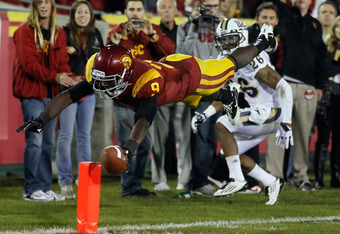 Jeff Gross/Getty Images
The two tight ends, Randall Telfer and Xavier Grimble, were pleasant surprises for the Trojans last year, as they combined for 417 yards and nine touchdowns.
And the unit will only be stronger with Junior Pomee and Christian Thomas joining the fold. Jalen Cope-Fitzpatrick is an incoming freshman at the position, but could redshirt his freshman year.
And finally, we move to the wide receivers, the biggest weapon of choice for Barkley, a unit that features two of the top players in the country at the position.
Junior wideout Robert Woods and sophomore Marqise Lee both compiled over 1,000 yards receiving, to go along with 15 touchdowns for Woods and 11 for Lee.
Between Woods, Lee, Telfer and Grimble, they combined for 35 of Barkley's 39 total touchdown passes last season.
Factor in De'Von Flournoy, George Farmer and Victor Blackwell at wide receiver and you have a dangerous unit.
The wild card for the Trojans' offense will be incoming freshman Nelson Agholor. Agholor has the ability to play running back or wide receiver, and will be a serious weapon for Barkley.
It's been shown during the past two seasons that coach Lane Kiffin isn't afraid to take a chance on a true freshman, when Woods (2010) and Lee (2011) both broke out during their first years, so Agholor making an impact early wouldn't be a huge surprise.
With all of this in the stable, Matt Barkley has to be one happy quarterback as he looks forward to a chance at the Heisman trophy or—even better—a BCS Championship.