NBA Free Agency 2012: How Deron Williams' Decision Impacts Steve Nash
June 5, 2012

Chris Chambers/Getty Images
With the lack of big-name free agents on the block, the decision of Brooklyn Nets point guard Deron Williams becomes the biggest decision of the entire offseason.
His decision won't just impact himself, though. It will also have an impact on the landing spot of the other top free agent point guard, Steve Nash.
Several franchises, including Dallas, Brooklyn, Phoenix, Portland and the Los Angeles Lakers, will be impacted by what Williams decides and ultimately could turn their attention to the two-time MVP as a Plan B.
Let's look at the two scenarios for Williams and how it impacts Nash.
Williams Stays in Brooklyn
This is probably the best-case scenario for Nash. The teams that will be hot after Williams and don't get him may panic and be willing to spend more money for Nash. For instance, if a team like Dallas can't strike a deal with Williams, it may be willing to invest the extra money and extra years that it typically might not offer a 38-year-old guard.
If Williams stays in Brooklyn, I would expect Dallas, Portland, Phoenix and Toronto to be the most aggressive teams in pursuing Nash.
Sure, he wants to go to a winner, but if he can do that and get paid at the same time, then it becomes a win-win for Nash.
Williams Bolts from Brooklyn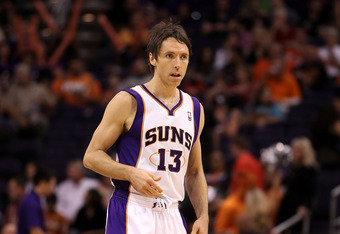 Christian Petersen/Getty Images
Obviously, if Williams signs elsewhere, there'll be one less team in the running for Nash's services.
Although Brooklyn would need a point guard, I wouldn't expect them to go after Nash, as it would be rebuilding time once again for the Nets.
But Williams signing elsewhere could also limit the money Nash gets on the open market. That would mean that one of the few teams that could pay Nash decent money would be out of the running, and could force Nash to make a decision.
What's more important: money or winning?