2012 NBA Eastern Confernece Finals: The Biggest Game of Rajon Rondo's Career
June 5, 2012

Jim Rogash/Getty Images
Rajon Rondo is a superstar.  Rajon Rondo is an underachiever.  Rajon Rondo is an overachiever.  You can win an NBA title with Rajon Rondo as your best player.  You can't win an NBA title with Rajon Rondo handling the ball late in playoff games.  Rajon Rondo can shoot.  Rajon Rondo can't shoot.
Anyone with a pulse, a television and basic cable has likely heard all of these statements about the Boston Celtics point guard so frequently over the span of his six-year NBA career that it's possible there are people out there who think there's more than one Rajon Rondo in the league.
The point is that it is hard to remember a player who was more difficult to put a finger on after the first six years of his career than Rondo.  After Tuesday night's Game 5 against the Miami Heat, we will finally know who Rajon Rondo is.
It's a big game because in the NBA playoffs, teams that lead three games to two at any point in a series go on to win nearly 86 percent of the time.
It's also a big game because Boston faces "fork in the road" kind of question marks this offseason.  For starters, they have just five players under contract for next season (six if Brandon Bass opts in for his last year of his deal).  One of those players is Paul Pierce.
Kevin Garnett and Ray Allen are not included in those five players.  It is conceivable that both will either retire, or be allowed to walk away by General Manager Danny Ainge if he decides that it's time to rebuild. 
Considering Ainge's attempts to blow up the Celts' "Big Three" at this year's trade deadline, it would not surprise me if he decides to go into full-fledged rebuild mode if Garnett and Allen walk. If that happens, it's possible Pierce's remaining two years and $32 million could be amnestied from Boston's cap.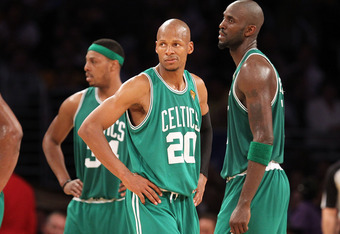 Ronald Martinez/Getty Images
That series of moves would leave Boston roughly $45 million under the salary cap with just four players on their roster (Rondo, Avery Bradley, Greg Stiemsma and JaJuan Johnson).  Obviously, we would be looking at a new era of Celtics basketball in 2012-13 and beyond with the franchise going forward with Rondo as its face.
This is a big game for the aforementioned Big 3 also, but it can't be denied that their fate now rests in Rondo's hands.  It is up to Rondo where this team goes in the future for one reason: he is good enough to will Boston to win two out of three against Miami and send them back to the Finals.
Rondo has taken his play to a career-high level this postseason.  He's averaging career postseason highs in points (17.4), assists (11.9) and minutes (42.6) per game.  He leads the Celtics in steals (2.3) and is second in rebounding (6.8) per 2012 playoff game. 
When Rondo scores at least 15 points and has at least 10 assists this postseason, Boston has six wins and three losses.  They are just four and four when he does not. 
Boston obviously relies on Rondo offensively to get the rest of the team going offensively, but he also has to look for his own shot in the final three games of the Conference Finals. 
Beyond points and assists, Rondo is at the top of the leaderboard along with LeBron James and Kevin Durant in multiple advanced metric categories (value added, estimated wins added). 
I'm not sure what came first; Rajon's reputation as a strange guy, or his lashing out for being misunderstood.  Either way, what makes him tick could be traced back to his beginnings in the NBA. 
As a member of Boston's 2008 championship team, Rondo could be categorized at best as "along for the ride"  (10.2 points, 6.6 assists, 32 minutes per game).  The fact that people still refer to the Celtics roster with the nickname "Big 3" says a lot considering how sensitive Rondo is believed to be to begin with. 
He was treated as a little brother by the veterans on the Championship team, and the transition Boston has made into "Rondo's" team can't have been easy on anyone from Pierce to Garnett to Allen to Doc Rivers. 
The little brother stuff probably isn't tolerated by Rondo anymore, yet it's not a perception that is easy to shake.  For that reason there has always seemed to be a disconnect between Rondo and everyone else.
It is possible Rondo resents the Big 3 for the way they treated him early in his career. It's also possible that he resents management for trading away his close friend Kendrick Perkins and floating his name in trade discussions with the subtlety of a nuclear bomb. 
More importantly, it's possible that Rondo doesn't appreciate the tremendous gift that the people around him in Boston have given him: that meteor-sized chip on his shoulder that makes him at times the most difficult cover in the entire league (the puzzling thing about Rondo is why it's only "at times").
In 2008, the Celtics took Rajon Rondo along for the ride.  In Game 5 on Tuesday night, Rondo will be taking the entire organization along for the ride.  He could thank them on their way out this offseason for turning him into the leader and the player that he has become. 
Or, Rondo can thank them by playing the game of his life, which would rewrite the end of three careers other than his own.