Which NFC South Team Could Least Afford an Injury to Its Starting QB?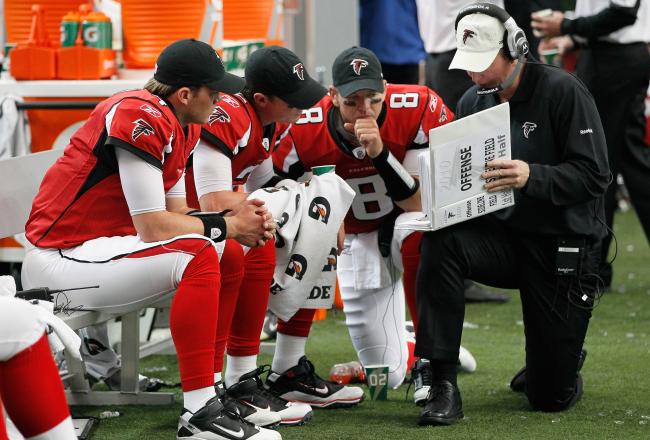 The Falcons would be in the best shape in the NFC South if starting QB Matt Ryan went down with an injury.
Kevin C. Cox/Getty Images
To call the NFC South a passing division would be a bit of an understatement. Not only is the division home to one of the three 5,000-yard passers from 2011, but it's the only division with three 4,000-yard passers and all four starting quarterbacks can boast throwing for more than 3,500 yards—the NFC South is the only division that can say that.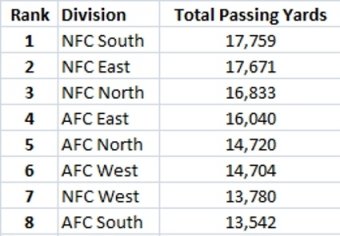 Quarterbacks in the NFC South also threw for more yards than any other division in the NFL, and did it with fewer passers than any other division—only seven quarterbacks amassed yardage in the NFC South.
With the proof on the table that Drew Brees, Matt Ryan, Cam Newton and Josh Freeman can collectively chuck it better than any division in the league, which of their respective teams could least afford to play without its starting signal caller?
If Brees were to fall to an injury in 2012, Chase Daniel would step in to run the most potent offense in the NFL. Daniel was 4-for-5 last season for 29 yards and is taking all the first-team snaps in offseason workouts because of the Brees holdout.
However, neither his extra practice snaps nor his 80 percent completion percentage on five passes last year warrant hope for a Daniel-led New Orleans team. Brees going down with an injury would be catastrophic to the Saints.
Which NFC South team could least afford an injury to its starting QB?
Newton was the only quarterback in the division last year to throw every pass for his team (two receivers tossed passes, but Newton was the only Carolina quarterback). He amassed more passing yards (4,051) and rushing touchdowns (14) than any other rookie quarterback in the history of the NFL.
Behind Newton on the depth chart is Derek Anderson who last threw a pass on Dec. 5, 2010. He played in 12 games in 2010 and threw seven touchdowns, 10 interceptions and completed just 51.7 percent of his passes.
Not only do the Panthers depend on Newton's arm and legs, but the team depends on his health, too. Anderson taking snaps for Carolina wouldn't work out well in 2012.
Freeman had a down year in Tampa Bay, throwing 22 interceptions while accumulating 3,592 yards in the air. But Freeman seems to think he knows most of the issues that plagued him last year and came to camp in great shape and with some new weapons—Vincent Jackson could help Freeman out loads in 2012—in his arsenal.
Freeman's backup, Dan Orlovsky, threw for 1,201 yards last year as Peyton Manning's fill in and completed 63.2 percent of his passes. Last year was the first time Orlovsky threw a pass since the 2008 season.
The Falcons are in the best shape of any of the NFC South teams if starting quarterback Matt Ryan went down with an injury. Chris Redman has been in Atlanta since 2007 and knows this team and its offense intricately (even though new offensive coordinator Dirk Koetter will add some new wrinkles).
Redman completed 64.3 percent of his 28 passes in 2011 and was forced into action in 2009 when Ryan was hurt and threw more touchdowns than interception in his three-week fill-in role.
To continue being the most prolific passing division in the league, the NFC South needs all four of its starting quarterbacks to stay healthy. If they do, the league could see all four passers eclipse the 4,000-yard mark in 2012.
This article is
What is the duplicate article?
Why is this article offensive?
Where is this article plagiarized from?
Why is this article poorly edited?