Brandon Bass and Playoff Stars Guaranteed to Opt-out and Cash in
June 5, 2012

Jim Rogash/Getty Images
NBA general managers often have to be careful when negotiating contracts that include the dreadful player options.
For instance, even though that their respective teams wish they wouldn't, it's very unlikely that Orlando Magic guard Jameer Nelson won't exercise his $7.8 million player option. Nor is it likely that the Los Angeles Clippers guard Mo Williams will plan on walking away from $8.5 million anytime soon.
However, while those teams will be stuck with money they wish they didn't have on their books, there are a few players likely to walk away from options in an attempt to cash in during the offseason.
Here's a look at a few guys from playoff teams that will certainly be looking to sign a more lucrative contract.
Brandon Bass, Boston Celtics
Bass has had a pretty productive season, averaging career highs in points (12.5) and rebounds (6.2). He's also has a nice playoff run in which he's averaged 10.8 points and 5.2 rebounds. Those numbers would be even better if not for lousy performances in the first three games of the Miami series.
What Bass has is a $4.25 million player option for next season, one that he almost certainly should walk away from.
He's only 27 years old and showed some consistency for the first time in his career. In reality, that means someone will grossly overpay for his services.
This will be the first time in his career that Bass can sign for some big money and he likely will be looking to do so.
J.R. Smith, New York Knicks
After arriving in the Big Apple from China in the middle of the season, Smith was decent for the Knicks, but he's another player that could be looking for more money.
His player option is for $2.6 million and can earn up to a 20 percent raise from the Knicks, but someone will foolishly throw more more at Smith and he may be wise to take it.
That would leave the Knicks in a tough spot as they need backcourt depth but can't afford to offer Smith anymore money.
But on the other hand, do they really need a guy that needs the ball in his hands to be effective? They already have a guy like that in Carmelo Anthony. It wouldn't be the worst thing for the Knicks to see a guy that takes bad shot after bad shot and makes horrible decisions with the ball chase the money and sign with another team.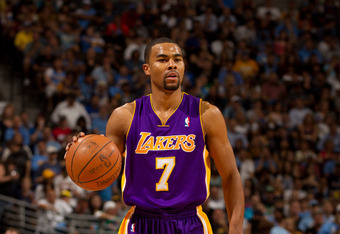 Justin Edmonds/Getty Images
Ramon Sessions, Los Angeles Lakers
Quite frankly, Sessions holds all the cards when it comes to negotiating with the Lakers.
The Lakers need Sessions more than he needs the Lakers and if he's a starting guard in the NBA, he can likely do better than his $4.5 million player option.
He can opt out and then attempt to sign back in Los Angeles for a higher dollar amount.
Barring a trade for a better point guard, with the Lakers lack of depth at the point guard spot they almost have to negotiate with Sessions because they aren't in a good enough spot financially to attempt to sign one as a free agent.