Stanley Cup Tour: 20 Celebrities with the Greatest Trophy in Sports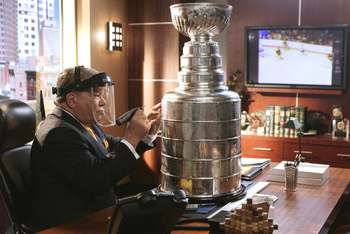 Photo Credit: Buzz Feed
The Stanley Cup Finals are drawing to a close, meaning one of the most lauded awards in all of sports will be hoisted for the duration of the summer. We have the best of such moments involving the biggest stars who are not hockey players.
The greatest team in hockey will soon place its name on the coveted prize, but the real fun begins when the Stanley Cup goes on a worldwide tour.
Each player will get his chance to have the most famous roommate in all of sports for a week or so.
Sometimes the trophy goes rogue and takes some hilarious pictures with some very famous hockey fans.
Let's traipse around this Internet machine and see this trophy get wild and wacky with well-known people. Getting cozy with the Stanley Cup never looked so good.
20. David Boreanz and Emily Deschanel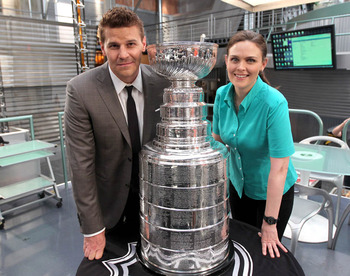 Photo Credit: National Post
The Stanley Cup is currently getting way more work than Lindsey Lohan, and this picture from the National Post has all the proof.
The trophy was in full glory on the set of Bones.
19. Ryan Seacrest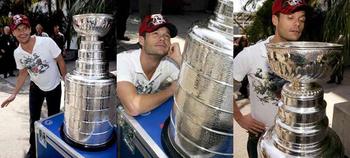 Photo Credit: Gawker
Gawker has a report on this 2006 photo-op that featured the media emperor Ryan Seacrest alone with an unsuspecting Stanley Cup.
Awkwardness ensued shortly thereafter.
18. Russell Crowe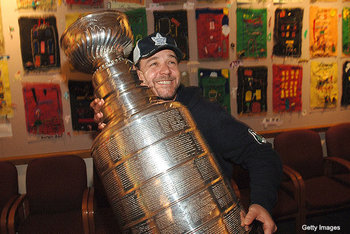 Photo Credit: Yahoo Sports
Russell Crowe isn't my cup of celebrity. However, the sheer glee he has on his face here makes you think that he wouldn't punch you in the throat if you ever met him.
How quaint.
17. Kristen Bell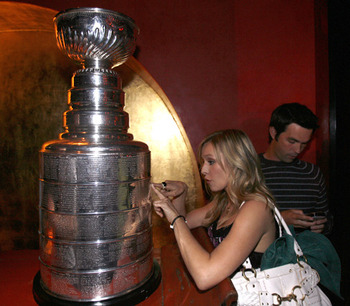 Photo Credit: MLive
MLive reports that Kristen Bell is quite the hockey fan. That is more than we can say for texting bro in the background, who is fairly unimpressed with Bell or the Stanley Cup being in his presence.
16. Vern Troyer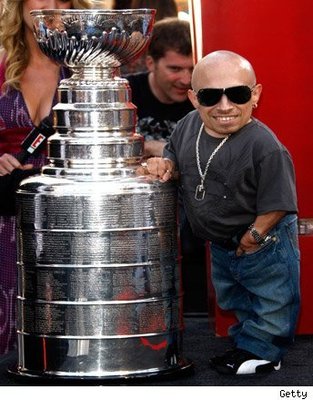 Photo Credit: TMZ
15. Aerosmith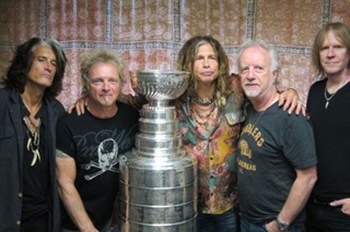 Photo Credit: Ultimate Classic Rock
The mega rock band surrounded the Stanley Cup trophy after their beloved Boston Bruins won it all. For once, there was something in the room older than Aerosmith.
14. Michael Buble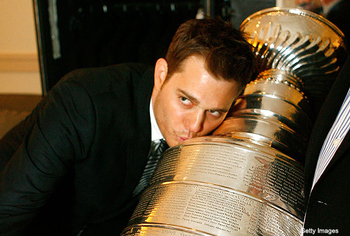 Photo Credit: Buzzfeed
The Canadian crooner may be too good at this romance thing, because he managed to seduce the rather respectable Stanley Cup.
13. Lindsey Lohan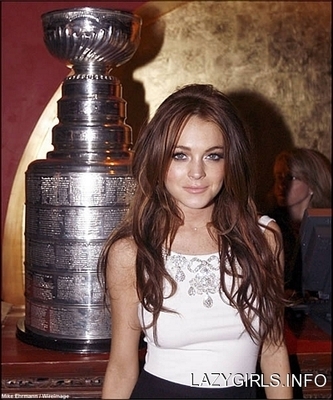 Photo Credit: LazyGirls.Info
LiLo was sober for just long enough to get a picture snapped off with the Stanley Cup. No, Lohan, you can't fill that thing up with Grey Goose and drink it.
12. President George W. Bush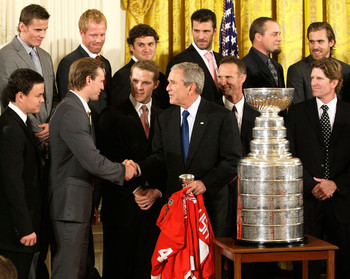 Photo Credit: Zimbio
The Stanley Cup makes frequent trips to the White House, as you will see. This silver and nickel trophy is far more important than you will ever be.
Here it is back in 2008 with the Detroit Red Wings and President Bush. It hasn't aged a bit.
11. Mark Wahlberg and Susan Sarandon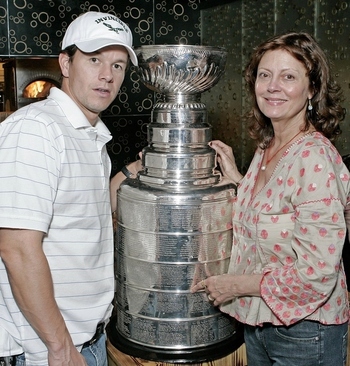 Photo Credit: BuzzFeed
Here is Mark Wahlberg and Susan Sarandon because, well, you know, why not?
The Stanley Cup brings all kinds together for a common goal: to take a picture with the crown jewel of sport's trophies.
BuzzFeed tells us that the Cup came over to Sarandon's house for dinner and Wahlberg tagged along. Marky Mark seems to be quite the mooch.
10. Kurt Russell
Photo Credit: Throughyourearpiece.blogspot.com
The obvious notion is that the Stanley Cup is more than just a hunk of metal. The prize is as big of a celebrity as any hockey star that has held it.
That means a meeting with the Stanley Cup demands some wining and dining, as seen here by Kurt Russell.
9. Justin Bieber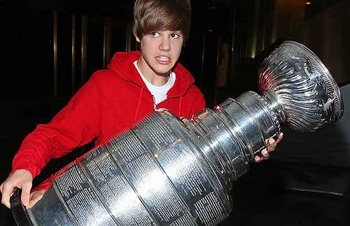 Photo Credit: The Vancouver Sun
8. President Obama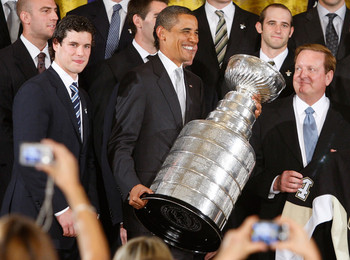 Photo Credit: Zimbio
Back in 2009, President Obama welcomed the Pittsburgh Penguins to the East Room to celebrate their victory.
Holding the highest office in the land has its perks.
7. Arnold Schwarzenegger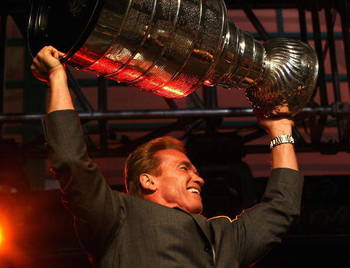 Photo Credit: About.com
Arnold Schwarzenegger celebrated with the Anaheim Ducks back in 2007. I am going to assume he threw this trophy to the ground and screamed, "See you at the party, Richter."
6. Tina Fey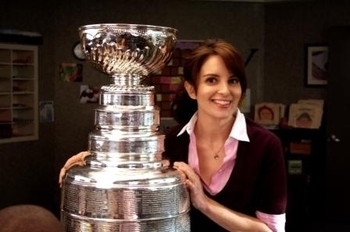 Photo Credit: BuzzFeed
As BuzzFeed reminds us, the Stanley Cup was featured in an episode of 30 Rock back in April of 2008. This is one picture that actually makes me jealous of the trophy.
Here is the Cup acting like a TV star on the hit show.
5. John Cusack, Ryan Dempster, Chris Chelios and Eddie Vedder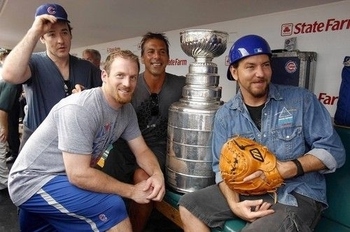 Photo Credit: BuzzFeed
The '90s version of me had his face melted off.
This picture comes during Chelios' tour around the Chicago area after the Detroit Red Wings' Stanley Cup win in 2008.
If I had to pick the biggest star in the picture, it has to be Cusack, who doesn't make a bad movie. And yes, I am including One Crazy Summer and Better Off Dead.
4. Wayne Gretzky and Janet Jones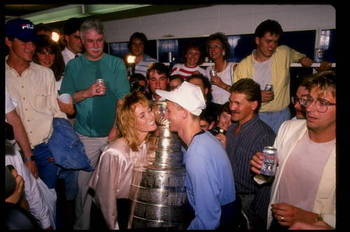 Photo Credit: About.com
Let me take you back to 1988, a fantastic time when I watched hours of TGIF on ABC and played way too much Bases Loaded.
I want to step back into this magical time when a dude wearing a white jacket and pink shirt was perfectly acceptable attire.
The Edmonton Oilers were celebrating their Stanley Cup victory in perfect '80s style.
3. Chris Chelios, Jeremy Piven, Kid Rock and Wayne Gretzky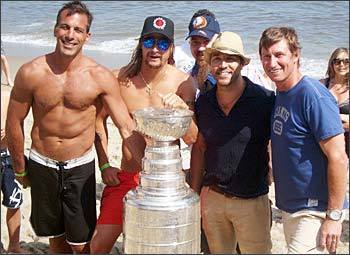 Photo Credit: Hockey Hall of Fame
Thanks to the Hockey Hall of Fame for immortalizing this moment. It's at this point that I have to wonder if I am more impressed with the Stanley Cup or Chris Chelios.
Both entities are quite the big deal when it comes to celebs, it seems.
2. William Shatner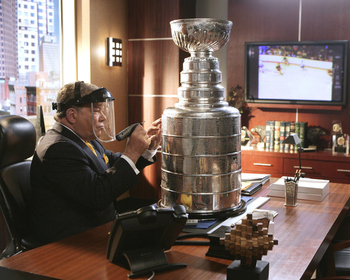 Photo Credit: BuzzFeed
Here we have the second-best captain to helm the Starship Enterprise ever. Oh, yeah. I am saying that Jean-Luc Picard is the pinnacle of captain badassery.
With that off my chest, we take a deeper look at this otherworldly picture.
BuzzFeed tells us that the Cup took time off from being a mere trophy to star in an episode of Boston Legal in 2007.
1. Hayden Panettiere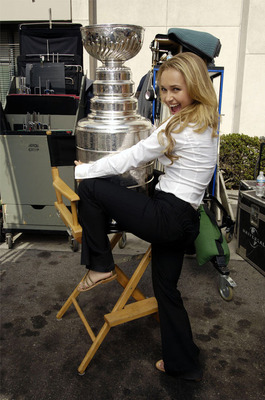 Photo Credit: Sportress of Blogitude
Men want to be with the Stanley Cup and, um, well, so do women, it seems.
Sportress of Blogitude had some pictures of the diminutive blonde beauty getting fairly comfortable with a blushing Stanley Cup.
Shame on you, Cup. Shame.
Follow me on Twitter and get up-to-the-minute awesome!
Keep Reading