2012 MLB Draft Prospects: Underrated Prospects That Will Blossom
June 5, 2012

Who will find the hidden gem? 
Finding hidden gems happens more often in baseball than any other sport given how many rounds are drafted. It's up to each organization to weed out the overrated players and dive into the underrated players.
Here are three underrated prospects in the 2012 MLB draft.  
Toronto Blue Jays: RHP Marcus Stroman
Aside from being 5'9", Marcus Stroman has all the tools to become a starter in the MLB. He has solid stuff, command and motivation to become great.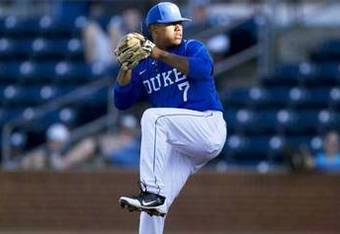 With pick No. 22, Toronto took a chance on the starter, and I think it will pay off. It usually takes years before you see prospects on the major league level, but we will see Stroman sooner rather than later. We could be looking a steal from this draft class. 
Chicago White Sox: OF Courtney Hawkins
With the 13th pick in the draft, the Chicago White Sox decided to pick up one of the best bats in the draft class. 
Courtney Hawkins' bat speed and power are the best in the class. Similar to a lot of power hitters, it's contact that's the real issue.
If he can find a nice approach at the plate, we could be looking at a guy who can hit 30 to 40 home runs every year. 
Washington Nationals: RHP Lucas Giolito
Washington decided to take a chance on Lucas Giolito and his special arm with the 16th pick after watching him fall. He could have easily been a top-three pick if it wasn't for injuries.
The risk is there, but the potential ceiling is high. He brings a fastball around 100 mph and a nice breaking ball to boot. 
Injury issues from a high school pitcher makes this selection alarming, which explains the fall, but baseball is all about upside. For the circumstance, Giolito isn't underrated in talent, but he was definitely underrated in this draft.
His upside is tremendous and well worth the selection.