Boston Celtics vs. Miami Heat Game 5: Live Score, Analysis and Reaction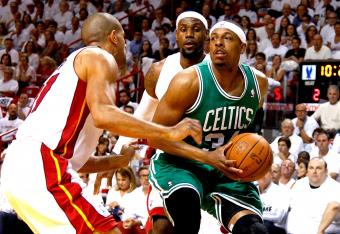 The Boston Celtics beat the Miami Heat 94-90 on Tuesday night to take a 3-2 lead in the Eastern Conference Finals.
Scroll down for updates from throughout the game.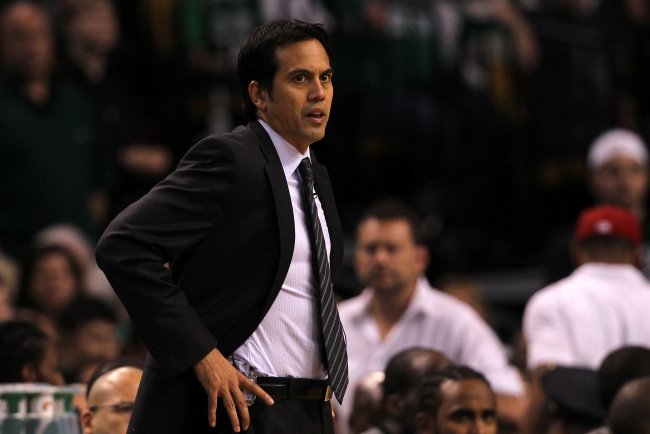 Jim Rogash/Getty Images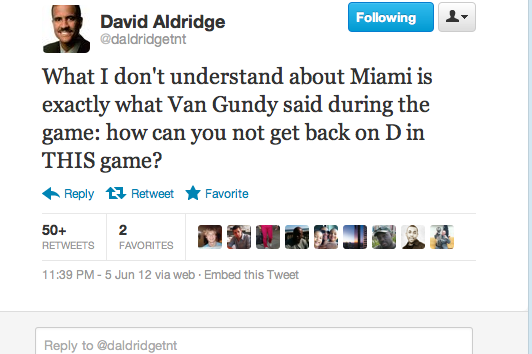 Final Score Celtics 94 Heat 90
The Miami Heat are in big trouble. The critics can blame whoever they want. It won't matter if the Heat don't win on Thursday.
Here are a few questions for the Heat as they prep for a do-or-die road game on Thursday.
Where was Chris Bosh down the stretch? Unless he re-injured himself he was effective when he was on the court. We barely saw him down the stretch. Meanwhile Kevin Garnett feasted on the Heat's defense down the stretch.
Who ( if anyone) draws up late plays? The Heat look scattered on offense every time they need a big bucket as the fourth quarter wound down.
Finally why can't the Heat get back on defense? Jeff Van Gundy harped on this during the game, and for good reason. The Heat consistently don't get back on made or missed shots.
Some numbers:
The Celtics shot 40.7 percent from the floor. Kevin Garnett had 26 points and 11 rebounds. Rajon Rondo had 7 points, 13 assists and 4 steals. He as 3/15 from the floor and the Celtics still won. Paul Pierce had 19 points, none bigger than the three he hit with 52 seconds left to give Boston a four point lead they'd never relinquish.
Ray Allen had 13 points and he was 8/8 from the line.
Miami shot 39 percent from the floor and beat the Celtics on the glass 49-39. They also got a huge night from LeBron James. James finished with 30 points and 13 rebounds. Wade had 27 points and 6 rebounds. The rest of the team was very mediocre.
If that happens on Thursday then the Heat won't have to worry about a Game 7.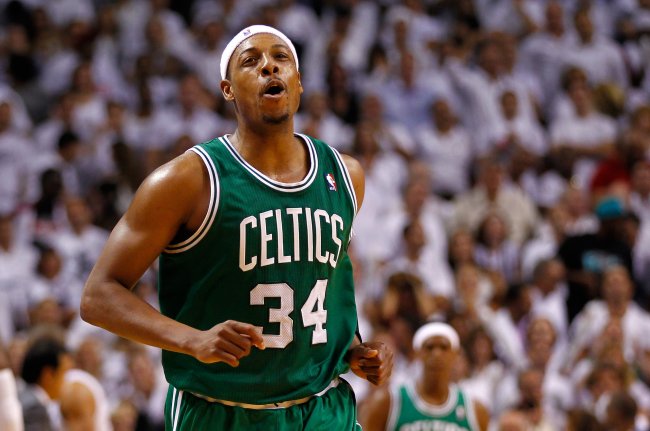 Mike Ehrmann/Getty Images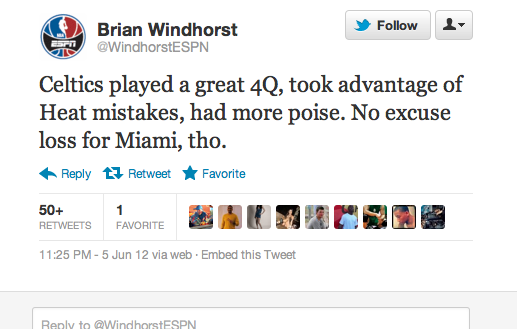 Final Score Celtics 94 Heat 90
Uh-oh, that's not how the Heat had it drawn up.
Boston just took a game from Miami. The Celtics were the better team tonight. Miami leaned too heavily on James and Wade who weren't enough. The Celtics, especially their veterans came through when it counted. They hit all their free throws down the stretch and Miami just could not match the Celtics who played near perfect basketball down the stretch.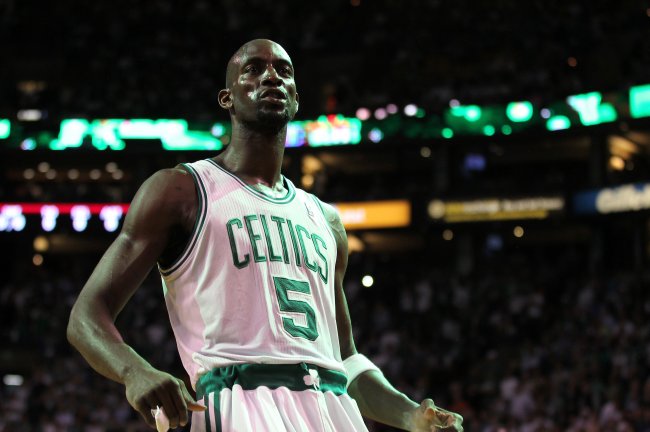 Jim Rogash/Getty Images
Celtics 94 Heat 90 : 8.8 seconds
Kevin Garnett goes to the line and drops in two free throws. Miami has used their final timeout and trails by four points.
Celtics 92 Heat 90: 9.4 seconds
Smart basketball by LeBron James. He recognized the Boston defense was guarding the perimeter so he went to the basket and scored a quick two.
That cut the Boston lead to just two points.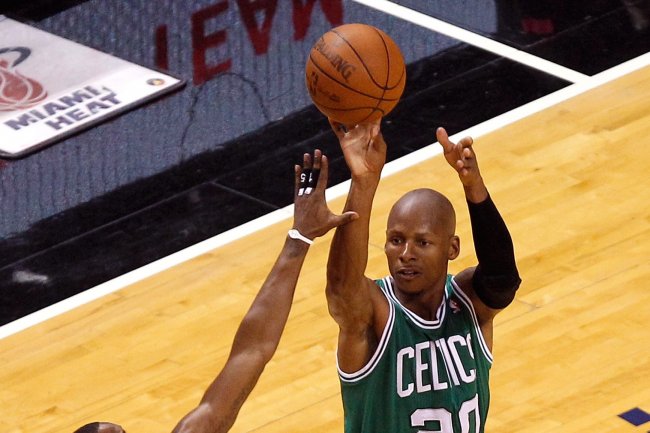 J. Meric/Getty Images
Celtics 92 Heat 88: 13.8 seconds
The Heat smack a quick foul on Ray Allen who goes to the line and nails both free throws giving Boston a four point lead.
Allen is 2/9 from the floor, but 8/8 from the line.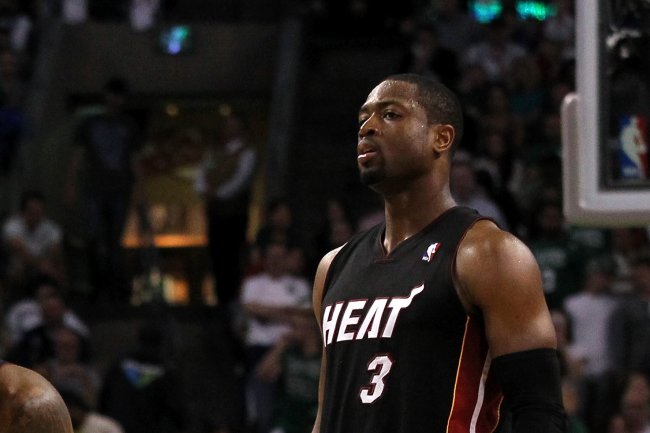 Jim Rogash/Getty Images
Celtics 90 Heat 88 : 15.2 seconds
The refs go to the video to replay a close call and reward Boston with the ball. The Celtics took the clock all the way down but could not connect and Dwyane Wade charged down court to draw a foul and get to the line.
Wade nailed both a trimmed the Celtics lead to two points. Doc Rivers has called timeout to setup an inbounds play that will no doubt seek to get the ball in the hands of either Ray Allen or Paul Pierce, two of Boston's better free throw shooters.
Jim Rogash/Getty Images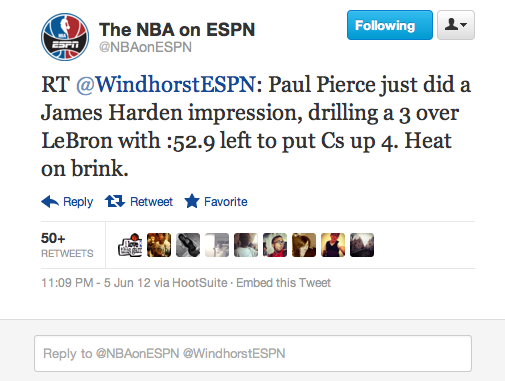 Celtics 90 Heat 86: 52 seconds
The Celtics missed a golden chance to get the ball with the lead but failed to box out Dwyane Wade.
They got bailed out by the 1/2 performance at the line by Udonis Haslem.
Paul Pierce in the midst of a miserable shooting night then came down the court and nailed a huge three pointer in Lebron James face to give Boston a four point lead with under a minute left.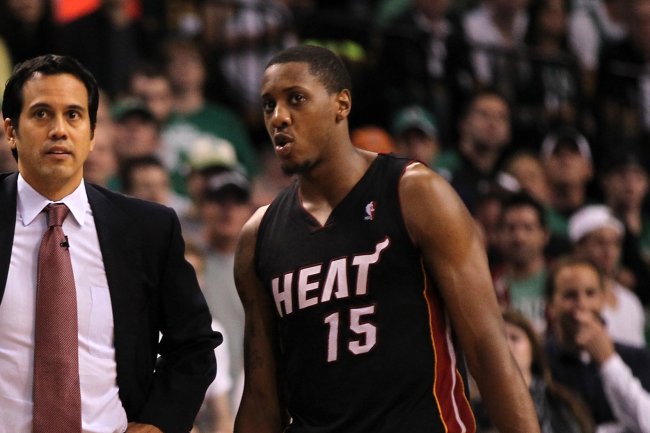 Jim Rogash/Getty Images
Celtics 85 Heat 85: 1:34 4th Quarter
Mario Chalmers got called for a ticky tack technical and them came down and hit a huge three, the Celtics answered by getting a three from Pietrus. What a game!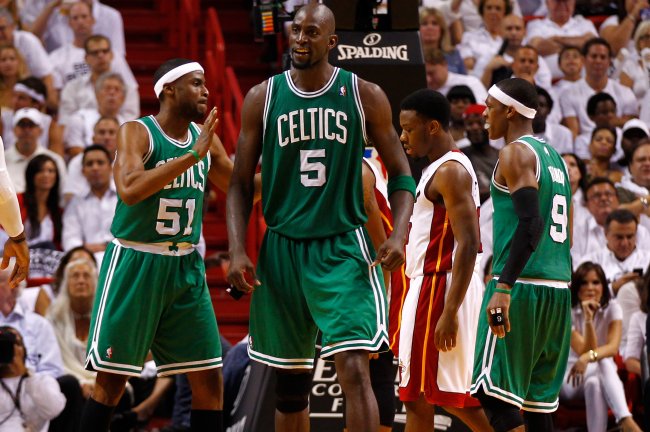 Mike Ehrmann/Getty Images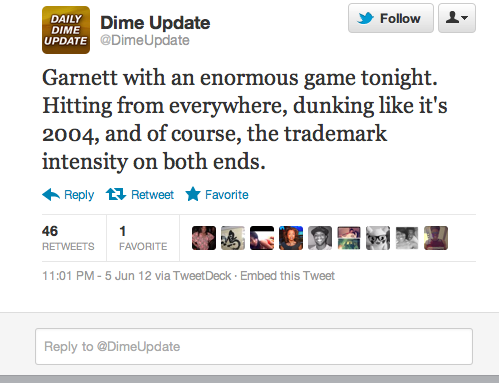 Celtics 81 Heat 80: 2:54 4th Quarter
Jeff Van Gundy is making some great points about the Heat's defensive lapses which seemed too keyed to their success on offense.
When the Heat don't score they don't always get back.
That can't happen for obvious reasons. Meanwhile that 9-0 Miami run has been stemmed and Boston and Miami are trading shots in a tight game.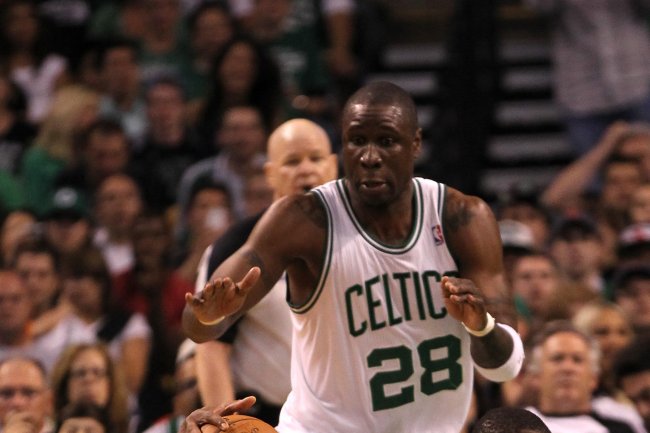 Jim Rogash/Getty Images
Heat 78 Celtics 75: 5:18 4th Quarter
A 9-0 Heat run was snapped by a three pointer from Michael Pietrus.
All of which was made possible by a spectacular block of a Brandon Bass dunk by Dwyane Wade, only problem was that the ball caromed to Rondo who kicked it to Pietrus.
Great basketball right now with great intensity.
Heat 74 Celtics 72: 6:40 4th Quarter
Maybe this is the game?
LeBron James has been much maligned for his performances in big moments and in big games. He's having a monster game tonight and this would unquestionably qualify as a "big game"
James has been outstanding. He's got 28 points and 12 rebounds and when he's gone cold Miami has struggled. When he's hit his shots Miami has been very tough.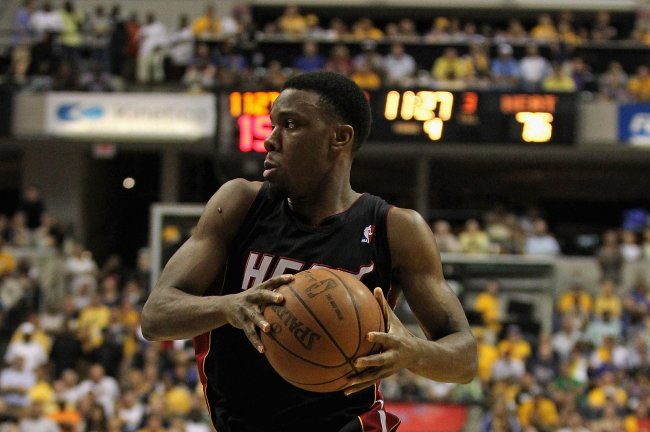 Jonathan Daniel/Getty Images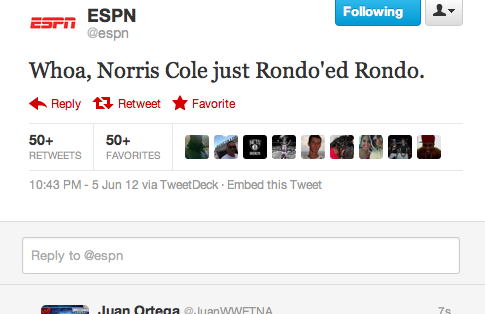 Celtics 70 Heat 69: 9:06 4th Quarter
Just like early in the third quarter when a few brief mental lapses cost Boston it's happening again.
Rajon Rondo got his pocket picked by Norris Cole from behind, a missed jumper by Udonis Haslem fell to the floor between two Celtics, each waiting for the other to grab the loose ball. It was grabbed, by Dwyane Wade who swooped in for an easy layup.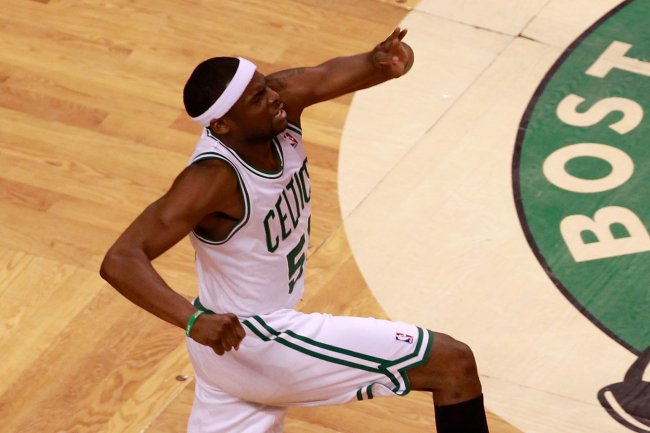 Jared Wickerham/Getty Images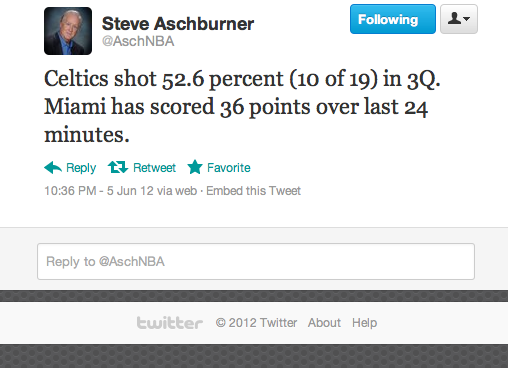 Celtics 65 Heat 60: End of 3rd Quarter
It's a 15-1 run for Boston to close out the third quarter.
Keyon Dooling, the former Missouri Tiger knocked down a corner three-ball, with two seconds remaining to cap the run, which started back when Miami had a 59-50 lead with six minutes left.
From there it was all Boston. Missed free throws, anemic offense and poor defense, all factored prominently into Boston's run.
Heat 60 Celtics 60: 1:09 3rd Quarter
The monster dunk just made an appearance on a delayed break by Kevin Garnett who tied the game at the line.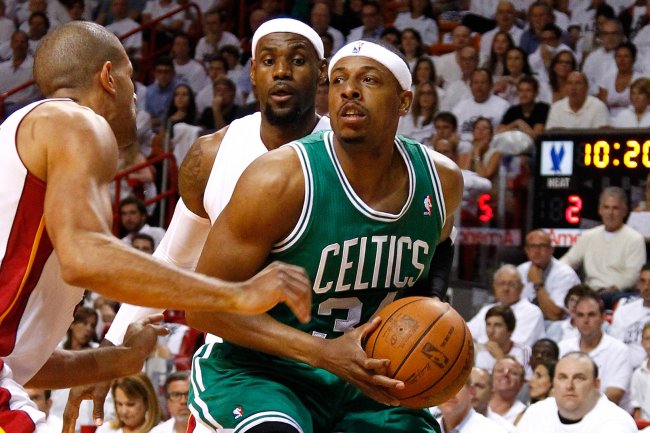 Mike Ehrmann/Getty Images
Heat 60 Celtics 56: 2:01 3rd Quarter
Boston absorbed a run from Miami and then bounced back in the first half.
Now they're doing the same thing in the second half. It was 59-50 Heat with six minutes left in the third quarter.
Now it's 60-56, a mini 6-1 run by Boston has squashed any immediate hopes of building a big lead for Miami.
Heat 60 Celtics 56: 2:52 3rd Quarter
What is up with the Heat's stars at the free throw line? Wade and James are a combined 6/10 from the free throw line.
How can these two stars shoot so poorly from the line? It's a legit concern because they're clearly the go-to guys on offense for the Heat.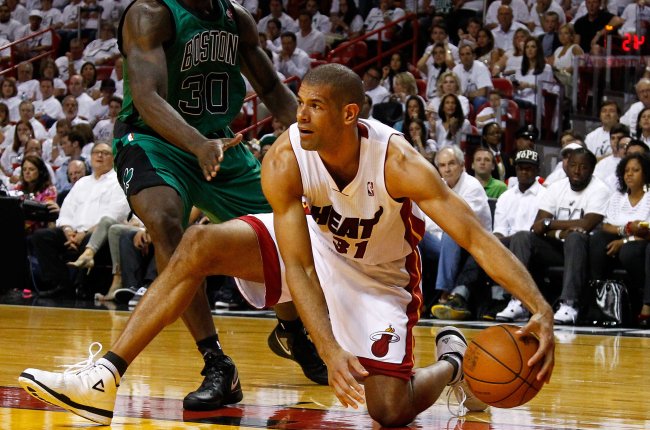 Mike Ehrmann/Getty Images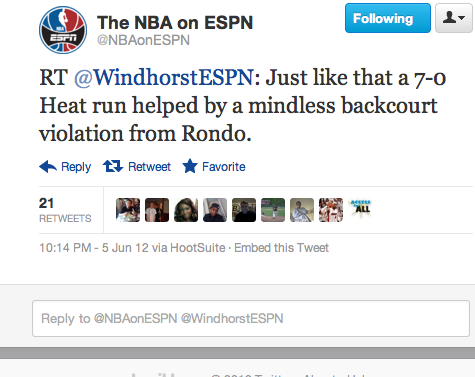 Heat 57 Celtics 50: 6:43 3rd Quarter
Miami's third quarter run may have shown up.
A 7-0 run aided by a number of poor mental miscues by the Celtics had given Miami a nice lead and momentum has the quarter heads into it's later parts.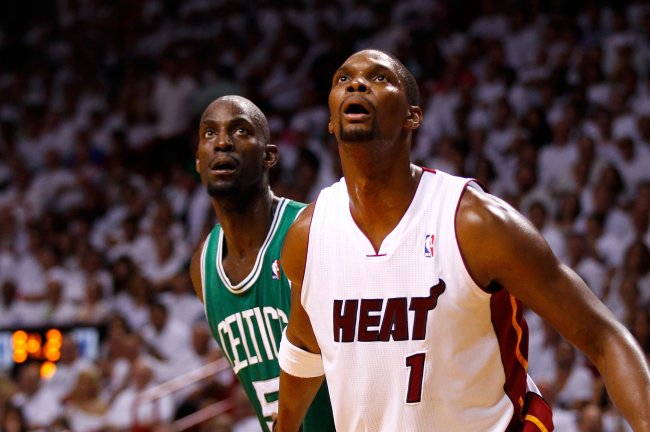 Mike Ehrmann/Getty Images
Heat 46 Celtics 45: 9:42 3rd Quarter
All series, all playoffs really Miami has been a wrecking crew in the third quarter. It will be interesting to see if the Celtics can find a way to slow down the push that Miami seems to put on every third quarter.
Tonight it seems like Dwyane Wade is determined to force the action on the offensive side of the ball. He's taken most of Miami's shots so far this half.
The Celtics are scoring off of Rondo feeds inside to Kevin Garnett.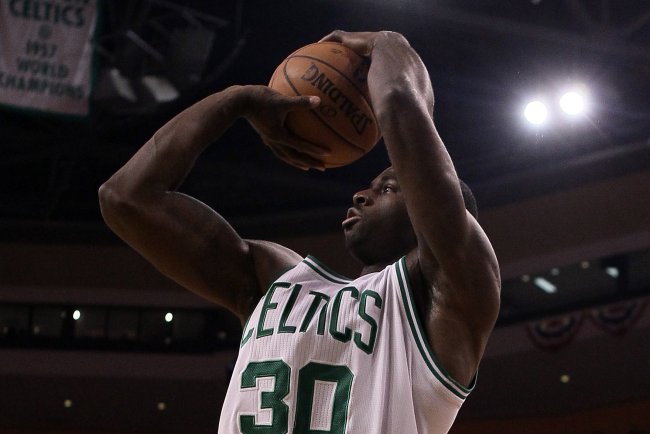 Elsa/Getty Images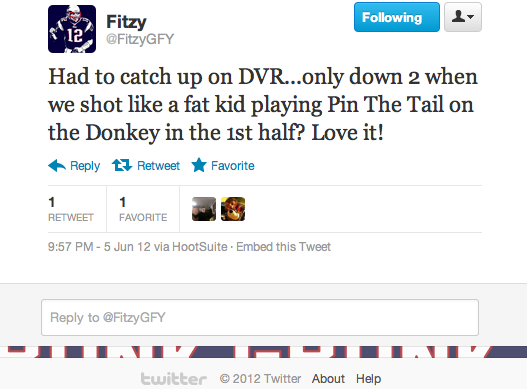 Halftime Heat 42 Celtics 40
An odd half to say the least.
If your name wasn't "LeBron James" then you didn't have a great half. James was 7/12 for 18 points and 9 rebounds. The rest of his Miami teammates were 8/29 for 24 points.
Boston doesn't have LeBron James. They've got Brandon Bass. Bass was 4/5 from the floor for 10 points. His teammates? How about 10/37 for 30 points.
It's ugly for both teams and that favors Boston. The Celtics can win an ugly game. They're not a collection of high flying dunkers and in-their-prime athletes.
They know their way around a basketball court though. The Celtics were down 31-18 with 9:18 left in the half. Clearly they did not panic.
Instead they closed the half on a 22-11 run.
Boston is shooting the ball terribly and getting out-rebounded 29-20 and 8-5 on the offensive boards and it's only a two point game.
The Celtics have been able to force a number of Miami turnovers. Boston's seven turnovers are bad, the Heat's 11 are worse.
Heat 42 Celtics 40: 24 seconds
Paul Pierce is far too cold to be in Miami.
Pierce, Allen, Garnett and Rondo are combined 8/31 from the floor. How are they even close??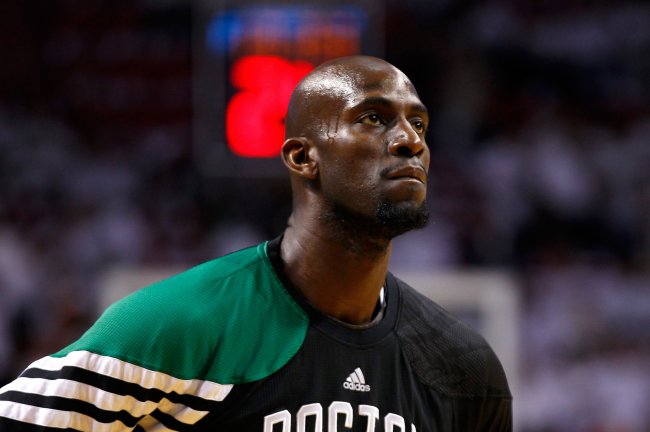 Mike Ehrmann/Getty Images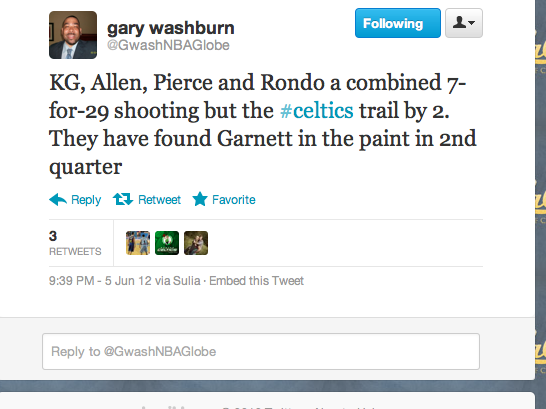 Heat 38 Celtics 36: 2:02 2nd Quarter
The Celtics have been hanging around all game, it's finally beginning to pay off.
Hustle, hustle and defense. A gritty put back and foul by Kevin Garnett will send KG to the line with a chance to cut the Heat lead to one point.
Heat 38 Celtics 30 : 3:59 2nd Quarter
The Celtics rebounding issues continue.
So far this game it's Heat 21, Celtics 14 and it's a 5-3 Heat advantage on the offensive glass.
Boston must stay active underneath the glass.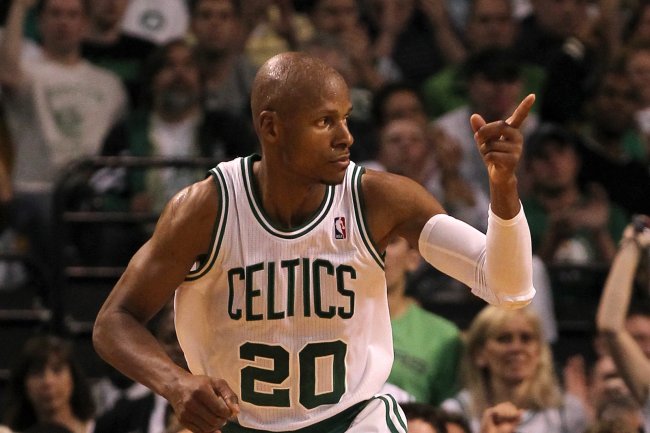 Jim Rogash/Getty Images
Heat 34 Celtics 26: 5:45 2nd Quarter
LeBron went to the bench for a little rest, and the other members of the Heat took one along with him.
No problem, James reentered the game and immediately hit a tough runner for his 15th and 16th points of the night.
It's been a great game for James so far. The Celtics don't have anyone playing all that well but they're still well within striking distance.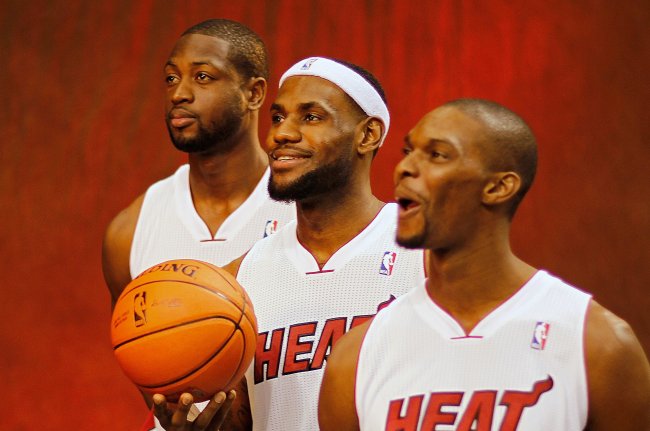 Mike Ehrmann/Getty Images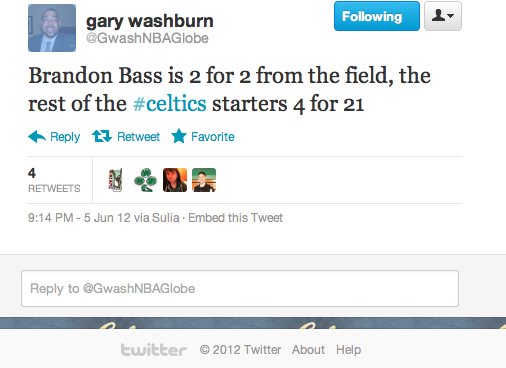 Heat 31 Celtics 23: 7:50 2nd Quarter
How's this for a "Big Three?" Bosh, James and Wade have 26 of Miami's 31 points on combined 11/18 from the floor.
The Celtics are in trouble if Miami continues to get production from all three of those stars.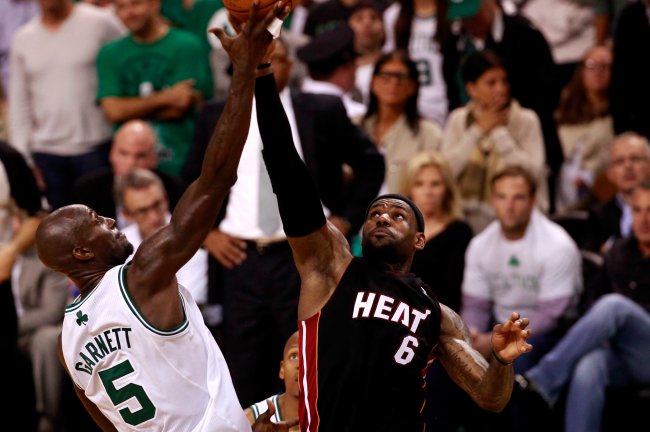 Jared Wickerham/Getty Images
Heat 31 Celtics 21: 9:01 2nd Quarter
Unfortunately it's been more of the same to start the second quarter for the Celtics.
Give Miami tons of credit too, they're staying very aggressive basketball and it's putting a lot of pressure on Boston on the defensive side of the ball.
That might be why the team has looked like they can't get their legs under their shots. Meanwhile LeBron who is starting to heat up and Miami's lead is increasing.
This article is
What is the duplicate article?
Why is this article offensive?
Where is this article plagiarized from?
Why is this article poorly edited?