2012 NBA Mock Draft: Frontcourt Studs Who Will Be Stars
June 6, 2012

Ronald Martinez/Getty Images
The 2012 NBA draft class has no shortage of potential superstars. By most accounts, this is actually one of the deeper drafts in recent memory.
A good chunk of that talent happens to play in the frontcourt. The age of skilled big men has hit the NBA like wildfire, and everybody wants/needs one.
In fact, only two guards—three at the most—will crack the top 10 on selection night.
Here's a look at which frontcourt players will be the biggest stars of all. 
1. New Orleans Hornets (21-45): Anthony Davis, PF, Kentucky
The Hornets won't make it easy for Davis to succeed, no matter how hard they try, but he, and they, will get there eventually. His offensive game will continue to improve, but he'll make an immediate impact on the defensive end and on the glass.
Davis' freakish length, athleticism and explosion are all things that cannot be taught and all the things he doesn't have to be taught.
The Collegiate Player of the Year is the favorite for Rookie of the Year.
2. Charlotte Bobcats (7-59): Bradley Beal, SG, Florida
The Bobcats desperately need someone that can consistently score the basketball, and Beal can do that and then some.
3. Washington Wizards (20-46): Michael Kidd-Gilchrist, SF, Kentucky
Davis' collegiate teammate has almost as much potential but in a different way. MKG is a super-athletic, defensive-minded star who loves to get out and run. His shot is far from consistent, but he still has a ton of offensive potential if he takes to coaching.
If he winds up in Washington, alongside a point guard like John Wall, he could immediately develop into a superstar.
He is the running mate Wall desperately needs.
4. Cleveland Cavaliers (21-45): Harrison Barnes, SF, North Carolina
Like MKG, Barnes benefits greatly from landing alongside an elite point guard. Kyrie Irving proved to be the real deal last year and now needs someone he can count on to score from the wing.
It doesn't get better than Barnes as a player and fit here. The UNC star has legitimate superstar potential but struggles to create his own shot at times.
That won't be all that much of a problem when defenses are collapsing on a driving Irving. 
5. Sacramento Kings (22-44): Thomas Robinson, PF, Kansas
Robinson put it all together this season for the Jayhawks and carried them to a title game appearance. He'll be a good player in this league but may never develop into a true star.
6. Portland Trail Blazers (via 22-44 New Jersey Nets): Andre Drummond, C, UConn
Drummond has elite potential, but he's more likely to be a bust than a star. He struggled to consistently perform at UConn, and the fact that people are still enamored with him is a bit mind-boggling at times.
7. Golden State Warriors (23-43): Perry Jones III, PF, Baylor
Like Drummond, PJIII has unlimited potential but failed to consistently play up to his ability at Baylor. The worst part about Jones' game is that he disappears at the most crucial times.
If he can't rise to the occasion at the collegiate level, what makes us believe he can do so at the pro level?
8. Toronto Raptors (23-43): Austin Rivers, SG, Duke
Rivers has a ton of potential, and he's one of the few players in this draft who is actually clutch. This is a high selection for him, but his best basketball is still ahead of him.
9. Detroit Pistons (25-41): Jared Sullinger, PF, Ohio State
A below-the-rim player with limited upside, Sullinger is a safe pick but not a potential star.
10. New Orleans Hornets (via 26-40 Minnesota Timberwolves): Kendall Marshall, PG, North Carolina
Marshall is going to be the guy that teams hope can help make their big men into legitimate stars.
11. Portland Trail Blazers (28-38): Terrence Jones, F, Kentucky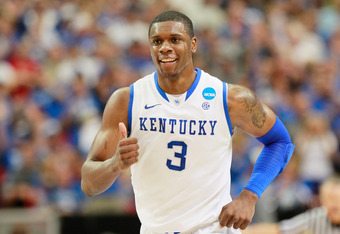 Kevin C. Cox/Getty Images
It is incredibly difficult to say where and what T-Jones is going to be in the NBA. He has a ton of potential but doesn't have a true position and doesn't always play up to his abilities.
If he lands with the right team, he could be a star, but it's far from guaranteed.
12. Milwaukee Bucks (31-35): Tyler Zeller, C, North Carolina
The Bucks sent Andrew Bogut packing at the deadline, and Zeller is the ideal player to replace him. He may never be a star in this league, but he'll be a really solid starter who can score points around the rim, rebound and hustle on defense.
13. Phoenix Suns (33-33): Damian Lillard, G, Weber State
Lillard's an undersized combo guard who struggles to see the floor but can score points. He needs some time to develop before he can be consistently counted on to do anything but score.
14. Houston Rockets (34-32): Terrence Ross, G, Washington
An ideal sixth man, Ross is a legitimate candidate for Rookie of the Year.
15. Philadelphia 76ers (35-31): John Henson, PF, North Carolina
Like his collegiate teammate Zeller, Henson will bust his hump playing defense and rebounding, but he'll never be a superstar. He'll be a solid young big man though.
16. Houston Rockets (via 36-20 New York Knicks): Meyers Leonard, C, Illinois
Leonard has a ton of developing to do, but the potential is there for the genuine seven-footer. The only way he reaches full potential is if he gets with a coach who knows how to develop bigs.
17. Dallas Mavericks (36-30): Quincy Miller, SF, Baylor
A potential star in this league, Miller will need some time to put it all together. He struggled at times at Baylor but was coming off of a high school injury, and teams haven't forgotten what type of potential he possesses.
If he lands with a playoff team, he could rise rather quickly.
18. Minnesota Timberwolves (via 36-30 Utah Jazz): Jeremy Lamb, SG, UConn
This is the floor for Lamb, but his inability to play up to his potential is troublesome to say the least. If he finally figures it all out, he could be a star.
19. Orlando Magic (37-29): Dion Waiters, SG, Syracuse
Another floor spot, Waiters has teams in the top 10 talking about him. He's a fast-rising prospect that is unlikely to escape the lottery.
20. Denver Nuggets (38-28): Moe Harkless, SF, St. John's
A do-everything guy at St. John's, there is a lot to like about Harkless. At 6'8", 190 pounds, he still has some physical developing but has a ton of potential. He can score the basketball both inside and out, is an explosive and dynamic scorer and can rebound as well.
He doesn't always play hard, especially on the defensive end of the floor, so he'll only be as good as he wants to be.
21. Boston Celtics (39-27): Royce White, PF, Iowa State
A dominating figure on the boards with an interesting blend of on-ball skills and scoring ability, White's downside comes off the court.
It remains to be seen if he can put those things aside and stay focused on the court, but if he does, the potential to be a star is there.
22. Boston Celtics (via 40-26 Los Angeles Clippers): Andrew Nicholson, PF, St. Bonaventure
Another do-everything guy with a ton of skill, Nicholson can score both inside and out, can rebound and has shot-blocking ability as well.
He does everything well but nothing great. 
23. Atlanta Hawks (40-26): Arnett Moultrie, PF, Mississippi State
This long, athletic forward plays almost like a guard at times, and that will hurt him in the long run. He has lottery skills, though, and should be drafted ahead of this.
24. Cleveland Cavaliers (via 41-25 Los Angeles Lakers): Doron Lamb, SG, Kentucky
A tough scorer, Lamb is an ideal bench player who can score points in bunches.
25. Memphis Grizzlies (41-25): Tony Wroten, PG/SG, Washington
Wroten has a ton of admirers, but his shot is broken, and he's a me-first player. All of those things need to be fixed before he can star in this league.
26. Indiana Pacers (42-24): Marquis Teague, PG, Kentucky
This youngster has a ton of potential, but he has a ton of developing to do first.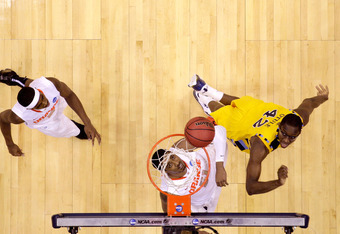 Andy Lyons/Getty Images
27. Miami Heat (46-20): Fab Melo, C, Syracuse
The Syracuse big man has some serious upside, but he's a troublesome youngster who struggles to stay on the court, let alone dominate on it.
He's an untrustworthy pick.
28. Oklahoma City Thunder (47-19): Draymond Green, SF, Michigan State
Green will max out as a do-everything role player for a contending team. That certainly isn't too bad, though.
29. Chicago Bulls (50-16): John Jenkins, SG, Vanderbilt 
The shooting guard position continues to be a sore spot for the Bulls, so Jenkins, the best shooter in this draft, fits in perfectly.
30. Golden State Warriors (via 50-16 San Antonio Spurs): Jeffery Taylor, SF, Vanderbilt
Taylor is a great value pick here. The Vandy swingman is super athletic, loves to play defense and will be a great role player at the next level.