Chicago White Sox: De Aza Proving That He Has All the Tools
June 8, 2012

Jonathan Daniel/Getty Images
The Chicago White Sox are surprising almost everyone this season as they currently lead the American League Central by a game and a half and appear to be a serious contender for the division title.
A big reason for their success is that they are getting contributions from just about everyone in their lineup, but nothing is more important to an offense than having a leadoff man that sets the table—and Alejandro De Aza is getting it done like a busboy at an upscale restaurant.
De Aza is currently hitting .296 with four home runs and 25 RBI to go along with 40 runs scored and 13 stolen bases.
His .296 average puts him just outside the top 10 (13th) in the league while his 40 runs scored are fourth and his 13 stolen bases are second in the league.  He is also just outside the top 10 (11th) in hits with 64 and is tied for second with three triples. 
Oh and he's also is hitting .300 with runners in scoring position—other than that he hasn't done much.
To be honest, he has probably been one of the most productive leadoff men in the American League—along with Austin Jackson, Ian Kinsler and maybe Derek Jeter—so far this season.
He has also been great defensively in center field, committing only one error in 142 chances for a .993 fielding percentage.  He has above-average speed and can track down the ball in the gaps in addition to having a pretty good arm.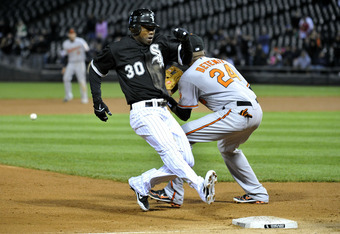 Brian Kersey/Getty Images
Yes, Alejandro De Aza is the real deal—but it wasn't an easy road for him to get to this point.
He was originally signed by the Los Angeles Dodgers as a non-drafted free agent in 2001 and was then selected by the Florida Marlins as part of the minor league phase of the Rule 5 draft in 2004.
In 2007 De Aza finally reached the majors with the Marlins and played in 45 games, but early in the 2008 season he suffered a hairline fracture of his ankle that sidelined him for the remainder of the season.
Finally recovered from the injury, he was called up briefly in 2009, but was placed on waivers after the season.  He was later claimed off waivers by the White Sox in October of 2009.
Since joining the White Sox, De Aza has been very impressive and probably should have been the White Sox everyday center fielder last season.  When he was finally called up last year, he showed the White Sox what they had been missing—and he has continued that this season.
He has shown them that he can be productive in the leadoff spot mixing speed with some power and the ability to both score as well as drive in runs.
He has never hit below .300 at any level since joining the White Sox and is giving them the leadoff man they have been searching for since Scott Podsednik left for the second time after the 2009 season.
De Aza is a nice story because he's had to work for everything he's gotten to this point—nothing has been handed to him.  He has been able to overcome injuries and persevere into a solid leadoff hitter and center fielder at the major league level.
And the good news for the White Sox is that he's still only 28 years old.
If he can continue to produce, the future looks bright at the top of the order for De Aza and the Sox.