Belmont Stakes Winners Since 1978: By the Numbers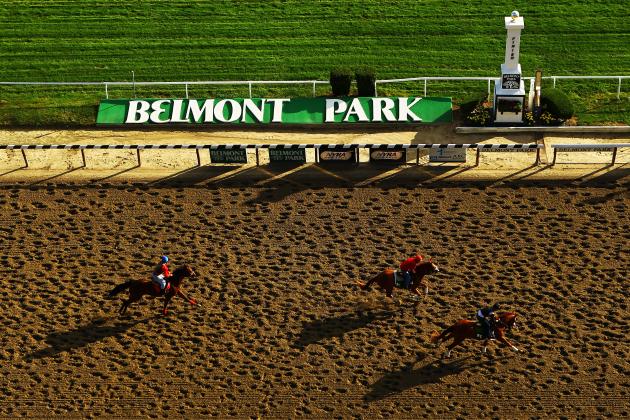 Al Bello/Getty Images

As even the most casual of horse racing fans know, the Belmont Stakes has not allowed a Triple Crown winner since 1978.
34 years have come and gone, and 11 Triple Crown chances have been decimated. Here's a look at some intriguing statistics of Belmont winners in that span of time.
Begin Slideshow

»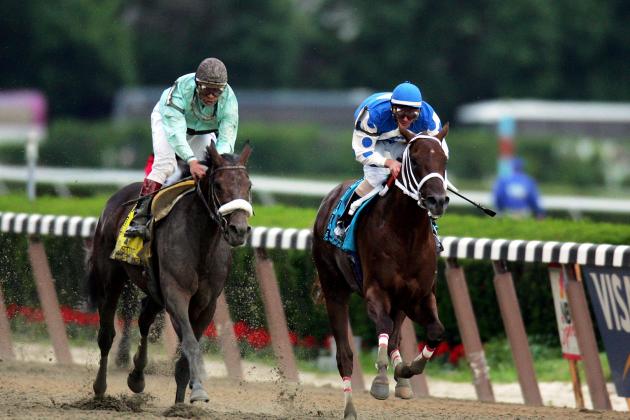 Al Bello/Getty Images
Birdstone, 2004 Belmont Stakes winner
Number of Winners Who Skipped the Preakness but Ran in the Kentucky Derby
Since 1978, there have been seven horses that have hopped their way to a Belmont win after skipping the Preakness.
Logic would tell you that this would be the best way to keep a horse fresh and ready for the 1.5-mile marathon. However, we see this scenario producing the second-least number of Belmont winners out of the four possible Triple Crown scenarios. The other three are:
Running in both the the Kentucky Derby and the Preakness: 12 winners
Skipping both the Kentucky Derby and the Preakness: 14 winners
Skipping the Kentucky Derby and running in the Preakness: One winner
Dullahan and Union Rags will try to win under the above-headlined scenario. Optimizer and I'll Have Another will try to become the 13th Belmont winner with Derby and Preakness experience. The rest of the field has the odds in its favor, with the highest number of past Belmont winners winning without a Triple Crown race on their résumé.
These statistics do not take into account races that might've replaced the Kentucky Derby or Preakness Stakes, such as the Peter Pan Stakes or Derby Trial races.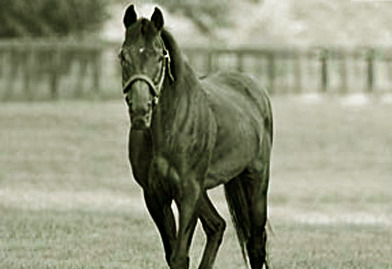 Mr. Prospector, photo courtesy of Summerhill Stud
Number of Belmont Winners with Mr. Prospector within Three Male Generations
Mr. Prospector is regarded as one of the most outstanding sires (and, perhaps more accurately, sire of sires) in the horse-racing world.
A son of Raise A Native, Mr. Prospector has produced great sons like Gulch, Forty Niner and Gone West—all of these sons being sires of Belmont Stakes winners.
Time moves on, and Mr. Prospector is being shoved out of immediate bloodlines, yet his relevance is still persistent.
In the 1995-and-later "Lasix Era," Mr. P has been grandsire of five Belmont champions and been great-grandsire of six more. However, it is now rare to see Mr. P as an immediate relative because of the many generations that have passed. Instead, we see his sons having an influence.
Smart Strike and Gone West (both sons of Mr. Prospector) appear in the three-generation pedigree of four horses in the 2012 Belmont field. Forty Niner is I'll Have Another's great-grandsire, while Fappiano is the great-grandsire of Guyana Star Dweej.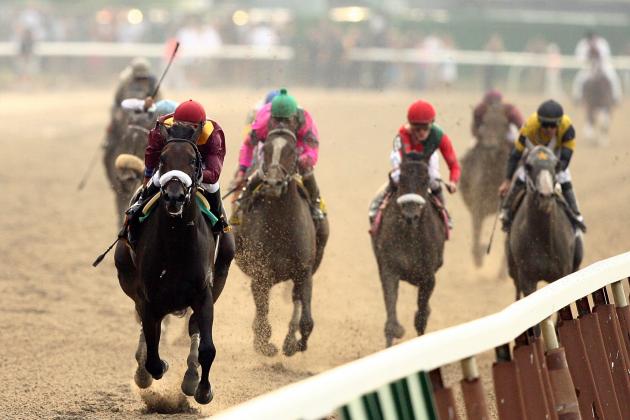 Al Bello/Getty Images
Da'Tara leading the 2008 Belmont Stakes field
Number of Wire-to-Wire Winners Since Affirmed in 1978
The Belmont does not seem to reward speedsters.
Only two horses since 1978 have accomplished the feat of leading the pack at every call. Da'Tara led the whole way in 2008, on her way to paying out at 38-1 odds and dethroning the indomitable Big Brown from Triple Crown stardom. Swale, a son of Seattle Slew, blazed his own wire-to-wire path in 1984.
There is not a clear speed horse in this year's Belmont, so this statistic may not be especially useful in handicapping. However, if during the race one horse is leading from the gate into the second turn, it would be safe to predict he'll run out of gas before long.
Paynter, in my opinion, could prove to fall into the speed trap. He's shown blazing speed, and Baffert might think his endurance will hold up. If Paynter tries to run this race, history is against his chance of winning.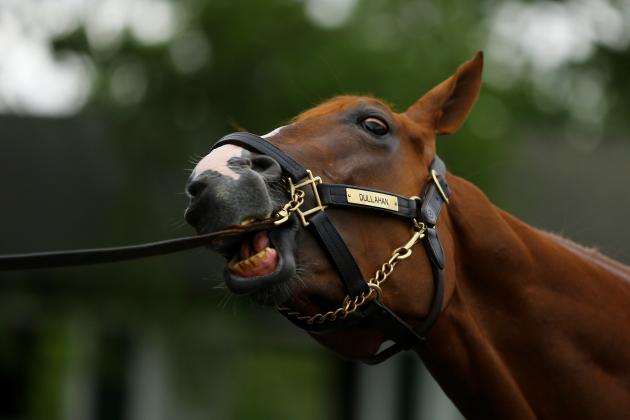 Al Bello/Getty Images
Dullahan
Percent of Winners in First, Second or Third Place at the Head of the Stretch
This is huge number. There has been only one horse in 34 years to win from behind third place at the top of the home stretch.
Coincidentally, it was as recent as two years ago when Drosselmeyer closed from fourth place to run down First Dude for the win. This is discouraging for one of this year's favorites.
Dullahan loves to be far back going into the stretch.
Only twice has he run third place or higher at this position on the track. This could be the reason his trainer, Dale Romans, has been running Dullahan as fast as lightning in his workouts. Dullahan surprised everyone with a sub-46 second four-furlong workout on Sunday.
Look for Javier Castellano to race his horse very close to the lead in homestretch time on Saturday. Dullahan cannot afford to sit too far back, even though he'd like to.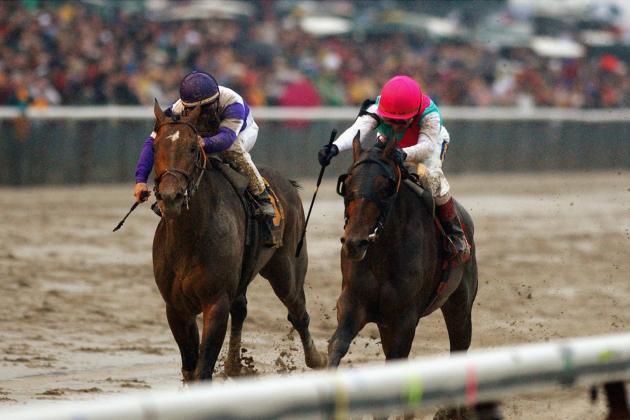 Matthew Stockman/Getty Images
Empire Maker, 2003 Triple Crown spoiler
Number of Triple Crown Spoilers Since 1995 That Have Raced the Hopeful in the First Two Legs
In the Lasix Era, there have been seven occasions on which the Belmont Stakes winner spoiled a Triple Crown sweep.
On five of these occasions, the Belmont winner had raced against the Triple Crown hopeful in at least one of the previous two legs of the Triple Crown.
New shooters come into the Belmont with no knowledge of the crowd, the noise or the pressure that will be heaped upon them come post time. Runners with Triple Crown experience, on the other hand, have felt these things before and stand a better chance of doing well.