Belmont Stakes 2012 Favorites: Complete Look at Where the Smart Money Is Riding
June 6, 2012

Al Bello/Getty Images
I'll Have Another will be looking to be the first Triple Crown winner since 1978 on Saturday at the 2012 Belmont Stakes.
The odds are currently 6-4 for I'll Have Another. Not that big of a payout, but there are other favorites who could get you more money. 
Union Rags (4-1)
Union Rags is going to have a great opportunity to win the 2012 Belmont Stakes. There has only been one horse since 1978 (Affirmed) who has won the Triple Crown. There is a reason for that.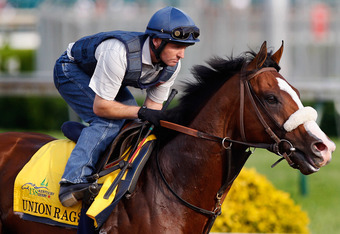 Rob Carr/Getty Images
You can only control your horse, and that still isn't enough of an insurance policy. I'll Have Another will have a tough time winning the third leg, and that leaves the door open for several others, including Union Rags.
Union Rags sat out the Preakness, so the energy level should be fine for the longest track of the three legs. 
As a favorite, Union Rags is getting a lot of love from bettors. 
Dullahan (6-1)
Dullahan might be the one to spoil the party for I'll Have Another. At 6-1 odds, Dullahan isn't well known outside of the horse racing community, but the potential to spoil the Triple Crown is there.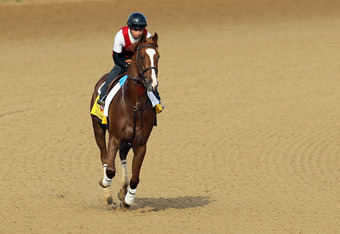 Elsa/Getty Images
Resting for Belmont will turn into a great decision after finishing third in the Kentucky Derby. The rest will be the best way to prepare for the longest track of the three events. 
Middle-of-the-pack bet: Optimizer (35-1)
After a disappointing Kentucky Derby (11th) and a decent finish at the Preakness (sixth), Optimizer is looking for another major jump at the Belmont.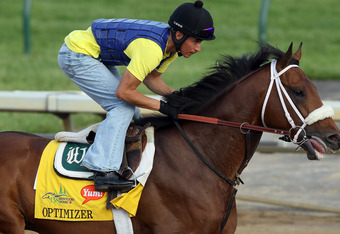 Elsa/Getty Images
But the Preakness wasn't about winning for Optimizer; it was about preparing for the Belmont. That has been the strategy for Optimizer's camp this year, and it could pay off.
According to Steven Petrell of The Baltimore Sun, D. Wayne Lukas believes that the race Optimizer is most likely to win is the Belmont Stakes. That's one of the reasons he decided to give Corey Nakatani a chance to ride Optimizer at the Preakness. 
"We're thinking the Belmont is going to be our best race," Lukas said. "Most Triple Crowns are blown by misjudgments by the rider, not the horse. We wanted to get him that experience and he seemed like a good fit…we're trying to use the Preakness as a preparation for the Belmont."
We'll find out Saturday if the strategy worked out or fell flat. 
Complete odds according to Sportsbook.ag:
Dullahan: 6-1
Five Sixteen: 60-1
Guyana Star Dweej: 60-1
I'll Have Another: 6-4
Optimizer: 35-1
Paynter: 10-1
Ravelo's Boy: 60-1
Street Life: 18-1
Union Rags: 4-1
Unstoppable U: 35-1
Atigun: 40-1