NFL: Why Replacement Officials Put League in Dangerous Position
June 5, 2012
Jeff Zelevansky/Getty Images
Be prepared to yell at your television sets a bit more this fall. 
The NFL will hire and begin training replacement officials after talks between the league and the NFL Referees Association broke down on Sunday. 
According to the ESPN report, both sides expected to agree on a new collective bargaining agreement, but the optimism has dissipated. 
The NFL claims "new demands made by officials" led to the end of the talks.
From the column on ESPN.com, the NFL's search would instead target retired college officials and perhaps current ones who would be qualified to work professional games.
While it's not totally inconceivable to think the "replacement officials" could do a decent job on the game's biggest stage, chances are they'll struggle this season. 
Every questionable call will be ridiculed more than ever. 
Unfortunately, the new officials are being placed in quite the precarious situation.
The NFL's amid a vital period in which it needs to reconstruct its image, especially regarding player safety. The league has no choice anymore. It must institute more personal foul penalties for the ever-popular but ever-dangerous hits. 
Many haven't been pleased with the precision of officiating over the last few years. Imagine what will happen when a "replacement referee" calls a game-changing 15-yard penalty on James Harrison for what many deem a love tap on a quarterback.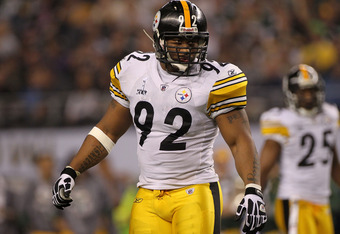 Doug Pensinger/Getty Images
Yikes.
The league can't afford to see a decrease in the level of officiating, especially when guys labeled as "replacements" are making the calls. 
If there's an abundance of missed or blown calls, it could potentially drive fans away from the new, poorly officiated game. Fans love complaining about the officiating. Now they'll seemingly have good reason to complain. 
It can't be easy making split-second decisions based on an extensively complex rulebook while watching some of the biggest, fastest and strongest athletes on the planet, so I wouldn't envy the "replacement referees'" promotion to the NFL.
Actually, they're being put in quite the unenviable situation.