Reasons Why Mets Starting Pitchers Johan Santana and RA Dickey Are a Top Tandem
June 5, 2012

Mike Stobe/Getty Images
Every New York Mets fan knew that Johan Santana and R.A. Dickey are two really good pitchers. But I bet it was hard for them to predict they would be one of the top one-two punches in the league.
Santana has an undeserving 3-2 record, a 2.38 ERA, a 1.03 WHIP and 68 strikeouts in the same amount of innings. All of his numbers are sparkling, except for the wins total. But he deserves more wins, it has just been a matter of the Mets bullpen blowing games for him and not scoring enough runs.He is also coming fresh off a complete game shutout against the San Diego Padres, and a no-hitter against the St. Louis Cardinals.
The no-hitter was the first in Mets history.
Dickey is pitching fantastically as well. He is tied for the league in wins with eight, holds a 2.69 ERA, a 1.06 WHIP, and 70 strikeouts in 73.2 innings. He only had one bad start where the Atlanta Braves lit him up, because his knuckler was ineffective in the rain. Otherwise, his ERA would be gorgeous. Dickey's most recent outing saw him go nine in a shutout over the Cardinals.
Going by stats and not by name, there are only few other tandems in the league that compare to Santana and Dickey:
David Price and Jeremy Hellickson of the Tampa Bay Rays, Jered Weaver and C.J. Wilson of the Los Angeles Angels, Chris Capuano and Clayton Kershaw of the Los Angeles Dodgers and Stephen Strasburg and Gio Gonzalez of the Washington Nationals.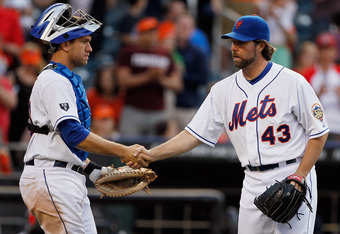 Mike Stobe/Getty Images
As mentioned, it is the little things that prevent Johan from being an eight win pitcher right now, and Dickey from being a 2.40 ERA guy.
The styles of these two are also very different and are easily capable of throwing a team off. Santana is a tricky veteran who fools batters with his location and amazing changeup.
Dickey speaks for himself as he is a knuckle-ball pitcher. The fact he is not a conventional knuckle-ball pitcher makes things even worse for teams.
There is no kidding that these two are both aces for the Mets. Even fans of other teams have to admit this duo is the real deal.