Jerry Sandusky Trial: Joe Paterno's Family Will Reportedly Testify in Case
June 19, 2016
Patrick Smith/Getty Images
Joe Paterno's wife and son were reportedly on list that was shown to potential jurors of witnesses who will testify in the Jerry Sandusky trial.
The news comes from the Associated Press: 
The names of Sue and Jay Paterno and members of Sandusky's family were on a list shown to the prospective jurors, along with assistant coach Mike McQueary and his father, John McQueary.
Sandusky was indicted on 40 counts of sex crimes against young boys back in early November of 2011 (via ESPN), and has been awaiting trial under house arrest ever since. 
What follows is a closer look at this newest development.
What It Means
This is bigger than sports.
You have to have a lot of respect for Sue and Jay Paterno and anyone else willing to testify in this case. The people who are needed to make the case against Sandusky have gone through more during this entire ordeal than any of us can even imagine.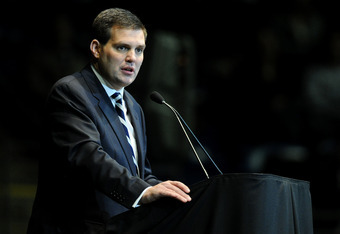 Patrick Smith/Getty Images
There's no way they want to keep reliving the horrific details of what has happened, but they are willing to do so to bring justice. 
Whether it is members of Paterno's family, the reported victims or anyone else, it takes an incredible amount of strength to tell your story in front of a jury.
I commend them for that.
What's Next
Opening statements are expected to begin on June 11 (via ESPN). Sandusky's lawyer, Joe Amendola, wanted more time, but now that jury selection has started, things will get underway as expected. 
If Sandusky is convicted of these charges, he could face life in prison (via pennlive.com).
Unfortunately, according to the above ESPN report, some of the victims will have a hard time moving on after testifying against Sandusky.
Ben Andreozzi, who represents one of the alleged victims, said the ruling won't stop his client from testifying against Sandusky, but that having his name made public in open court could make it harder for him to live his life.

"It's almost as if he's being branded with a scarlet letter," Andreozzi said. "This is something he may not ever be able to escape from -- 'Oh, he's one of Jerry Sandusky's victims.' "
Hopefully, at the very least, everyone who has been involved or affected by these events can begin to move on and try to put these events behind them.