Game Tape 101: What Traits, on Film, Define an Elite NFL QB?
June 5, 2012

Jonathan Daniel/Getty Images
Despite what the media says, elite quarterbacks are few and far between. There simply aren't many elite quarterbacks in the NFL, and as a matter of fact, you can count them on one hand (in no specific order): Tom Brady, Peyton Manning, Aaron Rodgers and Drew Brees.
But what characteristics do these four quarterbacks have that separates them from others and puts them in "elite' status?
It's their uncanny ability to fit throws into tight windows with great velocity, the ability to maneuver in the pocket ever so slightly to evade a pass-rushing demon, their consistency within every drop-back, their incredible accuracy and their cold-blooded ability to make throws on third and longs to move the chains while a defender is barreling down on them.
That's what makes them elite. 
Arm Strength
A quarterback's arm strength is pivotal in his evaluation because it can totally destroy an offense's philosophy or dramatically alter it.
The epitome of the former is 2007's No. 1 overall pick, Jamarcus Russell. Russell was rated by many as the top quarterback in the process leading up to the 2007 NFL Draft primarily because of his arm strength. 
Russell illustrated this at his Pro Day, by heaving passes left and right at extraordinary distances and with sky-high arcs, which ultimately led the late Al Davis' Oakland Raiders drafting him. However, despite having a howitzer for an arm, he never made vertical throws on a rope and lacked many other crucial traits in quarterbacking. 
However, it's a different case with Peyton Manning. Manning has a very strong arm and he can make all the throws. Throughout his career, he has the shown the ability to make laser throws not only down the field, where he's made a living throwing to the likes of Marvin Harrison and Brandon Stokley over the years, but outside the hashes as well.
Take, for instance, the throw for a first down in the fourth quarter that Manning made against the Baltimore Ravens in the 2006 AFC Championship Game. It still has Ray Lewis talking.
With just under four minutes left to play, Manning came to the line of scrimmage and lined up in a shotgun set with 11 personnel (one back and one tight end), the Colts base package. The Ravens sent five rushers to get after Manning when the Indianapolis quarterback dropped back. 
While dropping back, Manning looked down the middle of the field to read how many safeties there were deep and then immediately shifted his eyes to his right, eyeballing his favorite weapon, tight end Dallas Clark.
Clark was running an out-route on the play, but he was covered by defensive back Cory Ivy very well. Ivy mirrored Clark and appeared to have him covered all the way through the route. But no man is covered enough for Manning, who threaded the needle with a laser pass to the tight end. 
Manning's pass looked simple, but it was incredibly difficult, not just because of the coverage, but the field position as well. Look where Manning is standing when he makes the throw; he's on the opposite hash. That means he's throwing into the Field (wide) side of the football field. 
As NFL scouts like to say, "now that's an NFL throw".
Pocket Presence
3...2...1...blast off!
When a quarterback is scanning the field, he needs to have a clock in his head and a feel for the pocket because there's simply not a whole lot of time to throw the ball. Quarterbacks have anywhere between one and three seconds to throw the ball (depending on the type of drop-back) while in the pocket, so they have to get the ball out quick.
Unfortunately, some don't have that clock in their head and can't avoid the rush, such as Drew Bledsoe in past years. However, Drew Brees of the New Orleans Saints does have this clock in his head and quick feet that enable him to move within the pocket.
When Brees drops in the pocket, he has a great understanding of where the rushers are coming from and how long he has in the pocket while also having timing with this receivers' routes despite the chaos around him.
An instance of this came against the Bills when Brees snapped the ball and executed a play action fake to the tailback. Play action passes tend to take longer to develop because of deep crossing routes usually being ran by the outside receiver, consequently forcing the quarterback to hold the ball longer as was the case here with Brees' back foot in the ground.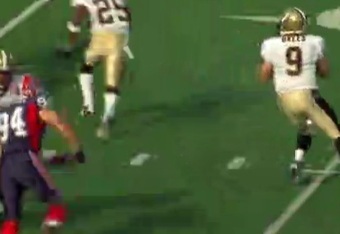 However, because of pressure from his blindside, Brees starts to go to his right to avoid the pressure. This forces the clock in his head to speed up because the defender is approaching him.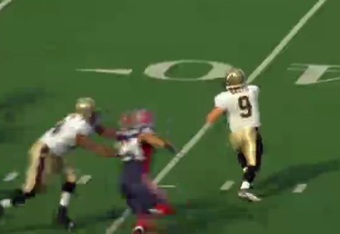 Unfortunately for Brees, he walks into more pressure when he goes to his right, where 2 more defenders are closing in on him. Despite the pressure, Brees gets the ball out quickly by releasing it right before he is hit. This is an impressive display of the clock in his head and quick feet in the pocket.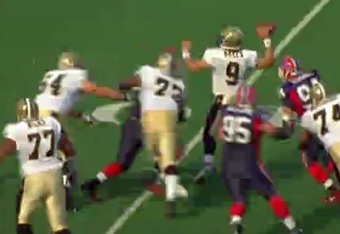 Footwork
In addition to arm strength and pocket presence, footwork is a defining trait of elite NFL quarterback play.
Footwork is crucial at every position, especially quarterback because of how detailed the position is. If there is one mishap in the footwork, such as not pointing the lead foot at the intended target, it's an incomplete pass or a turnover.
Buffalo Bills quarterback Ryan Fitzpatrick is an example of a passer who has inconsistent footwork. Fitzpatrick has a strong tendency to lock his front leg, which prevents him from rotating his hips and consequently, forces a poorly thrown pass.
Staying in the division, New England Patriots signal caller Tom Brady has exceptional footwork. His footwork is consistent within every drop and a big reason for this is because of his work with late quarterback guru Tom Martinez.
Martinez taught Brady to take short steps while keeping his eyes up and rotate his hips as well as bring his shoulder over in order to transfer his weight from his back foot to his front (see in video to right), which Brady does with absolute consistency. 
This is a significant reason why he's arguably the best quarterback in the NFL, and perhaps, the best ever.
Accuracy
"The ability to perform a task with precision." 
Accuracy, sometimes termed "ball placement," is different than all of the other previously mentioned traits. It's inherent in that it is a given physical gift that little work can be done on to improve.
Sometimes beat reporters will put out a column stating that quarterback X threw 1,200 passes this offseason in order to improve his ball placement, which sounds great in theory, but it's not as effective in practice because against defenses, quarterbacks have to make snap judgments. 
Whether he's throwing against air or a defense, Green Bay Packers quarterback Aaron Rodgers is accurate. Last season, the former Cal product completed an eye-opening 69 percent of his passes, and some of his throws were otherworldly, to say the least.
One of those throws came against the Chargers, a 16-yard touchdown that was simply incredible. Rodgers looked to his right where receiver Jordy Nelson was covered by a Chargers defensive back who was running stride for stride with him. Despite the quality coverage, Rodgers didn't hesitate to throw it to him and put it only where only his receiver could get it: his back shoulder and low.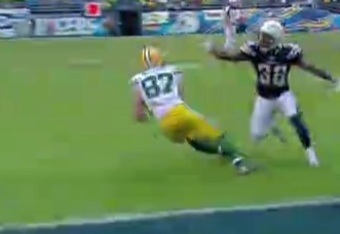 Another example came against the Lions at Lambeau Field, where Rodgers made a tight throw down the middle of the field to tight end Jermichael Finley. Finley ran a seam route and was covered tight by a Lions linebacker. However, Rodgers threw it, and with pinpoint accuracy, delivered a touchdown pass.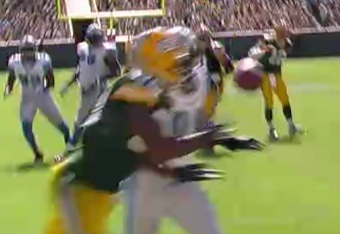 It's hard to argue the quality of Rodgers' accuracy.
Killer Instinct
There are probably several terms to apply to this situation, but for me it's the killer instinct of a quarterback that is vital to his becoming a top-notch football player. 
Killer instinct in a quarterback shows up late in the game when he has to drive down the field for the winning score or when it's third and long and he has to complete a pass to move the chains.
The latter typically shows up more in games, thus has the greater sample to evaluate from. The previously mentioned four quarterbacks (Brees, Manning, Rodgers and Brady) are great in these situations because they've rehearsed them, they are poised and they know where they are going with the ball.
They know that they can't make a mistake and that they don't have to force the ball down the field in order to move the chains; instead, they can dump it off to their outlet receiver against Cover 2 and pick up the necessary yardage to pick up the first down. 
Overall
"Elite" is a term that gets tossed around a lot among the NFL media  when discussing the quality of quarterbacks, and it's misleading to state that there are more than a handful of them in the NFL today. 
There are only a handful of elite quarterbacks, and they are the Saints' Drew Brees, Green Bay's Aaron Rodgers, New England's Tom Brady and Denver's Peyton Manning. These four players can take over games at any time and always keep their teams in them, which is why they are the best.