Texas Football: Top 10 Players for the 2012 Season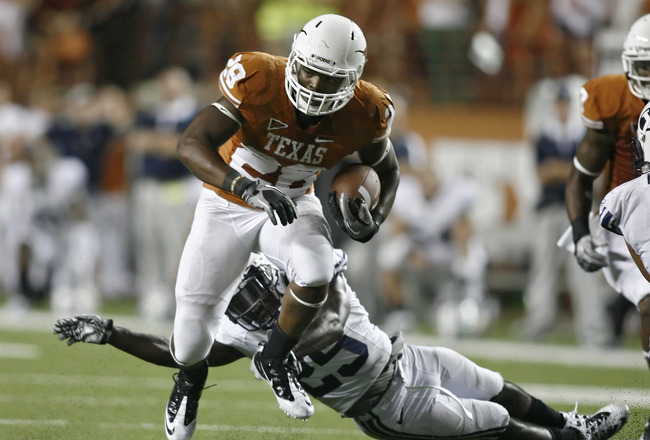 Erich Schlegel/Getty Images
As fall camp quickly approaches, and with the college football season right around the corner, players are preparing for the regular season. However, some players are, of course, more important than others to a team's success as the season begins.
The Texas Longhorns return a total of 17 starters from a year ago, including nine on the offensive side of the ball. The defense is loaded with talent from top to bottom as eight starters return from a unit that ranked 11th in the entire country.
So who are the most important players on this Texas team?
As we inch that much closer to September, here are the top 10 most important players for the 2012 Texas Longhorns football season.
10. Offensive Guard: Mason Walters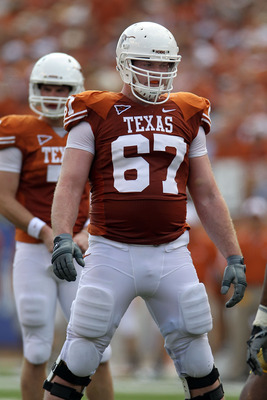 Ronald Martinez/Getty Images
Last season, Texas had an offensive line that was a little shaky, allowing 28 sacks. This season, Texas returns four starters from that unit, including right guard Mason Walters, who earned All-Big 12 second-team honors last season. Walters is huge at 6'6", 315 pounds, has great footwork and is quickly becoming one of the better linemen in the conference.
Nobody is sure exactly how this young line will hold up this time around, but the Longhorns do have a solid piece in Walters leading the way.
9. Running Back: Joe Bergeron
Bergeron made his case for more carries last season, as he averaged over six yards a carry his true freshman season and scored five touchdowns on only 72 touches. Due to being banged up throughout the year and the emergence of Malcolm Brown, Bergeron didn't see consistent action last season.
He still performed well in limited playing time and provides a nice change of pace next to another talented back in Brown. If those two backs can stay healthy all season long, the Longhorns will have a two-headed monster in the backfield this year.
8. Wide Receiver: Jaxon Shipley
The Longhorns are struggling to find production from their young wide receiving corp, but Shipley showed promise last season, hauling in 44 receptions for 607 yards and three touchdowns. He isn't the biggest receiver, but he makes plays and can be used in several different ways. He picks up chunks of yards after the catch and is elusive in the open field.
With a year under the sophomore's belt and not a lot of answers at receiver, Shipley must continue to shine for this offense.
7. Safety: Kenny Vaccaro
Vaccaro is important to this team in several different ways. For one, the safety is one of the top tacklers on this defense, finishing last season with 71. He also broke up eight passes and had 6.5 tackles for loss and two interceptions. However, Vaccaro is also one of the few seniors starting for this football team, so he provides much-needed leadership to such a young squad.
The All-Big 12 safety was arrested during the offseason and will face discipline from the team. He is needed in the defensive backfield, so hopefully the punishment is nothing serious as the season kicks off.
6. Punter
The punter is often given little to no credit for his performances, although a great punter can go a really long way in winning football games. Texas lost both its punter and kicker during the offseason in Justin Tucker, which leaves them with a questionable hole on special teams. True sophomore William Russ is expected to get a look, as he averaged 59 yards on two kickoffs last season.
Texas also recently landed a transfer from Duke in Alex King and he will compete for the starting position this season as well. He played in 24 games throughout his career and averaged 41 yards per punt.
Last season the Longhorns were dead last in the Big 12 in punting, averaging only 38 yards per kick.
5. Starting Quarterback
Who is the starting quarterback for this team? Most believe it will be David Ash, as he has played the best out of all the candidates, but head coach Mack Brown refuses to make a decision. Case McCoy is the other candidate, but it seems like Ash gives the Longhorns the best chance to win now and his dual-threat ability makes him that much more intriguing.
Regardless of who ends up playing at quarterback, he must step up because Texas has been ranked in the bottom half of the Big 12 in passing yards the last two seasons.
4. Running Back: Malcolm Brown
Malcolm Brown really impressed me last year as a true freshman. He only played in 10 games and started seven, but finished the season with 742 rushing yards and five touchdowns. I would like to see him run with a little more consistency, but he is a back that has all of the tools to be very successful, and we should expect even bigger things as he enters his sophomore season.
With the quarterback position up in the air, Texas may have to once again rely on its running backs heavily for offensive production.
3. Defensive End: Jackson Jeffcoat
Texas could have done a slightly better job of pressuring the quarterback last season, but there isn't a better pass-rusher on this team than defensive end Jeffcoat. He took a big step in his career his sophomore year, racking up eight sacks (which led the team) and added 63 tackles and 17 tackles for loss for good measure.
Having a lineman that can make so many plays in the backfield is huge for this team heading into the 2012 season.
2. Cornerback: Quandre Diggs
Diggs was a true freshman last season and he not only earned a starting job, he also led the team in interceptions with four. Then you add the fact that he broke up 17 passes, picked up 49 tackles at the cornerback position and returned punts and kicks. The sophomore from Angleton, Texas, can truly do it all for this team and has quickly emerged as one of the best players on this entire team.
Diggs isn't afraid of the big time either, as he made his interceptions count in comeback victories over Texas A&M and BYU.
It is going to be fun watching this kid continue to grow and make plays for this Longhorns team moving forward.
1. Defensive End: Alex Okafor
Texas is obviously loaded on the defensive side of the ball, but I'm not sure there is a better player on that side than defensive end Okafor. He struggled a little bit playing defensive tackle in 2010, but when he moved back to defensive end, he finished last season with 12.5 tackles for loss, six sacks and broke up three passes. He has started 21 games in his career, making the senior one of the leaders on this young football team.
The problem is that he was recently arrested and will face discipline by the team. Hopefully for Longhorn fans, the star defensive player doesn't miss much time and can get back on that football field as soon as possible.
Keep Reading

Texas Longhorns Football: Like this team?