2012 NBA Mock Draft: Best Possible Scenario for Every Team
June 6, 2012

Ronald Martinez/Getty Images
Franchises must build within the draft to maintain consistent success. Easier said than done.
But with a new year comes another opportunity. The 2012 NBA draft has players capable of making a major impact in the league for years to come. The opportunity to find stars is there. 
Let's take a look at the best possible scenario for each team in the first round. This list is meant to be realistic.
1. New Orleans Hornets: Anthony Davis, PF, Kentucky

New Orleans is going to have the best draft this season. You can talk conspiracy theories all you want regarding this pick, but the ping-pong balls went in favor of New Orleans.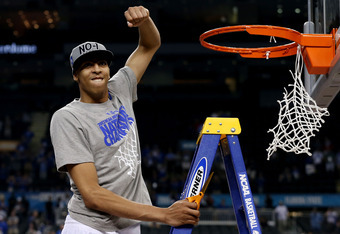 Jeff Gross/Getty Images
Anthony Davis will be the No. 1 pick in the 2012 NBA draft, and it's not even a question. His skills will translate to the NBA, and he'll be a multiple-time All-Star selection. 
2. Charlotte Bobcats: Bradley Beal, SG, Florida

Bradley Beal is considered to be the best backcourt option in this draft class. After watching what he did in the SEC and NCAA tournament, you can see why some were saying that.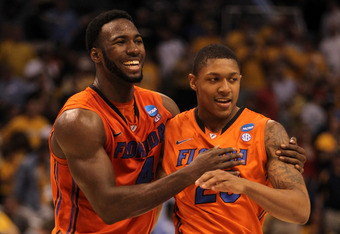 Jamie Squire/Getty Images
His outside shot is tremendous, and his overall game is improving. Beal would be a solid selection at No. 2, but he wasn't what the Bobcats were hoping for.  
This pick will test Michael Jordan's drafting skills once again, because it's not a no-brainer. There could be several options at this selection. 
3. Washington Wizards: Michael Kidd-Gilchrist, SF, Kentucky
I love everything about Michael Kidd-Gilchrist. His attitude, will to win, passion, overall skill set, size, defensive ability and the drive to get better are traits I love to see from a prospect.
If he can develop more of an outside game, we are looking at a potential All-Star talent. 
4. Cleveland Cavaliers: Harrison Barnes, SF, North Carolina
Some are higher on Harrison Barnes (myself included) than others. His game translates well to the NBA.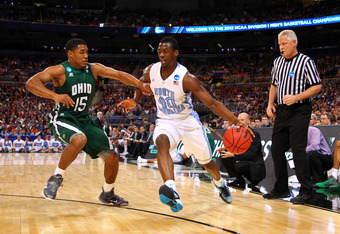 Dilip Vishwanat/Getty Images
Barnes reminds me of Luol Deng, small forward for the Chicago Bulls. They are great in the mid-range game, have sneaky athleticism and can do other things well without people noticing.
This would be a great fit given Cleveland's lack of scoring this season. 
5. Sacramento Kings: Andre Drummond, C, Connecticut
Andre Drummond is a bust candidate.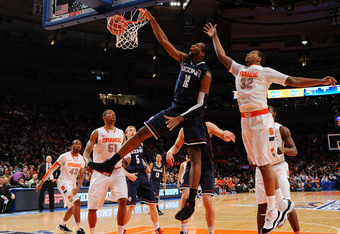 Michael Heiman/Getty Images
However, his skills, size, length and athleticism make him a potential future All-Star candidate. Sacramento would be happy to see a center who has great potential fall to No. 5.
Whether or not it works out in the long run is another question. 
6. Portland Trail Blazers (via Brooklyn): Thomas Robinson, PF, Kansas  
Thomas Robinson can score the ball and rebound with great proficiency.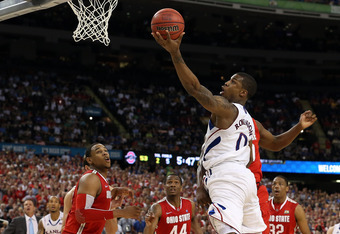 Jeff Gross/Getty Images
I'm not sure both will carry into the league, but he has proven to be a player who will do whatever it takes to be successful, and that is a trait that will carry over into the NBA. 
7. Golden State Warriors (via Utah): Perry Jones III, PF, Baylor
Perry Jones III has bust written all over him. There is, however, potential for Jones to live up to the hype. 
Teams will draft on potential if they see it in college.
Jones has top-five potential. 
8. Toronto Raptors: Austin Rivers, G, Duke

If Austin Rivers is on the board at No. 8, Toronto should snatch him up. The Raptors were 28th in scoring this past season, and they could use another guy who can penetrate the lane.
Rivers was the main man at Duke in his freshman season. There is plenty of growth left to be made, but just playing at Duke, he has proved he's willing to do whatever it takes to become a better basketball player.   
9. Detroit Pistons: Arnett Moultrie, PF, Mississippi State
Detroit needs talent. Arnett Moultrie brings a wealth of talent down low. He averaged 15.8 points and 10. 6 rebounds per game this past season. 
10. New Orleans Hornets (via Minnesota) Kendall Marshall, PG, North Carolina

Kendall Marshall will have a solid professional career in the NBA. He has solid size (6'4") for the point guard position, is a pass-first player and has developed an overall offensive game.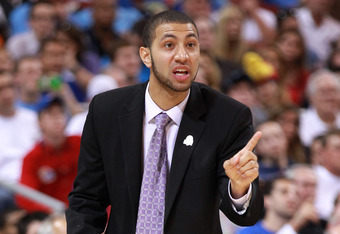 Andy Lyons/Getty Images
If New Orleans can put up with his deficiencies defensively, it would have a great point guard to go along with Anthony Davis.  
11. Portland Trail Blazers: Damian Lillard, PG, Weber State

Portland needs a point guard, and it would love to see Damian Lillard fall to No. 11. 
Lillard is different than Marshall, because he is more of a scorer, but there is no denying the overall talent Lillard brings to the table. 
12. Milwaukee Bucks: Tyler Zeller, C, North Carolina

No Andrew Bogut means Milwaukee will be looking for a center. Insert Tyler Zeller. 

His energy, skill set and ability to rebound provides a great option at the center position in today's NBA.
13. Phoenix Suns: Jeremy Lamb, SG, Connecticut

Jeremy Lamb is a prospect who may have had more hype last year. Nevertheless, Lamb is a big-time player with big-time potential if he can piece his game together.
He has the size, skill set and competitive nature, but he must get stronger. 
14. Houston Rockets: Royce White, PF, Iowa State
Royce White will be one of the better players in this class if he can stay on the court. He dominated the flow of games this past season at Iowa State.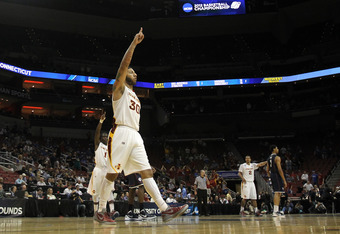 Jonathan Daniel/Getty Images
He can handle the ball for his size, shoot well from the perimeter and brings an overall game that suits the NBA. 
15. Philadelphia 76ers: John Henson, PF, North Carolina

Philadelphia needs size, and John Henson provides size. It's an easy pick if Philadelphia doesn't have better options with this selection. 

Henson averaged 13.8 points and 10.1 rebounds per game this past season.
16. Houston Rockets (via New York): Terrence Ross, SG, Washington
Terrence Ross has prototypical size, strength and athleticism for the NBA. It's a matter of putting it together.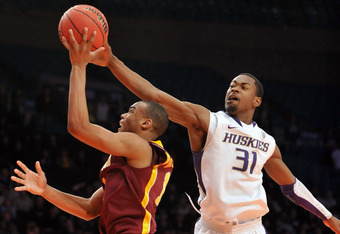 Jason Szenes/Getty Images
Houston will take a chance on Ross, and he could become a steal if he pans out. 
17. Dallas Mavericks: Dion Waiters, SG, Syracuse

Dion Waiters thrived coming off the pine for Syracuse last season. He brought instant offense, shooting 48 percent from the floor this past season.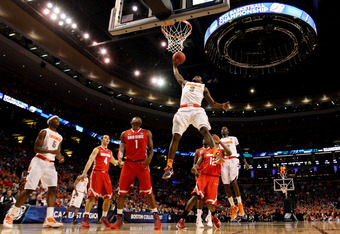 Jim Rogash/Getty Images
Dallas must get younger in its backcourt, and Waiters provides that youth. 
18. Minnesota Timberwolves (via Utah): Moe Harkless, G/F, St. John's

Moe Harkless could be a top-10 pick in this draft if he played for Duke, North Carolina, Kansas or Kentucky. He's that good.
St. John's had a horrible season last year, but it wasn't because of Harkless. He averaged 15.3 points and 8.6 rebounds per game last season.
If he can improve his outside shot (20.2 percent), we could be looking at a major steal. 
19. Orlando Magic: Meyers Leonard, C, Illinois

Meyers Leonard has the size and skill set that scouts love. He's 7'1" and averaged 13.6 points and 8.2 rebounds as a sophomore.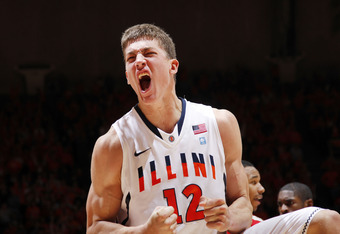 Joe Robbins/Getty Images
Will he put it together at the next level?
Time will tell. At this point, you can't trust anything Dwight Howard says. The Magic must have a backup plan. 
20. Denver Nuggets: Jared Sullinger, C/PF, Ohio State
I'm not high on Jared Sullinger, but he is another big body down low. He also has the talent to play at a high level in the NBA.
Maybe he's a DeJuan Blair type of player, and what people don't realize is that Blair started more games than any Spurs player this season.
Not so bad.
21. Boston Celtics: Andrew Nicholson, PF, St. Bonaventure
Boston needs to plan for the future regardless of what happens in the Eastern Conference finals. Kevin Garnett and others are aging, so planning for the future must happen in the first round of the 2012 NBA draft.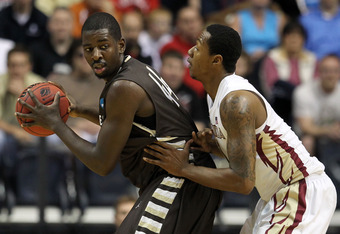 Jamie Squire/Getty Images
Drafting Andrew Nicholson would be a great idea. He provides a similar skill set to Garnett, and he could work well off of Rajon Rondo. 
Then again, who doesn't?
22. Boston Celtics (via Los Angeles Clippers): John Jenkins, SG, Vanderbilt

John Jenkins could be the perfect replacement for Ray Allen, who looks like he lost a couple steps this season. 

Jenkins shot 44 percent from long distance this past season.
23. Atlanta Hawks: Tony Wroten Jr., PG, Washington 
Tony Wroten Jr. has top-10 talent, size and athleticism. It's a matter of putting it together consistently.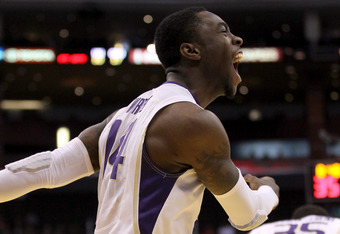 Stephen Dunn/Getty Images
He averaged 16 points, five rebounds and four assists per game in his freshman season. 
Wroten will need to improve his shooting ability if he plans on becoming an All-Star in the NBA. 

 
24. Cleveland Cavaliers (via Los Angeles Lakers): Draymond Green, SF, Michigan State

Draymond Green doesn't have the size. He doesn't have the athleticism. Those are just a couple of things we've heard about the former Michigan State star.
How about when he carried the entire team on his back? How about how he was the leader of several teams in his tenure? How about his ability to handle the basketball and shoot for his size?
Green is a basketball player. He understands the game. 
25. Memphis Grizzlies: Quincy Miller, F, Baylor 

I'm not sure Quincy Miller will ever pan out in the NBA, but Memphis would be happy to see him at No. 25. 
Miller has the tools, athletic ability and skill set to become a great player in the league, but he came out as a freshman. He will be more a project than an instant-impact performer. 
26. Indiana Pacers: Marquis Teague, PG, Kentucky

Indiana will have a chance to grab Marquis Teague (from Indianapolis, Ind.) with its No. 26 pick in the NBA draft.
It would be a great fit, and it would be nice to see Teague play in front of his home folks. 
Indiana needs a point guard, or at least depth at the position, who can create his own shot and find the open man from penetration.
Teague can do both, and he's only going to get better. 
27. Miami Heat: Fab Melo, C, Syracuse
Miami needs a rim protector down low. Could you imagine Syracuse's Fab Melo in the paint while LeBron James and Dwyane Wade are on the perimeter?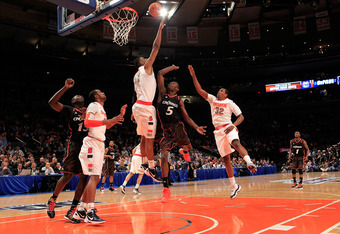 Chris Trotman/Getty Images
Miami has a great defense, but it needs depth down low. The Heat need rebounds and blocks. Melo provides both. 
28. Oklahoma City Thunder: Jeffery Taylor, SF, Vanderbilt
Jeffery Taylor may be gone at this selection in the draft, but if he's there, Oklahoma City should take him with the pick.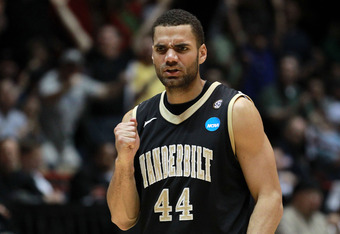 Ronald Martinez/Getty Images
Oklahoma City has been looking for a replacement for Jeff Green off the bench, a guy who can shoot it from the outside with size. Taylor brings that option. 
29. Chicago Bulls: Will Barton, SG, Memphis
Will Barton's game translates well to the NBA. He shot 51 percent this past season and 43 percent the year before. He averaged 18 points this past season and 12 the year before.
At 6'6", Barton needs to add muscle, but he could be a great pick late in the draft. 
30. Golden State Warriors (via San Antonio) Evan Fournier, SG, France 
European players tend to show up in the first round of the NBA draft every season. Why would this year be any different?
Evan Fournier will sneak into the first round, and Golden State will be happy it took the risk. It might not work out at first, but the end result could be special.