World Football
Which Team Has the Deepest Current Bench in World Football?

David Ramos/Getty Images
June 5, 2012
In football, the result is as much about a team's strength in reserve as their talent on the pitch. Substitutes matter.
Case in point: In May 1999, substitutes Ole Gunnar Solskjaer and Teddy Sheringham came off the bench in Munich's Allianz Arena stadium. Grabbing two goals in the dying seconds, the duo complete a remarkable come-from-behind victory, winning  the Champions League for Manchester United in the process.
Such occasions are not particularly rare. Again, in this year's Champions League semifinal, it was substitute Fernando Torres that scored the goal that guaranteed Chelsea's progression to their ultimately victorious final.
Such reminiscing draws an interesting point for analysis. Who, in this modern football climate, has the strongest strength in reserve?
Is it the marauding Catalan midgets of Barcelona? How about the Galacticos of Mourinho's Madrid? Then there is moneybag's Man City and of course their bitter United rivals. Both, one would assume, to be in with a shout.
And this isn't even to mention the newly reinvigorated European Champions Chelsea. How else would they have been crowned Europe's best team with a seemingly inferior starting lineup? Or even Bayern Munich, defeated Champions League finalists, and chief supplier to the scintillating German national team?
Here we debate the candidates
Interestingly, I feel that I am able to dismiss the world's most talented team quite quickly from the equation. To me, the team policy practised under Pep Guardiola at times resembled the practice of square pegs in round holes.
Javier Mascherano, for instance, a specialist holding midfielder is utilised predominantly in a holding midfield role. At times this season, Barcelona were even seen to play four centre backs in a makeshift back four. Such was the balancing act of fitting the ridiculous profligacy of talent Guardiola commanded.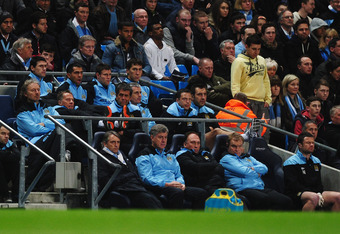 Laurence Griffiths/Getty Images
In reality, though, when you look beyond the first eleven—which is almost irrefutably the world's strongest—Barcelona's reserves do not really stack up so well. By playing all his most talented players in unfamiliar positions, Guardiola leaves his bench to rely on the club's surfeit of youthful talent, who, although talented, do not possess the clout of some of their rivals.
With the exception of perhaps David Villa on his return from injury, although that will more than likely just push Pedro Thiago Alcantara back into reserve, Barcelona's bench is noticeably light on big names. They might have the most exciting team in the world, but by loading their starting lineup, the Catalans' bench doesn't stack up to elite level comparison.
Spanish Champions Real Madrid, however, are an entirely different proposition, I feel. Jose Mourinho has built a formidable outfit that possesses a bench that can be utilised to change the direction of a game. With the likes of Kaka, Gonzalo Higuain, Marcelo and Nuri Sahin to call off the bench, Real Madrid's "reserves" would befit many a top-level side.
In comparison to Barcelona, you feel that, , Real can afford for their top players, perhaps aside from Cristiano Ronaldo, to have an off day. Benzema not performing? Call for Higuain. Ozil having an off day? £50 million Kaka is an able deputy.
Mourinho has assembled an awesome squad at Real. From the first team through to the bench, the squad just oozes class.
Premier League champions Manchester City also possess a monstrous reserve side, with the likes of Edin Dzeko, Adam Johnson and Nigel de Jong lucky to see many games. This was a side who were able to drop Carlos Tevez entirely for over five months and still win their first title!
With further signings imminent this summer, it is likely that City's roster will only improve further in the coming months. In terms of their current standing in this list, however, although I see them as strong contenders, such is the profligacy of bench talent at Madrid that I feel supremacy in this sense is currently a distant proposition.
City rivals United have, in times gone by, become famed for their outstanding strength in reserve. Despite a strong domestic year in which they ran Man City close for the title, finishing with their third highest points tally, this is widely assumed to be among Sir Alex Ferguson's weakest sides.
Although the signing of Shinji Kagawa will strengthen United, the central midfield berth still appears light in terms of true world-class ability, with the aging genius Paul Scholes still relied upon to hold down the fort.
With this being said, United's bench is hardly weak either. One of Ashley Young, Nani and Antonio Valencia was consistently in occupation. United also boasts last year's breakout signing Javier Hernandez, the Welsh wizard Ryan Giggs,  Park Ji Sung, club record signing Dimitar Berbatov and youngsters Tom Cleverley and Chris Smalling.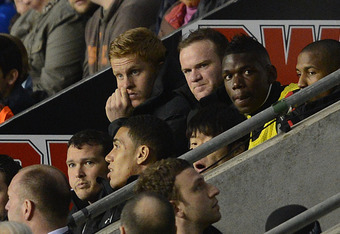 Michael Regan/Getty Images
Although perhaps not at liberty to call upon the outstanding riches that a Real or a City have sat on their bench, United still has a very talented bunch of reserves that with a few improvements would befit a world elite.
European Champions Chelsea were, for many, a surprise package this year. Beset by managerial turmoil and lumbered with a £50 million striker who seemed to have forgotten how to play, Chelsea were languishing in the league, well adrift of the Manchester pace setters. Ultimately the league campaign was too far gone to end in anything other than disappointment.
Yet unprecedented success in Europe coupled with an FA Cup triumph, meant 2011-12 was a bountiful season for Roman Abramovic and Chelsea FC.
Before this season, I would have viewed Chelsea's bench as a fairly average concoction of youth coupled with a few semi-decent professionals. With the signing of Eden Hazard, Marko Marin, and the seemingly imminent acquisition of Hulk from Porto, I feel Chelsea have transformed their team with one fell swoop.
Branded an aging side with little chance of revamping their side for the imminent future, Chelsea were perceived as a team on the decline. Although this summer's dealings thus far have led to the loss of the talismanic Didier Drogba from the club, the acquisitions have undoubtedly improved Chelsea as a unit.
Now you have Daniel Sturridge, Marko Marin, Eden Hazard and Juan Mata all fighting for what is at most three spots, but more likely two. In defence, it is likely that only one of Gary Cahill and David Luiz will be chosen to accompany club captain John Terry. And up front, if the club persist with their predilection to play one stiker with an extra midfielder, either Torres or Hulk (assuming he does join) will miss out.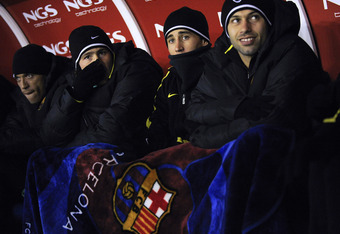 David Ramos/Getty Images
All that leaves Chelsea as an altogether more potent proposition come 2012/13.
The final candidate that I feel presents itself for the honour of the strongest bench in football is this year's nearly men, German powerhouses Bayern Munich.
Like Barcelona, I feel that much of Bayern's success is built upon the talent of their starting eleven players. While it is not uncommon for stars such as Franc Ribery and Mario Gomez to find themselves on the bench, they are normally fleeting visits.
The side's traditional bench occupiers do not induce fear to quite the same extent. Despite obvious ability, the likes of Ivica Olic and Anatoliy Tymoshchuk aren't going to scare opponents.
So, my opinion of the strongest benches in world football, from six to one:
6. Bayern Munich
5. Barcelona
4. Manchester United
3. Chelsea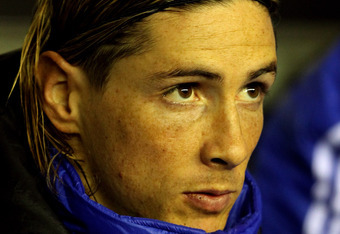 Alex Livesey/Getty Images
2. Manchester City
1. Real Madrid
What do you think? Agree or disagree, please leave your thoughts in the comment section.
Like the new article format? Send us feedback!