Euro 2012: Rio Ferdinand's Exclusion from the England Squad
June 5, 2012

David Cannon/Getty Images
When Roy Hodgson, manager of the team, announced the England squad for Euro 2012 on May 16, the hottest topic of the press conference that followed was the exclusion of veteran defender Rio Ferdinand.
So much so that Hodgson declared his dismay at so many questions centering around a player that didn't make the squad rather than asking about those that did.
The argument of Ferdinand's inclusion resurfaced again over the weekend when a jaw injury ruled central defender Gary Cahill out of the Euro's, and the England boss decided to replace him with Liverpool youngster Martin Kelly rather than Ferdinand, the experienced Manchester United defender.
It's a bold decision by the newly appointed England boss, but is it the correct one?
Obviously, the performance of England in the competition will ultimately decide whether this is a good decision or not, but managers do not have the advantage of hindsight and make decisions based on what they project to be in the best interest of the team.
At the squad announcement, Hodgson cited "footballing reason" for the decision not to include Rio, which seems to be the most puzzling thing about the whole debate.
At 33 years old, Ferdinand is no longer a spring chicken and admittedly is on the back end of his career. With that said, he has remained healthy enough to start 39 games for Manchester United this season in all competitions and has played arguably his best football of the past three seasons.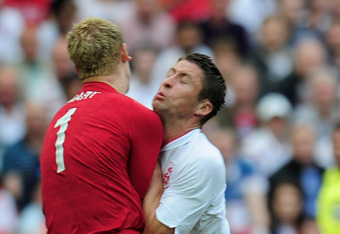 Shaun Botterill/Getty Images
The eyeball test certainly shows that Ferdinand's form is good enough to warrant inclusion.
Especially considering the players that have been placed ahead of him on the Euro roster.
When Roy Hodgson announced the squad, he went out of his way to justify his decision to include former captain John Terry, claiming he knew the decision would raise eyebrows.
Terry has been a lightning rod for criticism in recent years and has been stripped of the England captaincy twice: as a result of sleeping with a teammate's wife and facing criminal action for allegedly racially abusing Ferdinand's brother, Anton.
In addition to these non footballing issues, Terry's form in the latter part of the season has also been shaky at best, with several mistakes leading directly to opposition goals.
His form has been so inconsistent that there was even a joke that Bayern Munich were appealing Terry's suspension in the Champions League final so that he could play against them.
Given Terry's lack of form and off-the-field issues, was he really a stronger candidate for a place in the squad?
Then there's the inclusion of Martin Kelly.
There is no debate that Kelly is certainly a rising star and has great potential to be an England player for years to come.
But after just 22 career Premier League starts for a team this finished 8th in the league and two minutes of international experience, can he really bring more to the England squad over the next month than a man such as Ferdinand with multiple Premier League titles and 81 England caps (some as captain) to his name?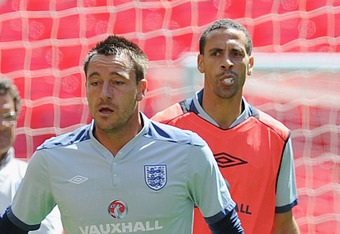 Michael Regan/Getty Images
After the inclusion of Kelly, Ferdinand Tweeted, "What reasons?????!!!" as if to suggest the explanation given by Hodgson was not justified.
It also prompted Rio's agent, Jamie Moralee, to call out the England boss as showing a "lack of respect" to his client.
While agents should probably not be publicly quoted on such matters, one thing seems to be evident, and it is that there appears to be more to Ferdinand's exclusion that just "footballing decisions".
Some argued that Micah Richards is another player who should be on the squad, but the Manchester City defender's decision to to be included on the standby list ultimately looks to have counted against him in being selected for the active roster.
That is not the case for Ferdinand who has maintained his desire and support for England regardless.
Based on form and the intangibles that come with experience and leadership, it seems clear that Ferdinand should be on the squad.
Whatever the real reason for the exclusion, team manager Hodgson better hope he got this one right or his honeymoon period as England boss could be very short.