Latest Contract Updates on NFL's Biggest Unsigned Rookies
June 5, 2012

Joe Robbins/Getty Images
The new NFL collective bargaining agreement takes most of the pain out of handling rookie contracts due to the rookie wage scale, but that doesn't mean all the top picks in the 2012 draft have inked their first professional deals. 
Actually, quite a few of the the most highly touted prospects remain unsigned, although there's not nearly as much worry surrounding the possibility of a holdout like there was in years past. 
Let's take a look at the biggest names who have yet agree on their first NFL contract. 
Andrew Luck, QB, Indianapolis Colts 
The 2012 No. 1 overall pick hasn't signed his contract yet, but thanks to Colts owner Jim Irsay and his famed Twitter feed, it seems like both sides are close to reaching an agreement:
Talks with A Luck's agent,Will Wilson(the brother of Andrew's mother) have been productive. Team Counsel Dan Emerson n Will r getting close!

— Jim Irsay (@JimIrsay) June 2, 2012
Luck's contract should be strikingly similar to the four-year, $22 million ($14.5 million guaranteed) Cam Newton signed as the No. 1 overall pick in the 2011 draft.
Man, this rookie wage scale is awesome.  
Robert Griffin III, QB, Washington Redskins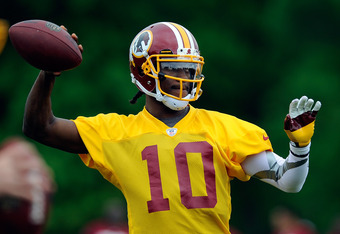 Patrick McDermott/Getty Images
There haven't been any reports that the Redskins and Griffin III are nearing a deal, but Mark Maske of the Washington Post outlined what the terms of the deal will be when a contract is finalized, which, at this point, is a formality more than anything:
Griffin is likely to sign a deal similar to the fully guaranteed, four-year, $21 million contract that linebacker Von Miller, the second pick in the 2011 draft, signed with the Denver Broncos last July.

The pact likely will include a signing bonus of close to $14 million. Miller's signing bonus was $13.773 million.
Maske included an interesting tidbit about first-round pick guidelines:
The deals for first-round picks contain fifth-year options that a team must exercise after a player's third NFL season. In the case of a top 10 pick like Griffin, the fifth-year salary would be equal to the average salary of the 10 highest-paid quarterbacks in the league.
Something tells me RG3 will be in D.C. for a long time. 
Trent Richardson, RB, Cleveland Browns 
Richardson is the Browns' workhorse back of the future, but he has yet to sign his name at the bottom of his first NFL contract.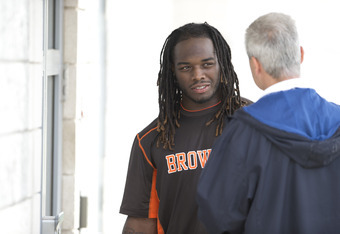 Jason Miller/Getty Images
ESPN's Jamison Hensley crafted a column citing Richardson's quote to 92.3 The Fan in Cleveland in which he was blunt about his contract situation: 
"I want it done by [Thursday], because I want to get everything done with. I'm here to play football, and I'm here to win."
Sadly, that Thursday has come and gone, and the former Alabama stud is still without a deal. 
The time will come soon enough. 
He should receive a contract comparable to the four-year, $20.4 million contract Marcell Dareus signed with the Buffalo Bills last year after being selected No. 3 overall.
Justin Blackmon, WR, Jacksonville Jaguars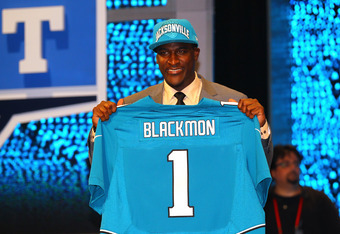 Al Bello/Getty Images
Blackmon's in a bit of a sticky situation regarding his contract, after his recent DUI arrest. This is the second alcohol-related arrest for Blackmon in the last 20 months. In this instance, the Jaguars' No. 1 overall pick registered a .24 blood-alcohol level, which is three times the legal limit.
Surprisingly, instead of owning up to his mistake, Blackmon pleaded "not guilty" to the charge.  
ESPN's Adam Schefter shed light on what this means for contract negotiations between Blackmon and the Jaguars front office:
Sounds like the Jaguars can and will give first-round pick Justin Blackmon a smaller and deferred signing bonus, less guaranteed money.

— Adam Schefter (@AdamSchefter) June 4, 2012
Not exactly the ideal start to an NFL career, but a deal should get done before training camp. 
Ryan Tannehill, QB, Miami Dolphins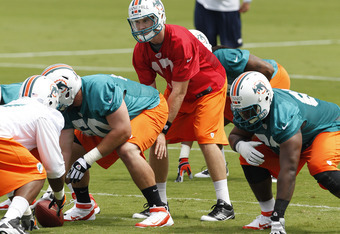 Joel Auerbach/Getty Images
Tannehill will be in the center of the spotlight on HBO's Hard Knocks this summer, but not before he reaches a contract with the team that took him No. 8 overall this April. 
No indication has been made that the team is closing in a deal with Tannehill, but the parameters were set last year when quarterback Jake Locker was picked by the Tennessee Titans. 
His rookie contract is a fully guaranteed four-year, $12.58 million deal. 
Expect nearly the same figures for the Dolphins' future signal-caller.