Penn State Football: Breaking Down Nittany Lions' First 2012 Depth Chart
June 5, 2012

Rob Carr/Getty Images
Penn State released their first depth chart of the 2012 season today, and while there wasn't anything Earth-shattering on it—we already knew the quarterback situation, for example—there's enough to get a sense of what a Bill O'Brien team is going to look like and where the big position battles will be coming from.
Here's a link to the official Penn State announcement, here's a direct link to the depth chart (.PDF) and here are a few things in particular that stood out.
13 Starters on Offense
O'Brien's depth chart includes three starters at WR, two starters at TE (the "F" and "Y" positions in particular), a tailback and a fullback, which is entirely too many eligible receivers to have on the field at once. We checked.
But while O'Brien is obviously not going to trot out 13 players at once, it does go to show what sort of versatility he's bringing to the table and how important it is to fill certain roles in his offense even if your position is not on the field for every snap. 
Glenn Carson Has Competition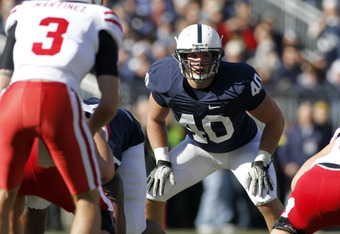 Justin K. Aller/Getty Images
Possibly the biggest stunner of the depth chart was the dreaded "OR" under returning starter MLB Glenn Carson's name, meaning he's a co-starter with fellow junior Khairi Fortt.
Fortt was a top backup last season and registered 33 tackles, so he's not coming out of nowhere, but if Carson can't lock that spot up after muscling his way into the starting lineup last season, something seems amiss.
Adrian Amos Back to Cornerback
The next star of the Penn State secondary is sophomore Adrian Amos, who has the versatility to play basically anywhere in the back four. Amos spent the spring at safety, but has since moved to right cornerback (where he played last year), according to the depth chart.
Interestingly, he's only a co-starter there alongside junior Derrick Thomas, but if Thomas wins that battle, Amos is probably moving right back to safety; he's way too good to keep off the field.
Devon Smith, Still Starting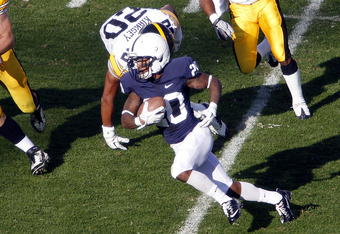 Justin K. Aller/Getty Images
The legal complications and injury woes that have plagued WR Devon Smith evidently haven't weakened his standing in O'Brien's eyes. The diminutive speedster (5'7", 147 lbs.) is one of the three starting wide receivers on the depth chart; if he's still a starter after that spring, he's basically never leaving the depth chart.