Anthony Davis: What Kentucky Star Must Do to Obtain Elite Status
June 5, 2012

Ronald Martinez/Getty Images
Kentucky Wildcats star Anthony Davis is undoubtedly the top talent in the 2012 NBA draft class, but there are some things he must work on before obtaining elite status.
Here are some things that we know about Davis—he's an elite shot blocker, he has great length and athleticism, he has an ever-improving post game and he has a decent jump shot for a guy his size.
Even with his outstanding ability, Davis will not come into the NBA as an elite superstar. After all, not many guys are capable of doing so.
The last guy to do so was Kevin Durant of the Oklahoma City Thunder. In his rookie season, Durant average 20.3 points per game while also playing in 34.6 minutes per game.
To start being considered amongst the game's elite right out of college, Davis will have to cause a drastic improvement in the team that drafts him. It's a near lock that the New Orleans Hornets, who recently secured the No. 1 overall pick in the draft, will call Davis' name on draft day.
Last season, the Hornets were an abysmal 21-45. They were last place in the Western Conference and had the third worst record in the NBA.
The Hornets currently lack a solid power forward, or any defensive-minded big man for that matter, so the addition of Davis to the squad should do wonders.
If he can average 12 to 14 points per game to go along with his excellent defense, the Hornets will be very pleased. Production like that would likely lead to a big improvement over this season's record.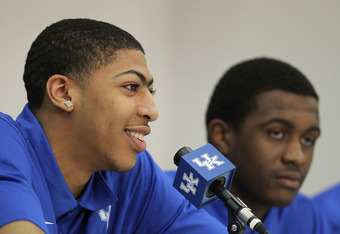 Andy Lyons/Getty Images
Should Davis help the Hornets to win around 32 to 36 games next season, he'll be one step closer to becoming an elite talent.
To play at a high level in the NBA, Davis will have to start filling out his enormous 6'10" frame. He currently weighs just 220 pounds, and he'll likely have a hard time boxing out the likes of Dwight Howard, Roy Hibbert and Andrew Bynum because of his size.
His lean build helps him with shot blocking and his overall athleticism, but his job as a big man is to grab rebounds and shut down the opposing team's big man.
Blocking shots is great, but leading the league in blocks while allowing the opposing forward or center to score 16-plus points per game isn't conducive to winning.
While players like Tim Duncan and Kevin Garnett did not develop a post game until after they were drafted, Davis has shown signs that he is working on one.
His footwork is still a little iffy, and he has yet to find his "go to" move. He's not very patient when he has the ball down low and sometimes rushes into trying to make a move. This results in either bad shots or turnovers.
It's no surprise that his footwork needs work. He was a 6'3" point guard in high school, so he is still learning how to play like a big man.
At worst, Davis will be a Marcus Camby-type of player. He'll be a perennial first team defensive player while providing passable offensive numbers.
Camby, the 2006-2007 Defensive Player of the Year, has averaged just 9.7 points per game over the course of his career. He's been a dominant rebounder, bringing down 9.9 rebounds per game, as well as a shot blocker, swatting 2.4 shots per game.
The Hornets will be happy if that's the type of player Davis turns out to be, but they will definitely be left wishing that they got more.
If Davis can improve in just a few areas and lead the Hornets to a much-improved record, he'll be well on his way to becoming one of the elite players in today's game.