Bradley Beal: 5 Players the Florida Gators' Standout Resembles
June 5, 2012

Doug Pensinger/Getty Images
There's no a bigger enigma in the 2012 NBA Draft than Bradley Beal.
As a 2011 McDonald's High School All-American, he averaged 33.5 points per game during his senior season. Beal's lone season at Florida saw him average 14.8 points per game while shooting lower than expected in terms of percentages from the field and behind the 3-point line.
Thanks in part to their star freshman's inconsistent play, the Gators struggled during the regular season, yet used his talents to advance to the Elite Eight.
Thanks to both his talents and unpredictable play, mock drafts currently predict the St. Louis-native to be selected with just about any top-10 pick not owned by the New Orleans Hornets. Just what the team that selects Beal on June 28 will be getting is anybody's guess, but here are five players who he has shown similarities to, for better or worse.
Ray Allen
Perhaps one reason Beal's single season in college was viewed as a disappointment is because he entered Gainesville carrying comparisons to one of the best shooters of all time. To be fair, Beal hasn't exactly shied away from the lofty expectations, either.
Winding up with a Hall-of-Fame career like Allen's is obviously the best-case scenario for a player like Beal, and it'll take more than the 33.9 percent he shot beyond the arc in college for that to ever happen. But with a quick release and a game that might translate better to the NBA than it did to college, it's not exactly something that's out of the realm of possibility.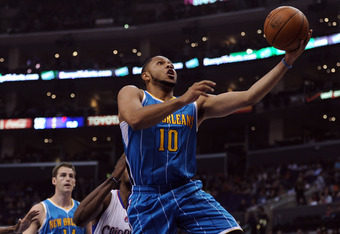 Harry How/Getty Images
Eric Gordon
As an undersized shooting guard, Beal prefers to compare himself to perennial All-Star Dwyane Wade, but New Orleans Hornets guard Eric Gordon might be a more realistic comparison.
At 6-foot-4, 200 pounds, Beal is very similar to the 6-foot-4, 215 pounds at which Gordon entered the NBA. With a similar playing style that mixes athletic slashing with sometimes deadly shooting, it wouldn't be surprising to see the Florida guard turn into the fringe All Star that Gordon was before he was injured in New Orleans this season.
James Harden
Much like Beal this year, it was Harden who was one of the biggest wild cards heading into the 2009 NBA Draft. Harden is a great example of how taking a chance on such a wild card can payoff, as the 2012 NBA Sixth Man of the Year is one of the main reasons why the Thunder are currently one win away from the NBA Finals.
Much like Harden, Beal is a scoring-minded, undersized shooting guard, and should he also find himself in an ideal situation roster-wise, he too could very well become instant offense off the bench for one of the league's better teams.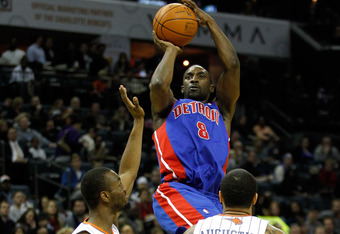 Streeter Lecka/Getty Images
Having won the Sixth Man of the Year award in his rookie season in 2005, Gordon had the ideal start to a career Beal will hope for.
Taken with the No. 3 pick in the 2004 draft, Gordon has provided instant offense from both guard positions for his teams in Chicago and Detroit. But while Gordon's playing style is an ideal blueprint for the 6-foot-4 Beal, he will hope to find more team-related success than the former UConn Husky who hasn't tasted the postseason since leaving the Bulls for the Pistons in 2009.
Rashad McCants
As is the case with any draft pick, there is a chance the player won't work out, as was the case when the Minnesota Timberwolves selected Rashad McCants in 2005.
Like Beal, McCants was an undersized guard who focused on scoring, yet he never had the attitude or work ethic to make it in the NBA. McCants found himself on the outside looking in just five years into his career. Unless Beal's only goal for his NBA career is to date a Kardashian, he would be wise to learn from the former North Carolina standout's mistakes.