Would You Rather . . . Nnamdi Asomugha or Morris Claiborne?
June 5, 2012

There are some great cornerbacks in the NFC East. But with all due respect to Corey Webster, Brandon Carr, Mike Jenkins, Josh Wilson and Dominique Rodgers-Cromartie, there are only two corners in the division who have the ability to be franchise cornerstones.
One has started 114 games over nine seasons and is a four-time All-Pro; the other has never played a down of NFL football.
Regardless, I've struggled with trying to determine who I'd rather have on my team: Nnamdi Asomugha or Morris Claiborne.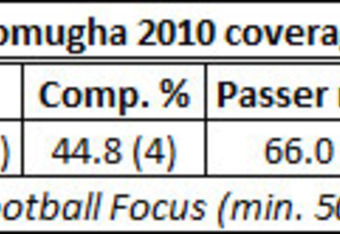 On one hand, Asomugha is a potential Hall of Famer, but he's now 30 and coming off a down year in Philadelphia. Claiborne is still a mystery, but we love mysteries. He was the consensus best defensive player in the 2012 draft and has virtually no ceiling. 
Despite his disappointing 2011 campaign, you generally know what you're getting from Asomugha. He has just 14 career interceptions because nobody challenges him. Quarterbacks have thrown Asomugha's way only 134 times the last four seasons, according to Pro Football Focus. Since the start of 2008, he's given up an average of 1.3 receptions per game.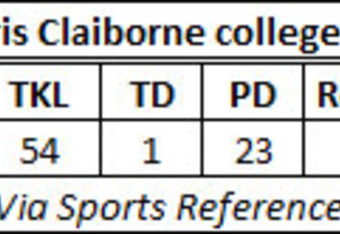 You don't know what you're getting from Claiborne. No one does. But he's a unanimous All-American who was named the best defensive back in college football as a junior at LSU. That he managed 11 interceptions in 26 games the last two years despite being avoided by opposing quarterbacks speaks to his playmaking ability.
He's also probably more physical than Asomugha, despite being smaller. He's faster, too. But Asomugha's a technical master of the cornerback position—no active corner is as skilled fundamentally as he is.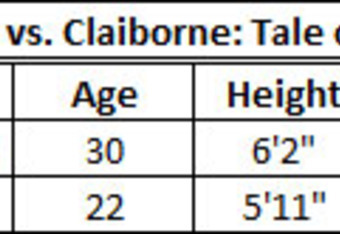 I think we tend to overvalue potential, which is why America lusts for the draft. Is that love affair with prospects deep enough to cause us to opt for the mystery prize over the Corvette? 
I've been obsessed with this game my whole life, and I have no stake in this debate, but I'll admit that I'm torn.
I shouldn't be, right? I should opt for the guy who's been here and done this, the guy who has now signed two of the most lucrative contracts in NFL history. The guy who year in and year out is ranked as one of the best cover corners in football.
I do wonder if Asomugha is on the decline. I know he was adjusting to a new defense on the run in 2011, but it's still a bit concerning that he surrendered four touchdowns after giving up only one score between 2008 and 2010 in Oakland (per PFF). He turns 31 next month, so even if he gets back on track in a defense that is committed to playing more press-man, his best days could be behind him.
But even as he "struggled" last year, Asomugha gave up fewer yards per coverage snap than all but four other NFL corners (again, PFF). Even if Claiborne lives up to expectations, he might never achieve such feats.
Ultimately, that's why I'd still lean toward Asomugha. The best-case scenario for Claiborne, if he can perfect his technique, might be in or even above Asomugha's current range, and he could become a difference-maker on special teams. But the lingering worst-case scenario isn't worth the risk.
I'm guessing most of you will agree, but when you consider that Claiborne is almost a decade younger and when you watch his game tape, it's tough to avoid falling victim to the hype.