NBA Playoffs 2012: Adjustments Heat Must Make Before Game 5 vs. Celtics
June 5, 2012

Mike Ehrmann/Getty Images
The Eastern Conference finals are headed back to Miami for Game 5, and the Heat have some adjustments they need to make.
All-Star forward Chris Bosh could return to the lineup Tuesday night, but chances are that if he does, he will be limited. That means Erik Spoelstra and his staff have to come up with some last-second adjustments in order to win Game 5.
Here's a look at some things the Heat need to fix, with or without Bosh in the lineup.
Come out strong
It's been a problem thus far in the series, but the Heat need to feed off the home crowd and start strong. 
At home for the biggest game of the season, Miami needs to come out attacking the rim and play with a sense of urgency. The Heat can't allow the Celtics to score 34 points in the first quarter like they did in Game 4 and must avoid falling behind by double digits in the first half.
The Heat have proved they can come back, but why not put the Celtics in that spot instead?
Pick up Rondo earlier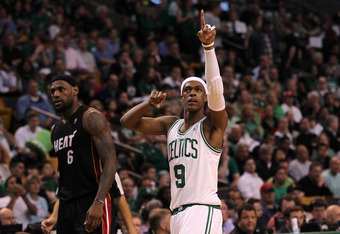 Jim Rogash/Getty Images
The past three games, Celtics point guard Rajon Rondo has had a field day, averaging 26.7 points, 11.7 assists and 6.3 rebounds. In addition, after turning the ball over four times in the first quarter of Game 1, Rondo has committed only eight total turnovers over the last 17 quarters.
He's been the best player on the floor this series, and the Heat have to find a way to disrupt him. That means constantly throwing different bodies his way and picking him up much earlier in the shot clock.
Pressuring him the entire length of the court might be going overboard, but marking him around half court would be an effective middle ground. 
By disrupting Rondo early, the Celtics will be forced to set their offense later in the shot clock. 
Protect the paint
Even if Bosh can only play for short stretches, the Heat will need him to try and stop Kevin Garnett.
KG is averaging 20.5 points and 10.8 rebounds in the series, and no matter who Erik Spoelstra is throwing his way, things are coming way too easy for the veteran big man.
The C's scored 58 points in the paint in Game 3, and although they had only 38 in Game 4, the effortless manner in which those points are being scored cannot be understated. 
Space the floor
Miami needs much better floor spacing to create shots for other players not named Dwyane Wade or LeBron James, and in return, those players have to knock down shots.
Shane Battier, Mike Miller, James Jones and Norris Cole combined to score only 16 points on 5-of-13 shooting (38 percent) in Game 4 despite playing a total of 80 minutes between them. That ratio is unacceptable, even for role players whose scoring opportunities are limited.
The Heat won't win the series unless they get timely production from their outside shooters.  
Get Wade going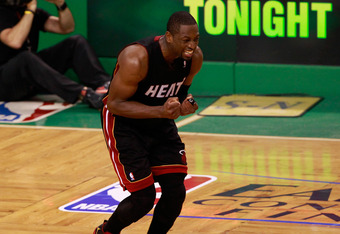 Jared Wickerham/Getty Images
Give Doc Rivers credit for double-teaming Wade and taking him out of games early. Having Bosh in the lineup may free up some space for Wade, but he has to get it going early.
Wade has gone only 16-of-42 over the past two games and has struggled mightily to stay in a consistent rhythm. LeBron has been carrying Miami on his back, and it's almost unfair to ask him to do more.
That puts all the pressure on Wade to produce and Spoelstra to make the necessary adjustments to free him up.